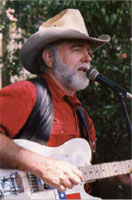 Chanteur Country du Texas

Michael Ballew had to go full circle before finding the place where he belonged. A native of Texas, he began his musical career in the region's bars and other rowdy nightspots. He was playing four sets each evening when he made the decision to strike out and try to make his mark in California during the 1960s. On the West Coast, the singer/songwriter took a turn toward rock & roll and achieved a higher level of success than he'd had back home in Texas. His first contract offer came in 1967 from White Whale Records. In time, offers also came in from major labels Warner Bros., Columbia, EMI America, Liberty, and Pentagram. Ballew and his West Coast-based rock bands hit the charts several times, and they backed a number of the day's big names, among them Steppenwolf, Loggins & Messina, Eric Burdon & the Animals, and Country Joe & the Fish.
Despite the good times, Texas and country music were calling him home. He headed to Austin in 1976, in part because several of the city's musical artists had recorded works he'd written. Still based in that city, he travels frequently across the state and performs with a long list of country artists. Among them are Alan Jackson, Lee Roy Parnell, Asleep At The Wheel, Willie Nelson, Michael Martin Murphy, Jerry Jeff Walker, Bonnie Raitt, and Doc Watson. Ballew's music has been featured in films and on television, including Bill and Ted's Excellent Adventure and The Dolly Parton Christmas Special. Starting in 1992, the singer/songwriter toured Europe 14 times, with stops in Denmark, Switzerland, Holland, Germany, and Austria. When George Bush was inaugurated as Texas' governor in 1995, Ballew was there performing at Austin's Frank Erwin Center. In 2002, he and his group of backing musicians, the Damn Good Texas Band, played festivals in the Czech Republic, Germany, and France. Ballew had some chart success with "Pretending Fool" and "Your Daddy Don't Live in Heaven (He's in Houston)."
http://www.myspace.com/michaelballew
Talents : Vocals, Guitar
Style musical : Traditional Country

http://youtu.be/JtFJ8p3f7Xw
Years in activity :
| | | | | | | | | | | | |
| --- | --- | --- | --- | --- | --- | --- | --- | --- | --- | --- | --- |
| 1910 | 20 | 30 | 40 | 50 | 60 | 70 | 80 | 90 | 2000 | 10 | 20 |
DISCOGRAPHY
Single
| | | |
| --- | --- | --- |
| 1979 | SP PHOOEY 811 (US) | River / Great Divide |
| 09/81 | SP LIBERTY A-1437 (US) | Your Daddy Don't Live In Heaven / Blue Water |
| 01/1982 | SP LIBERTY B-1447 (US) | Pretending Fool / Ain't No Future In Loving You |
Albums
1979
LP 12" PHOOEY AIR-91-790301 (US)

SIDE ONE -

Blue Water / Picture Song / Ainīt No Future / Brown Eyes / Very Last Song / Seminole County Jail / Hop Skip And A Jump / Love Me Tonight / Great Divide / Bring It On Down To My House / Country Music
06/1992
CD BEAR FAMILY BCD 15669 (GER)

I LOVE TEXAS -

The Music Is Sweet / Great Texas Song / Glenda Pearl / Ain't No Future / I Love Texas / Blue Water / Country Music / Rodeo Cool / Hot Spot / Lovin' Me / Cheatin' / Take It Slow / My Family / Your Daddy Don't Live In Heaven / Pretending Fool / Seminole County Jail / Crazy Dreams / Dark Side Of The Dancefloor / As Precious As You Are / Women Love Love / Out There / Hazelwood Avenue
1993
CD TEXAS MUSIC TM-922 (US)
YESTERDAY'S WIND - Songs On The Radio / Dial In Country / What I Didn't Know Then / Where Are The Rangers / Still Waters / All Alone In San Antone / I Can't Do That / My Friend / Top Of The World / I Love To Ride / Damned Ol' Beer / Heavy On The Blues / Pleasure Ain't Worth The Pain
06/1995
CD BEAR FAMILY BCD 15896 (GER)

YOU BETTER HOLD ON -

Blue To The Bone / Livin' In Limbo / Nothin' On Me / Tiny Fingers, Tiny Toes / Texas Gal / Blue Water / Boot Scootin' / Your Memory Is Better Than Mine / You Better Hold On / Hill Country Wine / For The Honey / Dig In Get Tough / Today Will Never End
06/1997
CD BEAR FAMILY BCD 16167 (GER)

MICHAEL BALLEW LIVE AT GRUENE HALL -

Introduction - Hot Spot / Damned Il' Beer / Whiskey's Fine / I Can't Drive Home / I Can't Do That / Leavin' These Honky Tonks / I Love To Ride / Texas Gal / Top Of The World / Heavy On The Blues / Where Are The Rangers / Sixteen Tons / Music Is Sweet / Darkside On The Dance Floor / Old Cowboy / The Cowboy And The Preacher / Texas Blue Water / I Love Texas
2000
CD BEAR FAMILY BCD 16409 (GER)

DADDY DON'T LIVE IN HEAVEN -

Daddy Don't Live In Heaven / Pretending Fool / Oh No / Lonely Heart / Loving Arms / Songs On The Radio / Seminole Jail / Blue Water / You're Out Of My Sight / Here Comes The Heartache / Ain't No Future
10/2001
CD SOUL OF THE HEART MB-18302

(US)

RODEO COOL -

I Love To Ride / Rodeo Cool / Damned Ol' Beer / Top Of The World / Boot Scootin' / Glenda Pearl / Nothing On Me But You / Texas Gal / Living In Limbo / All Alone In San Antone / Darkside Of The Dance Floor / Tiny Fingers, Tiny Toes / Cheatin' / I Can't Do That Any More / Music Is Sweet / Your Memory Is Better Than Mine / Tears All Over Town / Higher Standard Of Leaving
2005
CD SOUL OF THE HEART SH-NP-102

(US)

NO PAIN -

The Whiskey's Fine / No Pain / Every Time I Hold You / Copano Bay / Pick Me Up On Your Way Down / No One Loves Me Like You / Some Kind Of Angel / I'm Leavin' These Honky Tonks / Cowboy And The Preacher / Loving You / That's My Boy / Women Love Love / Red- Headed Women / The Back Of My Hand / I'll Ride The River With You / My Sweet Angel / I Can't Drive Home / Hard-Hearted Woman
Đ Rocky Productions 28/12/2012