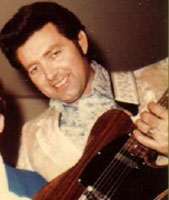 Chanteur Rockabilly puis Country US né Martin Glenn Barber, le 2 Février 1935 à Hollis (Oklahoma). Glenn Barber déménagea ensuite à Pasedena (Texas) et c'est ainsi qu'il fut engagé par Starday Records en 1954. Il enregistra ensuite sur D, Hallmark, Skill, Hickory, Sims, Stampede, Pic et Groovy Records. Glenn Barber est décédé le 28 Mars 2008.

Country and rockabilly performer Glenn Barber was born in Hollis, OK, on February 2, 1935. From there, he and his family moved to Pasadena, TX, where the young Barber showed an early interest in music. Originally a guitar player, he also took up bass, drums, dobro, and mandolin. He first appeared on wax with the 1952 Stampede single "You Took the Twinkle Out of My Stars"; by 1954, he had a contract with the Starday label. Over the next few years, Barber would release numerous countrified rockabilly singles on the label, the last being issued in 1956, just as rock & roll was sweeping the country. From there, he and manager Pappy Dailey traveled to the D imprint, which issued four Barber singles during the remainder of the 1950s.
As the '60s arrived, Barber became a disc jockey and featured performer on Houston's KIKK. He and his band, the Western Swingmasters, appeared on the station five nights a week until 1968, when he signed with the Nashville outfit Hickory. There he made his full-length debut with 1970's A New Star. While with Hickory, Barber charted four times, taking songs like "Kissed By the Rain, Warmed By the Sun" (1969) and "Unexpected Goodbye" (1972) all the way to the Top 30. Another Hickory single, "She Cheats on Me," would later be recorded by Roy Orbison. Barber jumped to MMI in 1979, and penned the hit "Everyone Wants to Disco." It was his last charting single, and Barber turned to other interests in the 1980s and '90s, including painting and screenwriting. Glenn passed away on March 28, 2008.
https://en.wikipedia.org/wiki/Glenn_Barber
Talents : Vocals, Songwriter, Guitar, Dobro, 5-String Banjo, String Bass, Steel Guitar, Drums
Style musical : Rockabilly, Rock 'n' Roll, Traditional Country

http://www.youtube.com/watch?v=hgginyxAQH8
Years in activity :
| | | | | | | | | | | | |
| --- | --- | --- | --- | --- | --- | --- | --- | --- | --- | --- | --- |
| 1910 | 20 | 30 | 40 | 50 | 60 | 70 | 80 | 90 | 2000 | 10 | 20 |
DISCOGRAPHY
Singles
11/1954
SP STARDAY 45-166 (US)
Ice Water / Ring Around The Moon
1955
SP STARDAY 45-196 (US)

Married Man / Poor Man's Baby

11/1955
SP STARDAY 45-214 (US)
Livin' High And Wide / Ain't It Funny
07/1956
SP STARDAY 45-249 (US)
Shadow My Baby / Feeling No Pain
1958
SP D 1017 (US)

Hello Sadness / Same Old Fool Tomorrow

06/1959
SP D 1069 (US)
Your Heart Don't Love / Most Beautiful
10/1959
SP D 1098 (US)
Go Home Letter / New Girl In School
1960
SP D 1128 (US)

The Window / Another You

1961
SP UNITED ARTISTS 337 (US)
Most Beautiful / Night Without End
1962
SP UNITED ARTISTS 512 (US)

I Can't Stop That (Part 1) / I Can't Stop That (Part 2)

1963
SP SIMS 148 (US)

How Can I Forget You / Rain Check

1964
SP STARDAY 45-676 (US)

Stronger Than Dirt / If Anyone Can Show Cause

1964
SP STARDAY 45-699 (US)
Dancing Shoes / Knock Knock
1965
SP STARDAY 45-722 (US)

Loneliest Man In Town / She's Out Of Our World

1968
SP HICKORY 1494 (US)

Go Home Letter (I Wish That I Were You) / Who Made You What You Are

1968
SP HICKORY 1517 (US)

Don't Worry 'Bout The Mule (Just Load The Wagon) / Reflex Action

1969
SP HICKORY 1527 (US)

I Don't Want No More Of The Cheese / Motor Mouth Harry

1969
SP HICKORY 1533 (US)

Gonna Make My Mama Proud Of Me / You Can't Get Here From There

1969
SP HICKORY 1545 (US)
Kissed By The Rain, Warmed By The Sun

/ My World Is Square

1969
SP HICKORY 1557 (US)

She Cheats On Me / Who's Taking The Picture

1970
SP HICKORY 1570 (US)

Abilene / Poison Red Berries

1970
SP HICKORY 1576 (US)

Al / Where There's Smoke

1970
SP HICKORY 1585 (US)

I'm Only Company / Yes, Dear, There Is A Virginia

1971
SP HICKORY 1593 (US)

I Committed The Crime / Six Years And A Day

1971
SP HICKORY 1605 (US)

Blue Eyes Crying In The Rain / The World You Live In

1971
SP HICKORY 1618 (US)

Betty Ann / Fat Albert

1972
SP HICKORY 1626 (US)

I'm The Man On Susie's Mind / Satan's Painted Woman

1972
SP HICKORY 1645 (US)

Blue Bayou / Unexpected Goodbye

1972
SP HICKORY 1653 (US)

Who In The World / Yes Ma'am (I Found Her In A Honky Tonk) / ?

1973
SP HICKORY 302 (US)

Country Girl (I Love You Still) / Watching You Go

1973
SP HICKORY 1666 (US)

It's A Beautiful Thing / That's How A Coward Tells An Angel Goodbye

1973
SP HICKORY 311 (US)

Daddy Number Two / We Let That Lovely Flame Die

1974
SP HICKORY 316 (US)

Sweet On My Mind / You Only Live Once (In Awhile)

1974
SP HICKORY 323 (US)

Blues Eyes Crying In The Rain / Almost

1974
SP HICKORY 333 (US)

Sweet On My Mind / You're Getting Heavy On My Mind

1975
SP HICKORY 340 (US)

She's No Ordinary Woman / We've Got It All Together This Time

1976
SP GRT 071 (US)

It Took A Drunk (To Drive God's Message Home) /

1977
SP GROOVY 102 (US)

(You Better Be) One Hell Of A Woman / ?

1977
SP GROOVY 103 (US)

Cry, Cry Darling / ?

1978
SP CENTURY 21 100 (US)

What's The Name Of That Song / ?

1979
SP CENTURY 21 101 (US)

Love Songs Just For You / ?

1979
SP MMI 1029 (US)

Everybody Wants To Disco / ?

1979
SP MMI 1031 (US)

Woman's Touch / ?

1981
SP SUNSET SUNBIRD 7551 (US)

First Love Feelings / What's The Name Of That Song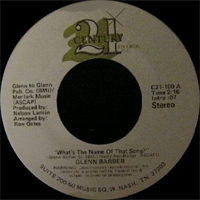 Unissued Track
Albums
| | | | |
| --- | --- | --- | --- |
| 1970 | LP 12" HICKORY LPS-152 (US) | | A NEW STAR - Kissed By The Rain, Warmed By The Sun / Gonna Make My Mama Proud Of Me / Satan's Painted Woman / Where There's Smoke (There's Fire) / I'm Only Company / Don't Worry 'bout The Mule (Just Load The Wagon) / She Cheats On Me / My World Is Square / Who's Taking The Picture / Motor Mouth Harry / I Don't Want No More Of The Cheese (I Just Want Out Of The Trap) / Abilene |
| 1972 | LP 12" HICKORY LPS-167 (US) | | THE BEST OF GLENN BARBER |
| 1974 | LP 12" MGM H3F-4510 (US) | | GLENN BARBER - You Only Live Once (In A While) / It's A Beautiful Thing / Country Girl (I Love You Still) / We Let That Lovely Flame Die / Watching You Go / Daddy Number Two / Almost / Blue Eyes Crying In The Rain / That's How A Coward Tells An Angel Goodbye / Sweet On My Mind / She's No Ordinary Woman (Ordinarily) |
| 1979 | LP 12" 51 WEST Q-16036 (US) | | WARM ALL OVER FEELIN' - Warm All Over Feelin' / Cheatin' / Love Rules The Heart / You Can't Get Here From There / I Created A Monster / Go Home Letter / April Fool / War Time Blues / We'll Take Our Last Walk Tonight / Yes Dear, There Is A ...Virginia |
| 1983 | LP 12" TUDOR 113304 (US) | | FIRST LOVE FEELINGS |
| 1984 | LP 12" TUDOR 113904 (US) | | SATURDAY'S HEROES ARE GONE |
| 1984 | LP 12" BRYLEN 4405 (US) | | THE MOST WANTED MAN FROM TENNESSEE - What Is The Name Of That Song / First Love Feelings / I Went To Bed Loving You / The Most Wanted Man From Tennessee / One Hell Of A Woman / Love Songs Just For You / Don't Take My Country Away / If I Thought For One Moment / Ballad Of Layman / Cry, Cry Darling |
| 02/2000 | CD EDSEL 927 (UK) | | CLOSE BUT NO CIGAR - Love Rules The Heart / Warm All Over Feelin' / I Created A Monster / You Can't Get Here From There / Cheating / Yes, Dear, There Is A Virginia / April Fool / We'll Take Our Last Walk Tonight / Go Home Letter / War Time Blues |
© Rocky Productions 16/04/2008