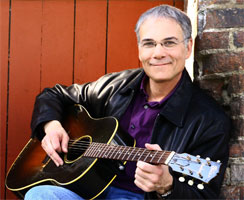 Guitariste Country US né le 8 Octobre 1950.

Russ Barenberg is one of the most melodic instrumentalists in contemporary bluegrass. Best known for his Clarence White-style flatpicking, Barenberg often uses his other three fingers to enhance rhythm and melody and create a more textural sensitivity. A former member of Country Cooking, Heartlands, Fiddle Fever, and Laughing Hands, Barenberg has remained active since moving to Nashville in 1986.
Inspired by Doc Watson and Mississippi John Hurt, Barenberg began playing guitar at the age of 13. Along with his brother and sister, he took lessons from Alan Miller, the older brother of future bandmate John Miller. A turning point came in 1964, when Barenberg discovered the late Clarence White on an album by the Kentucky Colonels, Appalachian Swing!
While attending Cornell University in Ithaca, NY, in 1968, Barenberg met banjo whiz Pete Wernick. Two years later, the two instrumentalists joined with Tony Trischka, Kenny Kosek, and John Miller to form the seminal bluegrass band Country Cooking. During the four years that Country Cooking was together, the group recorded two influential albums, Country Cooking and 26 Bluegrass Instrumentals, and accompanied mandolinist Frank Wakefield on a third album.
After Country Cooking disbanded in 1975, Barenberg temporarily switched to electric guitar and performed with a jazz-rock band, Carried Away. Frustrated by the music business, however, he stopped playing from 1975 to 1977 when he moved to New York and, together with Trischka, Miller, and fiddler Matt Glaser, formed the innovative bluegrass band Heartlands. Although the band failed to record an album of its own, Heartlands backed Barenberg on his 1980 debut solo album, Cowboy Calypso.
Moving to Boston, Barenberg freelanced with several pickup bands and taught guitar and mandolin at the Music Emporium in Cambridge. In 1982, he joined Glaser and fiddler/mandolinist Jay Ungar in the eclectic string band Fiddle Fever, recording two albums with the group. In addition, Barenberg worked with Glaser and mandolinist Andy Statman in the short-lived experimental bluegrass-jazz band Laughing Hands.
Since moving to Nashville, Barenberg has worked extensively with dobro player and record producer Jerry Douglas. In addition to accompanying Irish vocalist Maura O'Connell, the two musicians recorded a trio album, Skip, Hop & Wobble, with upright bassist Edgar Meyer.
As a session player, Barenberg has recorded on numerous demo tapes for Nashville publishing companies and appeared on albums by Béla Fleck, Hazel Dickens, Mel Tillis, and Randy Travis. Barenberg has also been featured on instructional tapes, including How to Play Bluegrass Guitar and Teach Yourself Bluegrass Guitar, released by Homespun Tapes and Videos. He earned a Grammy nomination for Best Country Instrumental Performance for the song "Little Monk" from his 2007 album When at Last.
https://en.wikipedia.org/wiki/Russ_Barenberg
Talents : Guitar, Mandolin
Style musical : Progressive Bluegrass, Traditional Bluegrass, Bluegrass, String Bands, Contemporary Bluegrass

http://youtu.be/dcSnqiRFFS4
Years in activity :
| | | | | | | | | | | | |
| --- | --- | --- | --- | --- | --- | --- | --- | --- | --- | --- | --- |
| 1910 | 20 | 30 | 40 | 50 | 60 | 70 | 80 | 90 | 2000 | 10 | 20 |
DISCOGRAPHY
Single
| | | | |
| --- | --- | --- | --- |
| 1979 | CD ROUNDER 0111 (US) | | COWBOY CALYPSO - Cowboy Calypso / Goodbye Eddy Street / Gimmicks Ahoy / Suave De Samba / Cooley's Rest / Walking With You / Flabston And Chubsby Go South / Stringsong / You Say You Care / You Left The Islands Laughing |
| 1982 | CD VIVID SOUND 0176 (US) | | BEHIND THE MELODIES - The Llama's Dance / Halloween Rehearsal / Another Prairie / A Touch Of The Hidalgo / Many Years Ago / The Cola Calypso / Without Words / The Invisible Choir / For J.L. |
| 1987 | CD ROUNDER CD-11534 (US) | | HALLOWEEN REHEARSAL - Cowboy Calypso / Goodbye Eddy Street / Gimmicks Ahoy / Suave De Samba / Cooley's Reel / Walking With You / Flabston And Chubsby Go South / Stringsong / You Say You Care / You Left The Islands Laughing / The Llama's Dance / Halloween Rehearsal / Another Prairie / A Touch Of The Hidalgo / Many Years Ago / The Cola Calypso / Without Words / The Invisible Choir / For J.L. |
| 1988 | CD ROUNDER CD-0249 (US) | | MOVING PICTURES - Our Time / Through The Gates / The Talking / Return To The Brandywine / Magic Foot / Open Arms / Keep It Up - Prince Charlie / Edge Of The Atlantic / Les Veuves De La Coulée (The Widows Of The Creek) |
| 1993 | CD SUGAR HILL SH-CD 3817 (US) | | SKIP, HOP & WOBBLE - JERRY DOUGLAS, RUSS BARENBERG, EDGAR MEYER - Big Bug Shuffle / Why Don't You Go Back To The Woods / The Hymn Of Ordinary Motion / From Ankara To Izmir / The Travels Of Mr. Hulot / Big Sciota / Squeezy Pig / Monkey Bay / The Years Between / The Earl Of Hyndford - Open The Present / Here On Earth |
| 06/2006 | CD COMPASS CD 4459 (US) | | WHEN AT LAST - Little Monk / Fat Mountain / When At Last / The Pleasant Beggar / The Man In The Hat / On Milo's Back / A Dream For Sophie / Redbird In The Willow - The Lakes / Jump Back Barley / The Drummers Of England / Aux Marches Du Palais (On The Steps Of The Palace) |
© Rocky Productions 5/12/2011