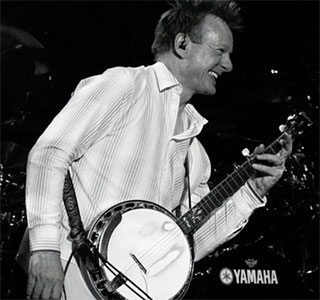 Banjoïste et Chanteur Bluegrass US né le 21 Décembre 1961 à Temple (Texas).

Bluegrass is so rooted in folk traditions that it usually doesn't take much to rock the boat. The progressive bluegrass movement takes the styles and structures of the past and subverts them with rock & roll spirit and a sometimes punk rock attitude.
Danny Barnes grew up in Texas, where he was raised on the music of bluegrass pioneers Bill Monroe, Flatt & Scruggs, and Jimmie Rodgers. A graduate of the University of Texas with a degree in audio engineering, Barnes dedicated himself to traditional bluegrass playing, picking up the banjo and seeing where the instrument would lead him. In Barnes' case, the banjo led him to the Bad Livers, a progressive bluegrass band formed in 1990 and likely either to offend or amaze fans of the genre. Also featuring bandmates Mark Rubin (on bass and tuba) and mandolin and guitar player Bob Grant (who replaced fiddle player Ralph White), the group is as comfortable on the punk circuit as it is on the folk circuit.
But Barnes' output extends well beyond that project. He frequently plays with artists such as guitarist Bill Frisell, Dave Matthews, and keyboardist Wayne Horvitz; has composed the scores to Richard Linklater's The Newton Boys and (with Frisell) the documentary American Hollow; and has appeared on too many commercials and sat in with too many bands to mention. He has also released a handful of notable solo albums, including 2010's genre-defying Pizza Box. Barnesfollowed that album with 2011's Rocket, issued on ATO. It was produced by John Alagia, and features all-star drummer Matt Chamberlain and keyboardist/bassist Zac Rae. Barnesplayed various banjos, guitars, basses, keyboards, and loops, and handled the programming. Dave Matthews guests on the leadoff single, a cover of T. Rex's "Bang a Gong (Get It On)."
https://en.wikipedia.org/wiki/Danny_Barnes_(musician)
Talents : Banjo, Vocals
Style musical : Bluegrass, Pop/Rock, Contemporary Country, Country Blues, New Acoustic

https://youtu.be/UYqF60hjIpU
Years in activity :
| | | | | | | | | | | | |
| --- | --- | --- | --- | --- | --- | --- | --- | --- | --- | --- | --- |
| 1910 | 20 | 30 | 40 | 50 | 60 | 70 | 80 | 90 | 2000 | 10 | 20 |
DISCOGRAPHY
Single & EP
| | | | |
| --- | --- | --- | --- |
| 2004 | CD Ironway 0405-2 (US) | . | Funtime / Life In The Country / Where They Do Not Know My Name / Little Bitty Town |
| 2011 | CD Lonesome's Pizza ‎? (US) (promo) | . | Wabash Cannonball / Big Shoe / Let Your Light Shine On Me |
| 07/2013 | SP Minner Bucket MBR-10 (US) | | Falling Hard / Money Moves Up |
Albums
| | | | |
| --- | --- | --- | --- |
| 1998 | CD LumpyDisc 002 (US) | | Aka The Mad Cat Trio - Danny Barnes, Eric Hokkanen, Jack Rubin - Gold Rush / Lock My Heart And Throw Away The Key / The Milwaukee Blues / Can't Feel At Home / Sunset Waltz / Down In The Willow Garden / Ace Of Spades / My Deceitful Heart / Ol' Slew Foot / Billygoat Boogie / Black Diamond / Farr Bros. Blues / Crying Holy Unto The Lord / Gypsy Wind |
| 1999 | CD Minner Bucket MB-4 (US) | | And His… Oft Mended Raiment - Everything's For Sale / Peanut Butter Is A Man's Best Friend / Hey Baby, I'm Falling / Truth Got Kicked / Flat Head In A Phillips World / Love Is Tumblin' Down / If You Would Die Then I Could Eat / I'm Not In The Swiss Army, I Just Have The Knife |
| 08/2000 | CD Cavity Search CSR 52 (US) | | Minor Dings - No Time Flat/ My Life Crumbled / Zaccheus / This Ain't A Good Time / Alta Merita / Dust On The Bible / Boat Of Love / Got In My Own Way Again / Love Your Neighbor / Cellophane Thing / Play The Guitar |
| 2001 | CD Cavity Search CSR 53 (US) | | Duet For Clarinet and Goat - Pete Crebs / Danny BARNES - Worry 'bout Yesterday / C&W / Oh Fuck It / House Carpenter / Softly And Tenderly / The Road Is So Much Longer Here / Sleep Long Sweet Angel / Shot At A Bird, Hit Me A Stump / Body And Soul / Why You Been Gone So Long / Jilted / Love Went Wrong |
| 06/2001 | CD Terminus 0103-2 (US) | | Things I Done Wrong - Danny BARNES & ThEE Old Codgers - Funtime / Hey Baby I'm Falling / Delilah / Things I Done Wrong / Devil On The Mountain / Everything Fades Broken Hearted Blues / All Alone For Christmas / Good As I've Been To You / Better Times A-Coming / Barnyard Soul / Love Your Neighbor |
| 08/2003 | CD Terminus 0303-2 (US) | | Dirt on the Angel - Life In The Country / Get It While You Can / Dirt On The Angel / Water Wagon / Keep My Skillet Good And Greasy / I Likes My Chicken Hot / Kitchen Floor Waltz / Face To Face / Bluegrass Suicide / Barnes Away Ooh la La / Popcorn And Wine / Trinidad Hubbard / Peanut Butter Is A Man's Best Friend / Loser |
| 2004 | CD Terminus / Ironway 0405-2 (US) | | Livin' Large... In A Little Bitty Room - Life In The Country / Where They Do Not Know My Name / Little Bitty Town / Deliliah - Love Songs Suck / Keep My Skillet Good And Greasy / Things I Done Wrong / Ooh La La / Dirt On The Angel / Everything Fades / Get It While You Can / Manifest Destiny Remix |
| 07/2005 | CD Terminus 0502-2 (US) | | Got Myself Together - Get Myself Together / Rat's Ass / Big Girl Blues / Get Me Out Of Jail / Sympathy For The Devil / Cumberland Gap / Let Your Light Shine On Me / Cut A Rug / Corn Kingdom Come / Wasted Mind / Get It On Down The Line / Cat To The Rat / Big Shoe |
| 2007 | CD NOT ON LABEL ? (US) | | Barnyard Electronics - Cornpone Sally / Pretty Daughter / Moe Hawk / Cornpone Sally And Her Hay Bailing Wagon Wheels / Prelude For Unaccompanied Violin / Harbor Of The Nade (Of 6000 Configurations) / Village Song / Raise Four |
| 01/2010 | CD ATO ATO0082 (US) | | Pizza Box - Caveman / Road / Pizza Box / Sleep / Misty Swan / TSA / Bone / Overdue / Charlie / Broken Clock / Sparta, TN |
| 11/2011 | CD ATO / RED DISTRIBUTION 0103 (US) (promo) | | Rocket - Poison / Low / Fun / Angel / Soulcrusher / Bang A Gong (Get It On) / S.O.T. / Wine / Rich Boy Blues / Rocket / One / Safe With Me |
| 2014 | CD Minner Bucket MBR-14 (US) | | Ambient Works - vol. 1 - Cows / Fence Post / Frozen Moment / Garden / Graveyard / My Fence / Tractor Store |
| 03/2017 | CD Wendell World ? (US) | | Stove Up - Isotope 709 / Black Diamond / Factory Girl / John Hardy / Rockwood Deer Chase / Blue Ridge Express / Steel Guitar Rag / Charlie / Bill Cheatum / Eight More Miles To Louisville / Farewell Blues / Fireball / Get It While You Can / Flint Hill Special / Ole Liza Jane / Paddy On The Turnpike / Foggy Mountain Special |
| 03/2020 | CD ATO 239192 (US) | | Man on Fire - Mule / Awful Strange / Coal Mine / Zundapp / Hey Man / Juke / Enemy Factory / The Less That I Know / Hambone Slide / It's Over / Ballad Of Nope |
© Rocky Productions 7/03/2020