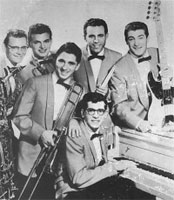 Groupe Rock 'n' Roll US formé en 1955 par Freddie Bell (né Ferdinando Dominick Bello, le 29 Juillet 1931 à South Philadelphia (Pennsylvanie)), Jerry Mayo, Jack Kane, Russ Conti, Frankie Brent et Chuck Keeney. Freddie Bell est décédé à Las Vegas le 10 Février 2008.

Rock & roll forerunner Freddie Bell exerted a profound influence on the young Elvis Presley -- not only did Bell's energetic Las Vegas act shape The King's own larger-than-life stage persona, but Presley also lifted his rendition of the raucous Big Mama Thornton classic "Hound Dog" almost note-for-note, notching a landmark single in the process. Born Ferdinando Dominick Bello in Philadelphia on July 29, 1931, Bell studied trombone, bass, and drums as a teen, and made his professional debut in support of saxophonist Eddie Ventura. At age 20, he formed his own group, the Bellboys, with pianist Russ Conti, guitarist Frank Brent, trumpeter Jerry Mayo, saxophonist Jack Kane, and drummer Chick Keeney, together they honed a jump blues-inspired sound heavily indebted to Louis Jordan. After spending six months touring the Midwest, Bell and the Bellboys landed an extended residency at the Las Vegas casino The Sands. Following the commercial success of the like-minded Bill Haley & the Comets, Bell and the Bellboys signed to Mercury and in 1956 issued their debut single "Big Bad Wolf." While the record was a minor hit at best, the relative scarcity of white rock & roll acts was enough to secure the group a spot in producer Sam Katzman's quickie feature Rock Around the Clock, which co-starred Haley & the Comets as well as R&B immortals the Platters. The film proved a blockbuster on both sides of the Atlantic, with Bell's performance of the novelty tune "Giddy-Up-a-Ding-Dong" enough to push the accompanying single into the British Top Five later that year.
Bell and the Bellboys were well into their headlining stint at The Sands when Presley took up residence across the Las Vegas Strip at The New Frontier on April 23, 1956. According to legend, Bell's swaggering choreography and knee-jiggling dance moves had a significant impact on the young singer. Presley was also smitten with Bell's arrangement of the Jerry Lieber/Mike Stoller number "Hound Dog," and on May 16, 1956 Presley added the song to his own nightclub act, and his celebrated guitarist Scotty Moore even admitted "We stole [the song] straight from them." While Presley's rendition later sold four million copies in the U.S. alone, becoming the first-ever single to top the pop, country, and R&B charts, Bell remained philosophical, telling an interviewer "I didn't feel bad about that at all. In fact, I encouraged him to record it." In early 1957 Bell and the Bellboys toured Britain alongside native son Tommy Steele, followed by performances in Paris, Southeast Asia, and Australia. On returning to the U.S. in 1958, the group appeared on television's Ed Sullivan Show, but a hit record eluded them and they soon resurfaced at The Sands, spending the next several years as a Vegas fixture. Following an appearance in the 1964 feature Get Yourself a College Girl the Bellboys split, but in the decades to follow Bell headlined any number of rock & roll revival festivals in Europe and Japan. After a long battle with cancer, Bell died in Las Vegas on February 10, 2008 -- he was 76 years old.
https://en.wikipedia.org/wiki/Freddie_Bell_and_the_Bellboys
Talents : Freddie : Vocals, Trompet, Bass, Drums - Jerry : Trompet - Jack : Saxophone - Russ : Piano - Frankie : Bass, Guitar, Vocals - Chuck : Drums
Style musical : Rock 'n' Roll

http://youtu.be/f26GaHSkZi8
Years in activity :
| | | | | | | | | | | | |
| --- | --- | --- | --- | --- | --- | --- | --- | --- | --- | --- | --- |
| 1910 | 20 | 30 | 40 | 50 | 60 | 70 | 80 | 90 | 2000 | 10 | 20 |
DISCOGRAPHY
Singles & EP
| | | | |
| --- | --- | --- | --- |
| 1955 | SP TEEN 101 (US) | . | Hound Dog / Move Me Baby |
| 1956 | SP WING 90066X45 (US) | . | Ding Dong / I Said It And I'm Glad |
| 1956 | SP WING 90082X45 (US) | . | The Hucklebuck / Rompin' And Stompin' |
| 1956 | SP MERCURY 70919 (US) | . | Stay Loose, Mother Goose / All Right, OK, You Win |
| 1956 | EP MERCURY MEP 9508 (UK) | | Giddy Up A Ding Dong / All Right, OK, You Win / Stay Loose, Mother Goose / I Said It And I'm Glad |
| 1956 | EP MERCURY MEP 9512 (UK) | | VOLUME TWO - Take The First Train Out Of Town / Hey There You / Voo Doo / Rompin' And Stompin' |
| 1957 | SP MERCURY 71075 (US) | . | Take The First Train Out Of Town / Hey There You |
| 04/1957 | SP MERCURY 71105 (US) | . | Rockin' Is My Business / You're Gonna Be Sorry |
| 1957 | EP MERCURY 14159 (F) | | Giddy Up A Ding Dong / Rockin' The Polonaise / Hound Dog / I Said It And I'm Glad |
| 1957 | EP BARCLAY 14159 (F) | | Giddy Up A Ding Dong / Rockin' The Polonaise / Hound Dog / I Said It And I'm Glad |
| 1957 | EP MERCURY 14178 (F) | | All Right, OK, You Win / Stay Loose, Mother Goose / The Hucklebuck / Rompin' And Stompin' |
| 1957 | EP BARCLAY 14181 (F) | | Teach You To Rock / Voodoo / Take The First Train Out Of Town / Hey There You |
| | |
| --- | --- |
| | |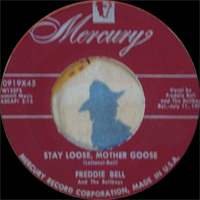 Albums
1957
LP 12" MERCURY MG 20289 (US)
ROCK & ROLL... ALL FLAVORS - Take The First Train Out Of Town / Giddy Up A Ding Dong / Rompin' And Stompin' / Stay Loose Mother Goose / I Said It And I'm Glad / Voo Doo / Teach You To Rock / Hey There You / All Right, Okay, You Win / Big Bad Wolf / Hound Dog / Hucklebuck
1959 ?
LP 10" MERCURY MG 20289 (I)
ROCK AND ROLL WITH THE PLATTERS AND FREDDIE BELL -

Rock 'N' Roll With The

PLATTERS

:

Only You / Bark, Battle And Ball / The Great Pretender / I'm Just A Dancing Partner / R

ock 'n' Roll With Freddie Bell And His Bellboys :

Ding Dong / Rompin And Stompin / Hucklebuck / I Said It And I'm Glad
1964
LP 12" 20TH CENTURY TFS-4146 (US)
BELLS ARE SWINGING - Baby, You've Got What It Takes / It's You I Love / You're My Thrill / Is You Is Or Is You Ain't My Baby / When Day Is Done / Someone / I Need You / Here He Is / Without A Song / Everything I Have Is Yours / Rocking The Polinaise / A Couple Of Losers
1996
CD BEAR FAMILY BCD 15901 (GER)
ROCKIN' IS OUR BUSINESS - Hound Dog / Move Me Baby / Five-Ten-Fifteen Hours / Old Town Hall / Big Bad Wolf / I Said It And I'm Glad / Rockin' The Polonaise / Giddy Up A Ding Dong (overdub) / Hound Dog / All Right, Okay, You Win / The Hucklebuck / Rompin' And Stompin' / Stay Loose, Mother Goose (overdub) / Hey There You / Take The First Train Out Of Town (overdub) / Voo Doo / Teach You To Rock / I'm Advertisin' (with added handclaps) / You're Gonna Be Sorry / Variety / Rockin' Is My Business / Rockin' The Polonaise / Giddy Up A Ding Dong (w/o overdub) / Hound Dog (w/o overdub) / Stay Loose, Mother Goose (different lyric) / You're Gonna Be Sorry / Rockin' Is My Business
© Rocky Productions 13/12/2021