| | |
| --- | --- |
| | |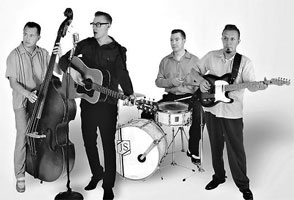 Groupe Rockabilly Finlandais formé fin 2004 et composé de Miikka Siira, Timo Kalijärvi, Iikku Riepponen et Japi Saario.



Mike Bell & The Belltones play wild and melodic rockabilly. The band includes members from top rockin´ finnish bands such as The Beetle Crushers, The Roadracers and The Wagtails and was formed late 2004. Since then they have played at all the main rockin´ festivals in Finland and have gathered a great following with their live shows all around.
Goofin´ Records released their EP "Moonlight Rock" in 2009 and their song "Let´s Rock Tonight" was included in the history of the Finnish rockabilly box-set "Slap that Bass!", which also hit the official album charts! Later this year they will appear on a Bear Family records 35th anniversary compilation with a brand new song.
Goofin´ Records is now releasing the first Mike Bell & The Belltones´ album "Scream & Holler" which was recorded live at the Lightning Recorders in Berlin with a vintage equipment. And even more international gigs will follow as they will also be touring and playing at festivals in Spain, Sweden, Holland and Germany later this year.
http://www.myspace.com/mikebellthebelltones
Talents : Miikka Siira : Vocals, Rhythm Guitar - Timo Kalijärvi : Solo Guitar - Likku Riepponen : Double Bass - Japi Saario : Drums
Style musical : Rockabilly

http://www.youtube.com/watch?v=bHlHriAtd_k
Years in activity :
| | | | | | | | | | | | |
| --- | --- | --- | --- | --- | --- | --- | --- | --- | --- | --- | --- |
| 1910 | 20 | 30 | 40 | 50 | 60 | 70 | 80 | 90 | 2000 | 10 | 20 |
DISCOGRAPHY
Singles & EP
| | | | |
| --- | --- | --- | --- |
| 2004 | EP SHOWDOWN SHOEP 1001 (FIN) | | Let's Rock Tonight / If You See That Girl Of Mine / Tick Tock / Let's Pretend We're Sweethearts |
| 2009 | EP GOOFIN GREP 212 (FIN) | | Moonlight Rock / Itty Bitty Betty / Rockin On Mars / The Blues Come Around |
| 2011 | EP GOOFIN GREP 220 (FIN) | | Huelyn Duvall with Mike Bell & The Belltones - Baby, Make A Move / Stina Lee / Give The Dog A Bone / Little Bit Of Lovin´ |
| 2011 | EP GOOFIN GREP 222 (FIN) | | Scream & Holler / Tick Tock / Crazy Bear Rock / Real Gone Cutie |
| 2012 | CD GOOFIN GRS-615 (FIN) | | Five Years With Mike Bell & The BellTones - Dark Side Of The Moon / Bye Bye Baby Blue / Mean Machine (alt. take) / Rock Me My Baby |
| 04/2015 | EP GOOFIN GREP 230 (FIN) | | California Bop - The Beat That Can't Be Beat / I'm In The Mood For You / Bad Luck & Trouble / I'll Be Gone |
| 2016 | SP Showdown! SHOWDO-1004 (FIN) | . | At The Rave / Whistle Of The Gravy Train |
| 2018 | EP GOOFIN GREP 233 (FIN) | | Crystal Ball / Sweet Lovin' Woman / My Little One / Crawl Baby Crawl |
| 08/2021 | SP GOOFIN GRSI238 (FIN) (limited edition) | . | Your Lovin' On My Mind / Where My Money Goes |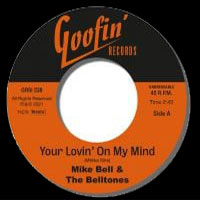 Albums
2010
CD GOOFIN GRCD 6166 (FIN)
SCREAM & HOLLER - Let´s Rock Tonight / Scream & Holler / Oh Yeah, I´m In Love / Moonlight Rock / Let´s Pretend We´re Sweethearts / She Can Rock / Gonna Ride The Wild Surf / Lord, I´m In Trouble Again / Breakin´ Hearts / Jimmy´s Car & Johnny´s Girl / Rockin´ On Mars / Rockin´ Record Hop / The Shape Of Love / There´s A Party Going On
2012
CD GOOFIN GRCD 6172 (FIN)

Payback - Shake Some Action / Bye Bye Baby Blue / Payback / Dark Side Of The Moon / Half Hearted / Cryin' All Night / Loretta / Mean Machine / Railroad Station Blues / Give The Dog A Bone / Corruption Blues / Broken Mind / Boomerand Baby / Lovelight

2016
CD GOOFIN GRCD 6188 (FIN)

The Beat That Can't Be Beat - The Beat That Can't Be Beat / The Chicken & The Hawk / Rosebud / Last Time To Cry / Brick By Brick / I'm In The Mood For You / Everytime / Crazy In Love / What I Get For Lovin' You / The Devil In Me / Monkey See, Monkey Do / Go Hog Wild / Downtown Baby / Melody

01/2020
LP 10" GOOFIN

GRLP 61026

(FIN) (limited edition, violet)
SCREAM & HOLLER - Let´s Rock Tonight / Scream & Holler / Oh Yeah, I´m In Love / Moonlight Rock / Let´s Pretend We´re Sweethearts / She Can Rock / Gonna Ride The Wild Surf / Lord, I´m In Trouble Again / Breakin´ Hearts / Jimmy´s Car & Johnny´s Girl / Rockin´ On Mars / Rockin´ Record Hop / The Shape Of Love / There´s A Party Going On
© Rocky Productions 21/12/2021