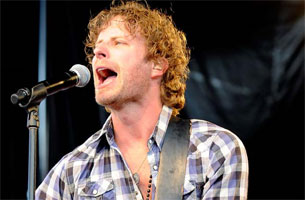 Chanteur Country US né le 20 Novembre 1975 à Phoenix (Arizona).

Growing up in a non-musical family in Phoenix, Arizona, country singer Dierks Bentley got his country music education on his own, listening to recordings. A love of the music inspired him to move to Nashville at the age of 19, but he quickly grew discouraged by the lack of public and professional interest coming his way. It all changed when he walked into the Station Inn, a bar where the bluegrass faithful hang out. An all-night jam session recharged his batteries and he again started pursuing gigs. He landed a job at the TNN television network doing research on classic country music and by night he worked on his demos. Capitol Records heard the artist, signed him, and released his self-titled debut, Dierks Bentley, in 2003, which yielded the impossibly catchy single "What Was I Thinkin'." Bringing his love of Merle Haggard and Waylon Jennings more to the forefront, Modern Day Drifter followed two years later and became a Top Ten hit. In 2006, he returned with Long Trip Alone, a more polished effort that was commercial but not crass. Greatest Hits: Every Mile a Memory arrived in 2008, a bit early in his career for that, perhaps, but it did contain his key charting singles and added in fan-selected live tracks as a bonus, making it a nice summation of Bentley's work up to that point. A new album, Feel That Fire, was released in early 2009, followed by the bluegrass-themed Up on the Ridge in 2010.
Bentley's sixth album, Home, released in 2012, featured a dozen new songs that the singer road-tested on tour. It was an eclectic and varied affair, with guest spots from Little Big Town's Karen Fairchild as well as Tim O'Brien and Sam Bush, among others. Capitol issued his self-funded EP, Country and Cold Cans, that summer, and before long he had begun sessions for what would be his seventh full-length release for the label in 11 years. "Bourbon in Kentucky," a duet with Kacey Musgraves, was the first single from the sessions, but it flopped upon its June 2013 release, going no further than number 40 on the Billboard Country charts. A second single, "I Hold On," quickly followed and went into the Top Ten, but the lack of success of "Bourbon in Kentucky" was a factor in pushing back the release of Riser; it didn't appear until February 2014. Bentley rebounded with Riser, however. The album debuted at number one on Billboard's Country charts -- it went to six on the Top 200 -- and generated three major hits: "I Hold On" and "Drunk on a Plane," which both peaked at three on the U.S. Hot Country chart and went platinum, and "Say You Do" which topped out at five. The title track sustained momentum on radio in 2015, and in early 2016, he returned with "Somewhere on a Beach," the first single from his eighth album, Black. It topped Billboard's country charts just prior to the May 2016 release of Black.
https://en.wikipedia.org/wiki/Dierks_Bentley
Talents : Vocals, Guitar, Banjo
Style musical : Contemporary Country, Traditional Country, Bluegrass

http://www.youtube.com/watch?v=uRoIPoC8kTw
Years in activity :
| | | | | | | | | | | | |
| --- | --- | --- | --- | --- | --- | --- | --- | --- | --- | --- | --- |
| 1910 | 20 | 30 | 40 | 50 | 60 | 70 | 80 | 90 | 2000 | 10 | 20 |
Singles & EP
05/2003
CD CAPITOL 77963 (US)
What Was I Thinkin' / Whiskey Tears
2003
CD CAPITOL 7087-6-17718-2-4 (US) (promo)

What Was I Thinkin' - What Was I Thinkin' (edit) / Track 1 Repeats / Track 1 Repeats / What Was I Thinkin' (album version)

2003
CD CAPITOL 7087-6-18166-2-4 (US) (promo)
.

My Last Name / My Last Name / My Last Name

2004
CD CAPITOL 7087-6-18556-2-3 (US) (promo)
How Am I Doin' / How Am I Doin' (intro edited - Not As Much Fun, But Shorter)
2004
CD CAPITOL 7087-6-19084-2-8 (US) (promo)

Lot Of Leavin' Left To Do / Lot Of Leavin' Left To Do / Lot Of Leavin' Left To Do

2005
SP CAPITOL DOL.7001 (US)
.

Come A Little Closer / Lot Of Leavin' Left To Do

2005
CD CAPITOL 0946-3 34570-2-7 (US) (promo)
.

Come A Little Closer (the Version Dierks really likes) / Come A Little Closer

2006
CD CAPITOL 09463-53158-2-0 (US) (promo)

Settle For A Slowdown / Track 1 Repeats / Track 1 Repeats

2006
CD CAPITOL 09463-70395-2-6 (US) (promo)

Every Mile A Memory / Every Mile A Memory / Every Mile A Memory

2006
SP CAPITOL DOL.7003 (US)
.
Settle For A Slowdown (Dierks

Bentley

) / I Love My Life (Jamie O'N

eal

)
2007
CD CAPITOL 509995-15815-2-7 (US) (promo)

Trying To Stop Your Leaving / Trying To Stop Your Leaving / Trying To Stop Your Leaving

2007
CD CAPITOL 09463-95674-2-3 (US) (promo)

Free And Easy (Down The Road I Go) [edit] / Free And Easy (Down The Road I Go) [research hook]

2008
CD CAPITOL 509992-43680-2-5 (US) (promo)

Feel That Fire / Feel That Fire / Feel That Fire (research hook)

2009
CD CAPITOL 509996 95369 2 2 (US) (promo)

I Wanna Make You Close Your Eyes / I Wanna Make You Close Your Eyes / I Wanna Make You Close Your Eyes (research hook #1) / I Wanna Make You Close Your Eyes (research hook #2)

2010
CD CAPITOL 509996 40196 2 8 (US) (promo)

Up On The Ridge / Up On The Ridge / Up On The Ridge (research hook)

2010
CD WRASSE ? (UK)
.

Up On The Ridge

2011
CD CAPITOL

509990 27125 2 9 (US) (promo)

Am I The Only One / Am I The Only One / Am I The Only One (hook #1) / Am I The Only One (hook #2)

2014
CD DECCA ? (UK) (promo)
.

I Hold On
Albums
08/2003
CD CAPITOL 39814 (US)
DIERKS BENTLEY - What Was I Thinkin' / Wish It Would Break / Forget About You / I Can Only Think Of One / My Last Name / Bartenders, etc... / Is Anybody Loving You These Days / My Love Will Follow You / How Am I Doin' / Distant Shore / I Bought The Shoes / Whiskey Tears / Train Travelin' (with The Del McCOURY Band)
05/2005
CD CAPITOL 3373672 (US)
MODERN DAY DRIFTER - Lot Of Leavin' Left To Do / Come A Little Closer / Cab Of My Truck / Settle For A Slowdown / Domestic, Light And Cold / Good Things Happen / Down On Easy Street / So So Long / Modern Day Drifter / Good Man Like Me (with The Del McCOURY Band) / Gonna Get There Someday
10/2006
CD CAPITOL 678362 (US)
LONG TRIP ALONE - Every Mile A Memory / Can't Live It Down / Long Trip Alone / That Don't Make It Easy Loving Me / Soon As You Can / Trying To Stop You Leaving / Hope For Me Yet / The Heaven I'm Headed To / Free And Easy Down The Road I Go / Band Of Brothers / Prodigal Son's Prayer
05/2008
CD LIBERTY 090702 (US)
GREATEST HITS - EVERY MILE A MEMORY - Free And Easy (Down The Road I Go) / Trying To Stop Your Leaving / Sweet & Wild / Come A Little Closer / How Am I Doin' / Every Mile A Memory / My Last Name / Lot Of Leavin' Left To Do / With The Band / Settle For A Slowdown / What Was I Thinkin' / Long Trip Alone / So So Long

[live]

/ Come A Little Closer

[live]

/ Lot Of Leavin' Left To Do

[live]

/ Wish It Would Break

[live]

/ Free And Easy

[live]

02/2009
CD CAPITOL 02158 (US)
FEEL THAT FIRE - Life On The Run / Sideways / Feel That Fire / I Wanna Make You Close Your Eyes / Here She Comes / I Can't Forget Her / Beautiful World (with Patty GRIFFIN) / Little Heartwrecker / You Hold Me Together / Better Believer / Pray / Last Call
06/2010
CD EMI 85410 (US)
UP ON THE RIDGE - Up On The Ridge / Fallin' For You / Señor (Tales Of Yankee Power) / Rovin' Gambler (with the PUNCH BROTHERS) / Draw Me A Map / Bad Angel / Fiddlin' Around / You're Dead To Me / Pride (In The Name Of Love) / Love Grows Wild / Bottle To The Bottom / Down In The Mine
02/2012
CD EMI 94714 (US)
HOME - Am I The Only One / Gonna Die Young / Tip It On Back / Home / Diamonds Make Babies / In My Head / Breathe You In / The Woods / When You Gonna Come Around / 5-1-5-0 / Heart Of A Lonely Girl / Thinking Of You
02/2014
CD CAPITOL 3750644 (US)

Riser -

Bourbon In Kentucky / Say You Do / I Hold On / Pretty Girls / Here On Earth / Drunk On A Plane / Five / Riser / Sounds Of Summer / Damn These Dreams / Back Porch / Hurt Somebody
05/2016
CD CAPITOL 002474502 (US)

Black - Black / Pick Up / I'll Be The Moon (Dierks Bentley feat: Maren Morris) / What the Hell Did I Say / Somewhere On A Beach / Freedom / Why Do I Feel / Roses And A Time Machine / All The Way To Me / Different For Girls / Mardi Gras (Dierks Bentley feat: Troy "Trombone Shorty" Andrews) / Light It Up / Can't Be Replaced

06/2018
CD CAPITOL B0028286-02 (US)
THE MOUNTAIN - Burning Man [feat.

Brothers Osborne

] / The Mountain / Living / Woman, Amen / You Can't Bring Me Down / Nothing On But The Stars / Goodbye In Telluride / My Religion / One Way / Son Of The Sun / Stranger To Myself / Travelin' Light [feat. Brandi

Carlile

] / How I'm Going Out
02/2023
CD CAPITOL ? (US)
GRAVEL & GOLD - Same Ol' Me / Sun Sets In Colorado / Heartbreak Drinking Tour / Something Real / Still / Beer At My Funeral / Cowboy Boots (featuring Ashley McBRYDE) / Gold / Walking Each Other Home / Roll On / All The Right Places / Ain't All Bad / Old Pickup / High Note (featuring Billy STRINGS
© Rocky Productions 20/01/2023