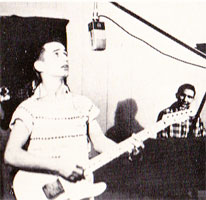 Chanteur et compositeur US né le 12 Août 1940 à Opelousas (Louisiane). Rod Bernard a débuté à l'age de 10 ans avec le groupe "The Twisters" de Mike Genovese. découvert par Floyd Soileau de Jin Records, il enregistre son premier disque vers 1958 pour Carl Records. Le disque marche et Floyd le revend au label Chess qui le sortira sur Argo. Rod Bernard a enregistré pour Jin (58/59), Mercury (59/60), Tear Drop (65) et Scepter Records (66), pour revenir chez Jin où il restera jusqu'en 1976. Rod Bernard est décédé le 12 Juillet 2020.

Swamp pop musician Rod Bernard was born in Opelousas, Louisiana in the early '40s and made his professional debut on KSLO Opelousas when he was only ten. Two years later, Bernard was a deejay at the station, but in 1954, his family moved to Winnie, Texas. There Bernard became accquainted with the town barber Huey Meaux, who later became a major producer of Cajun recordings. By the time he was a teenager, Bernard formed his first band (The Twisters) and cut two records on Jake Graffagnino's Carl label.
They then recorded King Karl's "This Should Go on Forever" for Floyd Soileau's Jin label (which eventually licensed the recording to Chicago's Argo label) and took the records to Huey Meaux — who was now hosting a French music show on KPAC Port Arthur. Meaux had the song played throughout East Texas and took a copy to the Big Bopper, who played it at KTRM Beaumont, Texas. It took seven months, but eventually the record made it to the Top 20 on the pop charts. Bernard then appeared on Dick Clark's American Bandstand (where he had to sanitize some of the lyrics for mainstream audiences) and signed with Mercury Records. After recording over 40 songs for the label, Bernard watched as only four sides were released. One of them, "One More Chance," made it to the pop charts as a minor hit.
By 1962, Bernard's Mercury contract had run out. He began working for Hall-Way Records, where many of his sessions were backed by Johnny and Edgar Winter. He achieved small success with a rocked up version of the traditional Cajun song "Colinda," before Bernard became a deejay and musical director at KVOL , and later a sales executive at KLFY-TV, both Lafayette stations. He also performed on television with the Shondells, a group he had co-founded in 1963. In 1965, a compilation of 12 songs he and the Shondells sang on the show were released as Saturday Hop on the La Louisienne label. The group also released a single, "Our Teenage Love" for Teardrop. Bernard and Carol Ranchou of La Louisianne founded the Arbee label. Bernard released several albums throughout the seventies and continued to work for KLFY-TV for years. In the late '90s, Rod Bernard returned to the studios and recorded The Louisiana Tradition.
Rod Bernard passed away on July 12, 2020.
https://en.wikipedia.org/wiki/Rod_Bernard
Talents : Singer, Guitar
Style musical : Swamp Rock, Cajun, Rock 'n' Roll
Years in activity :
| | | | | | | | | | | | |
| --- | --- | --- | --- | --- | --- | --- | --- | --- | --- | --- | --- |
| 1910 | 20 | 30 | 40 | 50 | 60 | 70 | 80 | 90 | 2000 | 10 | 20 |
DISCOGRAPHY
Singles
| | | |
| --- | --- | --- |
| 1957 | SP CARL H8OW-2441/2 (US) | Rob BERNARD with Mike GENOVESE & The TWISTERS - Little Bitty Mama / Linda Gail |
| 1958 | SP CARL 1229 (US) | Rob BERNARD & The TWISTERS - All Night In Jail / Set Me Free |
| 1959 | SP JIN 45-105 (US) | Rob BERNARD & The TWISTERS - Pardon, Mr. Gordon / This Should Go On Forever |
| 02/1959 | SP ARGO 5327 (US) | Pardon, Mr. Gordon / This Should Go On Forever |
| 06/1959 | SP ARGO 5338 (US) | You're On My Mind / My Life Is A Mystery |
| 09/1959 | SP MERCURY 71507x45 (US) | Shedding Teardrops Over You / One More Chance |
| 01/1960 | SP MERCURY 71592x45 (US) | Let's Get Together Tonight / One Of These Days |
| 1960 | SP MERCURY 71654x45 (US) | Dance Fool Dance / Two Young Fools In Love |
| 09/1960 | SP MERCURY 71689x45 (US) | Just A Memory / Strange Kisses |
| 1961 | SP MERCURY 71767x45 (US) | Lonely Hearts Club / Who Knows |
| 1961 | SP HALL-WAY 1806 (US) | Wedding Bells / I Had A Girl |
| 1962 ? | SP HALL-WAY 1902 (US) | Who's Gonna Rock My Baby / Colinda |
| 1962 ? | SP HALL-WAY 1906 (US) | New Orleans Jail / Fais Dodo |
| 1962 | SP MERCURY 71842x45 (US) | I'm Not Lonely Anymore / Sometime |
| 1963 ? | SP HALL-WAY 1915 (US) | Forgive / I Want Somebody |
| 1964 | SP HALL 1917 (US) | The Clock / Diggy Liggy Lo |
| 1964 | SP HALL 1919 (US) | Bossman's Son / Loneliness |
| 1964 | SP HALL 1922 (US) | I Might As Well / My Older Mother In Law |
| 1965 | SP ARBEE 104 (US) | Gimme Back My Cadillac / Don't You Think I've Paid Enough |
| 1965 | SP ARBEE 105 (US) | Just Another Lie / These Were Our Songs |
| 1965 | SP TEARDROP 3044 (US) | Our Teenage Love / Doing The Oo-Wa Woo |
| 1965 | SP TEARDROP 3052 (US) | My Jolie Blonde / You're The Reason |
| 1965 | SP TEARDROP 3060 (US) | Little Green Man / No Money Down |
| 11/1965 | SP TEARDROP 3117 (US) | Recorded In England / This Should Go On Forever |
| 1965 | SP CADET 5327 (US) | Pardon, Mr. Gordon / This Should Go On Forever |
| 1966 | SP SCEPTER SCE-12195 (US) | Recorded In England / These Were Our Songs |
| 1966 ? | SP CARL 1229 (US) | Linda Gail / Little Bitty Mama |
| 1966 ? | SP CARL 1230 (US) | Set Me Free / All Night In Jail |
| 1968 | SP SCEPTER 12195 (US) | These Were Our Songs / Recorded In England |
| 1968 | SP COPRYGHT 2316 (US) | Play A Song For My Baby / Papa Thibodeaux |
| 1968 | SP COPRYGHT 2317 (US) | Let's Start A Commotion / In This Small Town |
| 1968 | SP JIN 232 (US) | Congratulations To You Darling / You're The Reason In Love |
| 1969 | SP JIN 237 (US) | Cajun Honey / To Have And Hold |
| 1969 | SP JIN 240 (US) | Big Mamou / New Orleans Jail |
| 1969 ? | SP CRAZY CAJUN 9020 (US) | Papa Thibodeaux / My Little Jolie Blonde |
| 1970 | SP SSS INTERNATIONAL 822 (US) | Cajun Interstate / A Tear In My Lady's Eyes |
| 1972 | SP JIN 286 (US) | Teach Me To Forget / Doesn't Take That Too Much To Cry |
| 1974 | SP JIN 307 (US) | Somebody Wrote That Song For Me / Don't You Think I've Paid Enough |
| 1975 | SP JIN 325 (US) | Sometimes I Talk In My Sleep / Breakin' Up Is Hard To Do |
| 1975 | SP JIN 338 (US) | This Should Go On Forever / I Spent A Week There Last Night |
| 1975 | SP JIN 350 (US) | A Winner In Love / I Forgot I Had These Memories Of You |
| 1976 | SP JIN 362 (US) | Rod BERNARD & Clifton CHENIER - Rockin' Pneumonia / Shake Rattle And Roll |
| 1976 | SP JIN 373 (US) | Oh Mother Dear / Mardi Gras In New Orleans |
| 1976 | SP JIN 376 (US) | Go On, Go On / I Never Had The One That I Wanted |
| 197? | SP CHESS CH-131 (US) | This Should Go On Forever / See You Later Alligator (Bobby CHARLES) |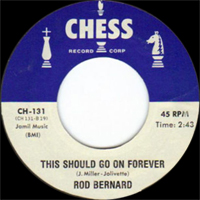 Albums
1964
LP 12" LA LOUISIANE LL-109 (US)

The Shondells At The Saturday Hop - Mountain Of Love (Rod BERNARD) : Tutti-Fruiti (Warren STORM) / Hi Heel Sneakers (Skip STEWART) / Memphis (Rod BERNARD) / Teen Age Letter (Warren STORM) / Money (Skip STEWART) / Mule Train (Rod BERNARD) / Lucille (Warren STORM) / Twist And Shout (Skip STEWART) / Promised Land (Rod BERNARD) / Slow Down (Warren STORM) / If You Want To Be Happy (Skip STEWART)

1967
LP 12" JIN 4007 (US)
ROD BERNARD - This Should Go On Forever / Colinda / Fais Dodo / Jolie Blonde / Whos Gonna Rock My Baby / Diggy Liggy Lo / ...
1976
LP 12" JIN LP 9014 (US)
BOOGIE IN BLACK & WHITE - ROD BERNARD & CLIFTON CHENIER - My Babe / True Fine Mama / High Feel Sneakers / Please Don't Leave Me / Baby What You Want Me To Do / Baby Where Did You Go Last Night / Kansas City / Shake Rattle And Roll / My Jolie Blondie / Rockin Pneumonia And Boogie Woogie Flu
1978 ?
LP 12" CRAZY CAJUN CCLP-1086 (US)

THIS SHOULD GO ON FOREVER AND OTHERS BAYOU CLASSICS

1979
LP 12" JIN 9008 (US)
COUNTRY LOVIN' - Teach To Forget / Mathilda / This Should Go On Forever / ...
1979
LP 12" JIN 9010 (US)
NIGHT LIGHTS & LOVE SONGS - Breaking Up Is Hard To Do / Go On, Go On / You're On My Mind / ...
1982
LP 12" BRYLEN BN 4497 (US)
THE CLOCK - Loneliness / Boss Man's Son / I Might As Well / My Old Mother-In-Law / Forgive / I Want Somebody / The Clock / Diggy Liggy Lo / Colinda / Who's Gonna Rock My Baby
1985
LP 12" ACE CH-143 (UK)
ROD BERNARD - Cajun Honey / Colinda / Pardon Mr. Gordon / This Should Go On Forever / Fais Do Do / Diggy Liggy Lo / My Jolie Blonde / Take Her Back / Boss Man's Son
1992
CD JIN 4012 (US)
LOT OF DOMINOES
01/1998
CD JIN 9056 (US)
THE ESSENTIAL COLLECTION - This Should Go On Forever / Pardon Mr. Gordon / Colinda / Forgive Me / Fais Do Do / Loneliness / Diggy Liggy-Lo / I Might As Well / Boss Man's Son / New Orleans Jail / Big Mamou / Congratulations To You Darlin' / Good Hearted Man / Don't Blame It On Me / Just One More Chance / Somertimes I Talk In My Sleep / Sometimes / Don't You Think I've Paid Enough / Play A Song For My Baby / Somebody Wrote That Song For Me / I Want Somebody / Winner In Love
02/1999
CD EDSEL 593 (UK)
CAJUN BLUE - Jolie Blonde / You're The Reason I'm In Love / Let's Start A Commotion / Small Town Talk / This Should Go On Forever

[version 1] /

Little Green Man / Our Teenage Love / Colinda

[version 1]

/ Cajun Honey (Cajun Lovin' Style) / To Have And To Hold / Recorded In England / Fais Do Do

[version 1] /

Cajun Blue / If You Call This Happy, Baby / I Don't Miss You / Texas Roller Coaster Feeling / Help Me Put Myself Together / Wish I Could Get Up And Go To Bed / New Orleans Jail / Colinda

[version 2] /

This Should Go On Forever

[version 2] /

Bell Bottom Bayou / Cajun Interstate / Big Mamou / Jambalaya (On The Bayou) / Hippi-Ti-Yo / Fais Do Do

[version 2]

/ A Tear In The Lady's Eye
06/1999
CD CSP 1018 (US)
A LOUISIANA TRADITION - Backwater Bayou / You're On My Mind / Ga De Don, Ga De Don (Gardez Donc) / Everybody Wants To Know / Hurricane Watch / Never Been Good (At Goodbye) / I Can Help / Poor Me / Just A Little Bit / When I Hold You In My Dreams / Mabelline / Someone You Run From / Pain In My Past / Happy Anniversary / Family Secrets / The Fantasy Is Over / See You Later, Alligator
01/2003
CD JIN 488 (UK)
SWAMP ROCK 'N' ROLLER - Pardon Mr Gordon / Recorded In England / Memphis / Gimme Back My Cadillac / Who's Gonna Rock My Baby / Forgive / My Old Mother In Law / I Might As Well / Boss Man's Son / Fais Do Do / Loneliness / Colinda / I Want Somebody / Diggy Liggy Lo / Lawdy Miss Clawdy / The Prisoner's Song / Thirty Days / That's Alright Mama / Lover's Blues / Maybellene / Midnight Special / My Babe / Jambalaya (On The Bayou) / Big Mamou / New Orleans Jail / Give Me Love / Shake Rattle And Roll / This Should Go On Forever
200?
CD DEMON ? (UK)
VOICES OF AMERICANA - Jolie Blonde / You're The Reason I'm In Love / Let's Start A Commotion / Small Town Talk / This Should Go On Forever (version 1) / Little Green Man / Our Teenage Love / Colinda (version 1) / Cajun Honey (Cajun Lovin' Style) / To Have And To Hold / Recorded In England / Fais Do Do (version 1) / Cajun Blue / If You Call This Happy Baby / I Don't Miss You / Texas Rollar Coaster Feeling / Help Me Put Myself Together / Wish I Could Get Up And Go To Bed / New Orleans Jail / Colinda (version 2) / This Should Go On Forever (version 2) / Bell Bottom Bayou / Cajun Interstate / Big Mamou / Jambalaya / Hippi-Ti-Yo / Fais Do Do (version 2) / A Tear In The Lady's Eye
© Rocky Productions 19/03/2005