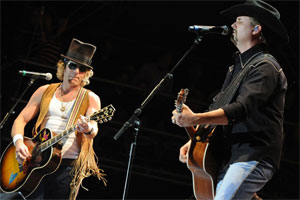 Duo Country US formé en 1998 à Nashville et composé de Big Kenny (né kenny Alphin et ex-chanteur du groupe LuvjOi) et John Rich (ex-chanteur et bassiste du groupe Lonestar).

A pair of gonzo country showmen initially shunned by the Nashville mainstream but eventually becoming the face of the Music City as the 2000s drew to a close, Big & Rich were the most unlikely country success story of the new millennium. They didn't appear from nowhere, but when Horse of a Different Color exploded in 2004, it sure seemed like they did, memories of John Rich's time in Lonestar vanishing, along with any trace of Big Kenny's years struggling on the fringes of major-label studios. In its place was something cheerfully, grotesquely super-sized, happy to revel in a bad taste that camouflaged exactly how eclectic the duo was, how Big & Rich happily pushed hip-hop braggadocio into their rocking country, building their music on chant-along sports anthems and ballads, the former showcasing their humor, the latter their sentimentality. Soon after "Save a Horse (Ride a Cowboy)" because a smash, Big & Rich started firing out hits, not just as performers but as writer/producers, turning Gretchen Wilson into a star, assisting in John Anderson's comeback, and supporting novelties like country-rapper Cowboy Troy. Their oversized, out of control train steamrolled throughout the back half of the '90s, with Rich slowly ingratiating himself in the establishment -- appearing as a judge on Nashville Star, the country American Idol knockoff -- and Big Kenny once again turning toward the fringes, only this time working with the added benefit of being able to have his music be heard.
If Big & Rich seemed like an ungainly match, it's because they came from quite different backgrounds: Rich taking the traditional Music City path via Lonestar, and Big Kenny Alphin working as a pro songwriter, dabbling in both country and rock. They paired up in 1998, starting a regular performing group called the MuzikMafia, which appeared at a Nashville club on a regular basis for several years. Big & Rich worked on new material, both as a team and separately, building a reputation that started to crest in 2003, when Martina McBride recorded their "She's a Butterfly." Soon, the duo signed with Warner Nashville, which released their first single, "Wild West Show," early in 2004 with the full-length Horse of a Different Color appearing that spring. Thanks to the near-novelty "Save a Horse (Ride a Cowboy)," a boisterous blend of rockin' country and old-school rap, the album turned into something of a phenomenon and Big & Rich were ready to seize this opportunity, pushing themselves and their MuzikMafia. The first out the gate was Gretchen Wilson, whose 2004 debut, Here for the Party, was produced by Rich, who also wrote many of the songs, including its hit "Redneck Women." The group's country rapper comrade Cowboy Troy was next in line, releasing his debut in 2005.
By the time Big & Rich released their sophomore album, Comin' to Your City, in time for the holiday season of 2005, they were dominating country music, with Rich in particular popping up all over the place, producing John Anderson's comeback and judging Nashville Star. Comin' to Your City showed signs of Big & Rich turning their schtick into formula, but the record went into the Top Ten and had several hits. The group's momentum didn't slow until 2007, when their third album, Between Raising Hell and Amazing Grace, performed only respectably. Big & Rich decided to devote 2009 to solo projects, with Rich's Son of a Preacher Man appearing in the spring and Kenny's Quiet Times of a Rock and Roll Farm Boy in the fall, followed by a hits collection of the group's first three albums. The duo reunited in 2012 as Big & Rich for their fourth studio album, Hillbilly Jedi, which featured a pair of songs co-written with Jon Bon Jovi and Richie Sambora (Bon Jovi was also instrumental in getting clearance from George Lucas to use the term "Jedi" in the album title).
Hillbilly Jedi didn't do much on the charts; it entered Billboard's country charts at four and the Billboard 200 at 25, and only the lead single, "That's Why I Pray," made waves, with the subsequent singles failing to crack the Top 40. The duo quickly returned to the studio, working on their fifth album throughout 2013. By the time 2014 arrived, Big & Rich severed ties with Warner and started their own label, also called Big & Rich. The first release on the label was the single "Look at You," which appeared in early 2014 and went into the Billboard country Top 20. The full-length Gravity saw the comedic duo opting for a softer, melodic direction; it was released in September 2014. In April 2017, the duo issued the single "California" in anticipation of the release of their sixth studio LP. Released on September 15, 2017, Did It for the Party debuted at two on Billboard's Country Albums chart.
https://en.wikipedia.org/wiki/Big_%26_Rich
Talents : Big : Vocals, Guitar, Songwriter - John : Vocals, Guitar, Songwriter
Style musical : Contemporary Country, Country Pop, Progressive Country

http://www.youtube.com/watch?v=liG9UT4HiCg
Years in activity :
| | | | | | | | | | | | |
| --- | --- | --- | --- | --- | --- | --- | --- | --- | --- | --- | --- |
| 1910 | 20 | 30 | 40 | 50 | 60 | 70 | 80 | 90 | 2000 | 10 | 20 |
DISCOGRAPHY
Singles & EP
2003
CD + DVD WARNER BROS. PRO-CD-101215 (US) (promo)

Welcome To The Big & Rich Wild West Show :

CD : Wild West Show (single version) / Holy Water (album version) / Love Train (album version) / Kick My Ass (album version)
DVD : Promotional video for forthcoming album (Horse Of A Different Color)

01/2004
SP WARNER BROS. 7-16515 (US)
.

Wild West Show / Saved

02/2004
CD WARNER BROS. 16515 (US)
Wild West Show

[single version]

/ Saved

[album version]

07/2004
CD WARNER BROS. 9362427492 (US)
.
Save A Horse (Ride A Cowboy)

[dance mix]

09/2004
CD WEA 6501 (US)
.
SAVE A HORSE (RIDE A COWBOY), Pt. 1
09/2004
CD WEA 6502 (US)
.
SAVE A HORSE (RIDE A COWBOY), Pt. 2
11/2004
CD WARNER BROS. 9362 42748 2 (EUR)
SAVE A HORSE (RIDE A COWBOY), Pt. 3 - Save A Horse (Ride A Cowboy)

[album version] /

Never Been Down

[non-album track] /

Rollin' (The Ballad Of Big & Rich) / Save A Horse (Ride A Cowboy)

[data track]

2004
CD WARNER BROS. PR015018 (EUR) (promo)

Save A Horse, Ride A Cowboy (album version)

2004
CD WARNER BROS. 9362427492(AUS)
SAVE A HORSE (RIDE A COWBOY) - Save A Horse (Ride A Cowboy) (album version) / Never Been Down / Rollin' (The Ballad Of Big & Rich)
2005
CD Warner Bros. PRO-CDR-101634 (US) (promo)
.

Comin' To Your City (album version)

2005
CD Warner Bros. ? (US) (promo)
.

Gretchen Wilson, Big & Rich & Cowboy Troy ‎– Our America

2006
CD WARNER MUSIC. ? (US)
.
8th Of November

[radio edit]

2006
CD WARNER BROS. ? (US)
Never Mind Me
2007
CD WARNER BROS. PRO-CDR-101981 (US) (promo)

.

Lost In This Moment (single version)
2007
CD WARNER BROS. ? (US)
.
SOUNDCHECK - Lost In This Moment [soundcheck session] / Between Raising Hell And Amazing Grace [soundcheck session] / Save A Horse [Ride A Cowboy] [soundcheck session] / 8th Of November [soundcheck session] / Comin' To Your City [soundcheck session]
2007
CD WARNER BROS. ? (US)

.

UNPLUGGED - AT STUDIO 330 - Lost In This Moment

[unplugged version] /

Between Raising Hell And Amazing Grace

[unplugged version] /

Holy Water

[unplugged version] /

8th Of November

[unplugged version]

2012
CD WARNER BROS. 531712-2 (US) (limited edition)

That's Why I Pray / Save A Horse (Ride A Cowboy) / Comin' To Your City / Lost In This Moment

2012
CD WARNER BROS. PRO-CDR-531519 (US) (promo)

That's Why I Pray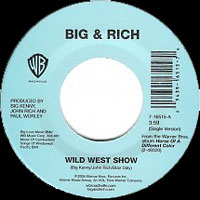 Albums
05/2004
CD WARNER BROS. 48520-2 (US)

| | |
| --- | --- |
| | HORSE OF A DIFFERENT COLOR - Rollin' (The Ballad Of Big & Rich) / Wild West Show / Big Time / Kick My Ass / Six Foot Town / Holy Water / Saved / Real World / Save A Horse (Ride A Cowboy) / Drinkin' 'bout You / Love Train / Dreadwood Mountain / Live This Life |

11/2004
CD + DVD WARNER BROS. 48904-2 (US)
BIG & RICH'S SUPER GALACTIC FAN PAK :

CD : Save A Horse (Ride A Cowboy) / Never Been Down / Drinkin' bout You / The Bob Song / Save A Horse (Ride A Cowboy)
DVD : Rollin' / Six Foot Town / Real World / Deadwood Mountain / Kick My Ass / Love Train / Holy Water / The Joyce Song / Wild West Show / Big Al's Buffalo Club Medley

11/2005
CD WARNER BROS. 49470-2 (US)
COMIN' TO YOUR CITY - Freak Parade / Comin' To Your City / Soul Shaker / Never Mind Me / Caught Up In The Moment / Leap Of Faith / I Pray For You / Filthy Rich / Jalapeno / 20 Margaritas / Blow My Mind / Slow Motion / 8th Of November / BONUS TRACK : Our America
06/2007
CD WARNER BROS. 43255-2 (US)
BETWEEN RAISING HELL AND AMAZING GRACE - Intro / Lost In This Moment / Between Raising Hell And Amazing Grace / Faster Than Angels Fly / Eternity (featuring John LEGEND) / When The Devil Gets The Best Of Me / Radio Intro / Radio / You Never Stop Loving Somebody / High Five / Please Man (featuring Wyclef JEAN) / You Shook Me All Night Long / Loud
09/2008
CD + DVD WARNER BROS. 511829-2 (US)
BIG & RICH'S SUPER GALACTIC FAN PAK - 2 :

CD : Woodstock / Everybody's Rockin' / Find A Heart
DVD : Radio / Comin' To Your City / Wild West Show / Love Train / Lost In This Moment / Between Raising Hell And Amazing Grace / Big Time / Just Got Started Loving You (with James OTTO) / Holy Water / 8th Of November / Jalapeño / Loud / I Play Chicken With The Train / Save A Horse (Ride A Cowboy) / Rollin' (The Ballad Of Big & Rich)

09/2009
CD WARNER BROS. 519706-2 (US)
GREATEST HITS - Rollin' (The Ballad Of Big & Rich) / Wild West Show / Save A Horse (Ride A Cowboy) / Holy Water / Big Time / Comin' To Your City / Never Mind Me / 8th Of November / Lost In This Moment / Between Raising Hell And Amazing Grace / Loud / Jalapeño / The Man I Am Right Now / Everybody's Rockin' / Kick My Ass
09/2012
CD WARNER BROS. 531736-2 (US)
HILLBILLY JEDI - Born Again (BIG & RICH feat. BON JOVI) / Party Like Cowboyz [galactic version] / That's Why I Pray / Lay It All On Me / Last Words / Rock The Boat (BIG & RICH feat. Cowboy TROY) / Can't Be Satisfied /

Get Your Game On [unleash the beast version]

(BIG & RICH feat. Cowboy TROY) / 'Cause I Play Guitar / Cheat On You / Never Far Away /

M-E-D-L-E-Y Of The Hillbilly Jedi

2014
CD WARNER BROS. 544804-2 (US)

Greatest Hits - Save A Horse (Ride A Cowboy) / Holy Water / Big Time / Comin' To Your City / 8th Of November / Lost In This Moment / Rollin' (The Ballad Of Big & Rich) / Fake ID / Love Train / Party Like Cowboyz

09/2014
CD B$R B$R001CD (US)

Gravity -

Look At You / Lovin' Lately (

Big & Rich

feat: Tim Mc

Graw

) / Gravity / Brand New Buzz / Rollin' Along / Run Away With You / Lose A Little Sleep / Don't Wake Me Up / That Kind Of Town / Thank God For Pain / I Came To Git Down
09/2017
CD Big & Rich / Thirty Tigers BSR 002CD (US)

Did It for the Party - California / Did It For The Party / Congratulations (You're A Rockstar) / Turns Me On / Wake Up Wanting You / Smoke In Her Eyes / No Sleep / We Came To Rawk / Funk In The Country / The Long Way Home / Freedom Road / My Son / Lie Cheat Or Steal
© Rocky Productions 5/03/2022