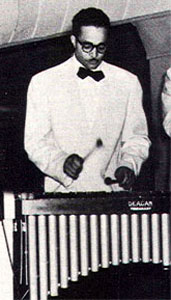 Compositeur, arrangeur, et producteur de disques né Robert Alexander "Bumps" Blackwell, le 23 Mai 1918 à Seatle (Washington). Robert "Bumps" Blackwell est connu pour son travail de superviseur des premiers succès de Little Richard, ainsi que les arrangements musicaux de Ray Charles, Quincy Jones, Ernestine Anderson, Lloyd Price, Sam Cooke, Herb Alpert, Larry Williams et Sly and the Family Stone au début de leur carrière musicale. Il est décédé le 9 Mars 1985 à Hacienda Heights, Whittier, California

Robert "Bumps" Blackwell produced some of the first hits by Little Richard and Sam Cooke ("You Send Me") which paved the way for rock & roll and soul. Born in 1918 in Seattle, WA, he played piano in a band that included pre-stardom members Quincy Jones and Ray Charles. After a hitch in the Army, Blackwell came back to Seattle in 1949. After starting a number of businesses, a trip to Los Angeles led to his move there in 1953.
Making the rounds to sell his recordings to various L.A. record labels, he worked with Herb Alpert and Lou Adler before taking a position as A&R director and music arranger at Art Rupe's R&B/gospel label Specialty Records in spring 1955. When a demo tape of Little Richard and the Upsetters arrived, Rupe and Blackwell decided to buy Little Richard's recording contract from Don Robey's Houston, TX-based Duke Peacock Records.
In fall 1955, Blackwell began producing Little Richard at Cosimo Matassa's J&M studio in New Orleans with the backing of the city's top musicians: pianist Huey "Piano" Smith, drummer Earl Palmer, sax player Alvin "Red" Tyler, guitarists Edgar Blanchard, and Justin Adams and bassist Frank Fields. Some of the same musicians were enlisted by producer Dave Bartholomew on sides for Fats Domino, Roy Brown, and Shirley & Lee.
The initial sessions proved unsuccessful, so Blackwell, Little Richard, and the band went across the street to a bar. The singer began noodling around on the bar's piano and suddenly launched into his trademark "awop-bop-a-loo-mop-a-good." Everyone knew that Little Richard had found his sound and the hits began to flow: "Tutti Fruitti" (number two R&B for eight weeks), the double-sided hits "Long Tall Sally" (number one R&B for eight weeks, number six pop) b/w "Slippin' and Slidin' (Peepin' and Hidin')" (number two R&B for two weeks), "Rip It Up" (number one R&B for two weeks) b/w "Ready Teddy," "Lucille" (number one R&B for two weeks) b/w "Send Me Some Lovin'" (number three R&B, spring 1957), "Keep a Knockin'" in the Alan Freed movie Mister Rock 'n' Roll (number two R&B, number eight pop, fall 1957), and "Good Golly, Miss Molly" (number four R&B, number ten pop, early 1958).
Specialty also had an impressive roster of gospel acts, the Pilgrim Travelers, Brother Joe May, and the Soul Stirrers With Sam Cooke. After a California performance by the gospel group, Blackwell suggested to Cooke that he should sing pop music. Wishing not to alienate his gospel audience, Cooke's first secular single "Wonderful" was issued under the pseudonym "Dale Cook." After the single didn't chart, Blackwell decided to record Cooke in a pure pop vein, even adding the Pied Pipers on background vocals to enhance the pop sound. Blackwell wanted Cooke's music to go straight to pop music stations, instead of the usual route of a black artist's record of becoming a hit on black stations and a huge seller in that market before "crossing over" to the pop market. Label owner Rupe disagreed, leading to arguments between him and Blackwell and Cooke's threatening to leave the label. The resolution was Blackwell giving up all his future royalties to Little Richard's records and taking Cooke with him.
Blackwell's first single aimed squarely at the white market was a cover of "Summertime" from the musical Porgy & Bess b/w the Cooke-written airy, sweet ballad "You Send Me", issued by Bob Keane's Keen Records. "You Send Me" sold over a million singles, parking at number one R&B for six weeks and number one pop for three weeks on Billboard's charts in fall 1957. Cooke and Blackwell parted company in 1959. Blackwell went on to manage Little Richard and produced sides by Bob Dylan and Art Neville before dying in 1985.
Bumps Blackwell-related releases are The Sermon by the Five Blind Boys of Alabama, Sufferin' Mind by Guitar Slim, Treacherous Too: A History of the Neville Brothers, Vol. 2 (1955-1987), and Blues Balladeer by Jesse Belvin.
https://en.wikipedia.org/wiki/Robert_Blackwell
Talents : Bandleader, Songwriter, Arranger, Record Producer
Style musical : Jazz, Rhythm 'n' Blues, Rock 'n' Roll, Pop
Years in activity :
| | | | | | | | | | | | |
| --- | --- | --- | --- | --- | --- | --- | --- | --- | --- | --- | --- |
| 1910 | 20 | 30 | 40 | 50 | 60 | 70 | 80 | 90 | 2000 | 10 | 20 |
DISCOGRAPHY
Single
© Rocky Productions 17/03/2021