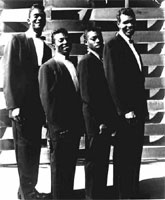 Groupe Doo Wop US formé en 1961 à Venice (Californie), les Blue Jays ont enregistré pour Roadhouse (53), Checker (53), Roulette (59), Laurie (59) et Milestone Records (61-62). Il était composé de Leon Peels, Van Richardson, Alex Manigo et Leonard Davidson. les Blue Jays se sont séparés en 1962. Il est possible que plusieurs groupes portent se nom...

The Blue Jays perfectly represent the transitional era between '50s R&B and the '60s soul era by singing doo wop-styled songs with a gospelly lead Vocals. They are best known for their 1961 Top 40 hit "Lovers Island," which many consider to be the last hit record in true doo wop style.
The Los Angeles-based Vocals quartet — Leon Peels (b. 1936, Newport, AR), Van Richardson, Alex Manigo, and Leonard Davidson (aka "Len" and "Tree Tall Len") — came together in the suburb of Venice, CA, in 1961. Following an appearance at an amateur show at the Fox Theater in Venice, the group were put in touch with country singer Werly Fairburn, who signed them to his Milestone label. Milestone's roster consisted mostly of rockabilly bands and had already achieved some success with the Paradons ("Diamonds and Pearls").
The Blue Jays' first single "Lovers Island," written by Peels and Manigeault, seemed almost like a throwback to an earlier time in Vocals group music. Though it was not a big seller like other Vocals act singles of the time by groups like the Jive Five or the Dreamlovers — it charted in the pop Top 40 at number 31 and performed well on the local L.A. R&B charts — it served as a beautiful swan song for the doo wop era. Milestone also released an album pairing the Paradons with the Blue Jays.
The group followed their hit with singles like "Tears Are Falling" (1961) and "The Right to Love" (1962), but nothing came of them and the group broke up in early 1962. Leon Peels later recorded a number of singles — including "On a Magic Island" — for Whirlybird Records, backed by the Hi-Tensions.
http://doo-wop.blogg.org/blue-jays-3-c26502690
Talents : Leon Peels : Lead - Van Earl Richardson : Tenor - Alexander Manigo : Baritone - Leonard Davidson : Bass
Style musical : Doo Wop
Years in activity :
| | | | | | | | | | | | |
| --- | --- | --- | --- | --- | --- | --- | --- | --- | --- | --- | --- |
| 1910 | 20 | 30 | 40 | 50 | 60 | 70 | 80 | 90 | 2000 | 10 | 20 |
DISCOGRAPHY
Singles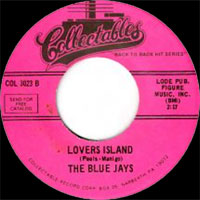 Unissued tracks
| | | |
| --- | --- | --- |
| 1964 | WHIRLBIRD unissued | Woe Is Me (Leon Peels) |
| 1964 | WHIRLBIRD unissued | Thats All It Took (Leon Peels) |
| 1965 | Unissued | The Heart You Break May Be Your Own (Leon Peels & Lolly Vegas Trio) |
| 1965 | Unissued | So Long Lovers Island |
DISCOGRAPHY
Albums
1962 ?
LP 12" MILESTONE MIL-1001 (US)
THE BLUE JAYS MEET LITTLE CAESAR & THE ROMANS - BLUE JAYS : Tears Are Falling / Tree Tall Len / The Right To Love / Rock, Rock, Rock / Let's Make Love / Lover's Island / You're Gonna Cry / Venus My Love / Little CAESAR & The ROMANS : She Don't Wanna Dance (No More) / Those Oldies But Goodies (Remind Me Of You) / Hully Gully Again / Frankie And Johnnie / Memories Of Those Oldies But Goodies / Fever / Ten Commandments Of Love / C C Rider
1985 ?
LP 12" RELIC 5064 (US)
LOVERS ISLAND -

The Blue Jays Featuring Leon Peels -

Lover's Island / The Right To Love / Tree Tall Len / Tears Are Falling / Let's Make Love / You're Gonna Cry / Rock, Rock, Rock / Venus My Love / A Magic Island / Woe Is Me / That's All It Took / A Casual Kiss / Darlene / Cottonhead Joe / The Heart You Break May Be Your Own / So Long Lovers Island
08/1998
CD COLLECTABLES 5916 (US)
THE BLUE JAYS MEET THE PARADONS - BLUE JAYS : Lover's Island / On A Magic Island / Tears Are Falling / Venus My Love / Rock Rock Rock / That's All It Took / The Right To Love / Darlene / You're Gonna Cry / A Casual Kiss / Tree Tall Len / Woe Is Me / Let's Make Love / So Long Lovers Island / PARADONS : Diamonds And Pearls / Please Tell Me / I Want Love / Bells Ring
2009
CD COLLECTABLES COL-CD-1441 (US)

The Bluejays Meet The PARADONS - BLUE JAYS : Lover's Island / On A Magic Island / Tears Ae Falling / A Casual Kiss / So Long, Lover's Island / That's All It Took / PARADONS : Diamonds And Pearls / Please Tell Me / I Want Love / Bells Ring
© Rocky Productions 12/05/2022