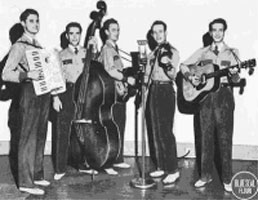 Groupe Country US fondé en 1940, les Blue Seal Pals comprenaient des musiciens qui allaient devenir célèbre à Nashville et à Memphis: Buddy Bain, Dexter Johnson, Quinton Claunch, Bill Cantrell et Edgar Clayton. Les Blue Seal Pals se sont séparés à la fin des années quarante.

In 1943, the Blue Seal Pals were co-founded by Edgar Clayton and Quinton Claunch and began playing on WLAY radio station in Muscle Shoals, Alabama. The original lineup featured Clayton on Vocals and guitar, Claunch on electric guitar, Vocals and comic, known as "Washboard", Bill Cantrell joined in 1944 on fiddle, and Dexter Johnson joined in 1945 on bass, mandolin and tenor guitar.
In 1946, the Pals moved from WLAY to WJOI in Florence, Alabama and formed the Blue Seal Network with their sponsor, The Columbia Mill and Elevator Company of Columbia, Tennessee, the manufacturer of blue Seal flour. This radio network would expand to include twelve stations throughout Alabama, Mississippi, Tennessee and Georgia. As their popularity grew they were auditioned by George D. Hay, founder of WSM's Grand Ole Opry, and asked to host "The Sun-Up Serenade" on nashville's WSM Saturday mornings.
The Blue Seal Pals performed shows all over the south and the east coast. They also toured with the Rod Brasfield road show. Quinton Claunch played the part of Brasfield's "Gal Susie" and Johnson played the "Doctor." The Pals also worked with Cowboy Copas and played on Minnie Pearl's International Harvester Shows.
As the 1940s came to a close radio stations began playing more recorded music, and the Blue Seal Pals disbanded.
http://www.hillbilly-music.com/groups/story/index.php?groupid=15803
Talents : Buddy Bain : accordion - Dexter Johnson : Bass - Quinton Claunch : Guitar - Bill : Fiddle - Edgar Clayton : Guitar
Style musical : Traditional Country
Years in activity :
| | | | | | | | | | | | |
| --- | --- | --- | --- | --- | --- | --- | --- | --- | --- | --- | --- |
| 1910 | 20 | 30 | 40 | 50 | 60 | 70 | 80 | 90 | 2000 | 10 | 20 |
DISCOGRAPHY
Album
| | | | |
| --- | --- | --- | --- |
| 1987 | LP 12" CATTLE LP 102 (GER) | | THE BLUE SEAL PALS ON SUN-UP SERENADE - The Blue Seal Theme / Won't You Ride In My Little Red Wagon / Roadside Rag / The Leaf Of Love / The Blue Seal Theme / Johnson's Reel / Tramp On The Street / Old Joe Clark / Tho I Tried / In The Sweet Bye And Bye / Boll Weevil / The Blue Seal Theme / Too Late To Worry / Take Me Back To Tulsa / The Blue Seal Theme |
© Rocky Productions 12/08/2002