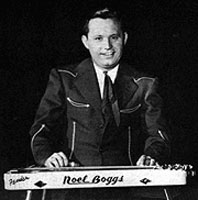 Steel Guitariste Country US né Noel Edwin Boggs, le 14 Novembre 1917 à Oklahoma City (Oklahoma). Noel Boogs à joué avec Hank Penny, Bob Wills, Spade Cooley et Jimmy Wakely. Il est décédé le 31 Août 1974.

One of the finest steel guitarists in country music's history, Noel Boggs incorporated jazz influences — from his friend Charlie Christian — into Western swing on his over 1,000 sideman credits. Born in Oklahoma City on November 14, 1917, he began playing guitar as a teenager; by the time he had graduated from high school, he was playing on three different radio stations around Oklahoma City. Boggs toured with Hank Penny's Radio Cowboys during 1936-1937, but was back in Oklahoma by 1937. He played with Wiley & Gene and Jimmy Wakely during the late '30s and formed his own band in 1941.
By 1944, Boggs joined the king of Western swing bands, Bob Wills & the Texas Playboys. He replaced Leon McAuliffe in Wills' band and played for two years, appearing on many of the Tiffany Transcriptions and several Columbia sessions. Boggs left in 1946 to join another Western swing giant, Spade Cooley. He played with Cooley's Dance Band until 1954, but suffered a heart attack just one year later. He couldn't play for three months, but formed the Noel Boggs Quintet in 1956. The band recorded several albums for Repeat during the '60s, but a series of heart attacks later limited Boggs' energy to record and tour. He died in 1974.
https://en.wikipedia.org/wiki/Noel_Boggs
Talents : Steel Guitar
Style musical : Western Swing, Traditional Country

http://youtu.be/ANdaxop0QzI
Years in activity :
| | | | | | | | | | | | |
| --- | --- | --- | --- | --- | --- | --- | --- | --- | --- | --- | --- |
| 1910 | 20 | 30 | 40 | 50 | 60 | 70 | 80 | 90 | 2000 | 10 | 20 |
DISCOGRAPHY
78 t., Singles
194?
SP MAJOR 1200 (US)
Blue Tears (vcl) / Oklahoma Waltz
194?
SP MAJOR 1201 (US)
Tennessee Rag / Rockin' Along On Rockin' Rye
02/1954
78 t.. COLUMBIA

21220 (US)

Noel BOGGS & The DAY SLEEPERS - Steelin' Home

/ Day Sleeper

02/1954
SP COLUMBIA

4-21220 (US)

Noel BOGGS & The DAY SLEEPERS - Steelin' Home

/ Day Sleeper

05/1954
78 t.. COLUMBIA

21274 (US)

How Long / Make Believe Heart

05/1954
SP COLUMBIA

4-21274 (US)

How Long / Make Believe Heart

1958
SP SHASTONE SH45-102 (US)
Noel BOGGS QUINTET -

Morning Dew / Tenderly

05/1960
SP SHASTA 45-SH-132 (US)
Noel BOGGS QUINTET -

Little Coquette / Beer Barrel Polka

1961
SP SHASTA 45-SH-153 (US)
Noel BOGGS QUINTET -

Perdido / Summer Song

1961
SP SHASTA 45-SH-157 (US)
Noel BOGGS QUINTET -

Steel Guitar Rap / Tenderly

196?
SP SHASTA 45-SH-176 (US)
Jimmy WAKELY & Noel BOGGS - My Heart Cries For You / The Magic Isle
196?
SP REPEAT 100-10 (US)
Solitude / Tuxedo Junction
197?
SP UBANDE 1973 (US)
Noel BOGGS QUINTET -

Boodle Dee Beep / Good Times
Albums
1959
LP 12" SHASTA

SH-LP-503 (US)

MAGIC STEEL GUITAR - Noel BOGGS QUINTET - Little Coquette / Tenderly / Steel Guitar Rag / Beautiful Ohio / Steelin' Home/ Magic Isle / Caravan / Birth Of The Blues / September Song / Perdido / Paradise Isle / Beer Barrel Polka
1968
LP 12" REPEAT 100-10 (US)
ANYTIME - Noel BOGGS QUINTET
196?
LP 12" REPEAT 310-8 (US)
WESTERN SWING
1978
LP 12" SHASTA

SH-LP-530 (US)

HOLLYWOOD AND VINE - Noel BOGGS QUINTET - Lover / Tenderly / Wabash Blues / Dardanella / My Diane / Over The Rainbow / Cherokee / Morning Dew / Little Coquette / Liza / Nighty Night
1978
LP 12" SHASTA

SHLP-531 (US)

NOEL BOGGS WITH FRIENDS ON STAGE - Noel BOGGS QUINTET - Blues Boogie / Worried Mind / Sheik Of Araby / Panhandle Rag / On The Alamo / Blue Hawaii / Alabama Bound / When I Lost My Love / Swanee River / At Sundown / Magic Isle / Birth Of The Blues
197?
LP 12" VINTAGE W20 (US)
MAGIC STEEL GUITAR
1985
LP 12" AUDIO KEP 291 (US)
Noel BOGGS & Hank PENNY - SWING BILLIES, VOL. 1
08/2000
CD VARESE 302 0-66138-2 (US)
THE VERY BEST - THE SHATA MASTERS - Steel Guitar Rag / Cherokee / Steelin' Home / Wabash Blues / Lover / Beer Barrel Polka / Coquette (A.K.A. Little Coquette) / Caravan / September Song / Paradise Isle / Tenderly / Beautiful Ohio / Magic Isle / Birth Of The Blues / Perdido / Dardenella
© Rocky Productions 20/01/2013