Chanteur Rhythm 'n' Blues US né le 15 Août 1930 à Clarksdale (Mississippi). Jackie Brenston a été découvert par Ike Turner en 1950. Il obtiendra le succès avec un titre enregistré à la Sun de Memphis (Tennessee), qui sortira sur Chess Records en 1951 : "Rocket 88". Jackie a enregisté outre Chess, pour Federal, Sue et Mel-Lon. Il s'établit ensuite à Clarksdale où il devint une épave et mourut le 15 Décembre 1979 à Memphis (Tennessee).

Determining the first actual rock & roll record is a truly impossible task. But you can't go too far wrong citing Jackie Brenston's 1951 Chess waxing of "Rocket 88," a seminal piece of rock's fascinating history with all the prerequisite elements firmly in place: practically indecipherable lyrics about cars, booze, and women; Raymond Hill's booting tenor sax, and a churning, beat-heavy rhythmic bottom.
Sam Phillips, then a fledgling in the record business, produced "Rocket 88," Brenston's debut waxing, in Memphis. The singer/saxist was backed by Ike Turner's Kings of Rhythm, an aggregation that Brenston had joined the previous year. Turner played piano on the tune; Willie Kizart supplied dirty, distorted guitar. Billed as by Jackie Brenston & His Delta Cats, "Rocket 88" drove up to the top slot on the R&B charts and remained there for more than a month. But none of his Chess follow-ups sported the same high-octane performance, though "Real Gone Rocket" was certainly a deserving candidate.
Brenston's slide from the spotlight was swift. After a few more Chess singles stiffed (including a duo with Edna McRaney, "Hi-Ho Baby"), Brenston reunited with Turner in 1955, holding down the baritone sax chair until 1962. He cut a series of terrific sides fronting Turner's Kings of Rhythm along the way: "Gonna Wait for My Chance" and "Much Later" for Federal in 1956, "You've Got to Lose" for Chicago's Cobra label in 1958 (also doing session work there with Otis Rush and Buddy Guy), and "You Ain't the One" for Sue in 1961. After a final single for Mel London's Mel-Lon imprint, Brenston was through; he worked as a truck driver and showed little interest in reliving his glory years.
https://fr.wikipedia.org/wiki/Jackie_Brenston
Talents : Vocals, Saxophone
Style musical : Rhythm 'n' Blues, Blues
ROCKET 88 (1951)

LEO THE LOUSE (1952)

TROUBLE UP THE ROAD (1961)
Years in activity :
| | | | | | | | | | | | |
| --- | --- | --- | --- | --- | --- | --- | --- | --- | --- | --- | --- |
| 1910 | 20 | 30 | 40 | 50 | 60 | 70 | 80 | 90 | 2000 | 10 | 20 |
DISCOGRAPHY
78 t. & Singles
| | | |
| --- | --- | --- |
| 04/1951 | 78 t. CHESS 1458 (US) | Jackie BRENSTON & The DELTA CATS - Rocket 88 / Come Back Where You Belong |
| 04/1951 | SP CHESS 1458 (US) | Jackie BRENSTON & The DELTA CATS - Rocket 88 / Come Back Where You Belong |
| 06/1951 | 78 t. CHESS 1469 (US) | Jackie BRENSTON & The DELTA CATS - My Real Gone Rocket / Tuckered Out |
| 06/1951 | SP CHESS 1469 (US) | Jackie BRENSTON & The DELTA CATS - My Real Gone Rocket / Tuckered Out |
| 07/1951 | 78 t. CHESS 1472 (US) | Jackie BRENSTON & The DELTA CATS - Juiced / Independant Women |
| 07/1951 | SP CHESS 1472 (US) | Jackie BRENSTON & The DELTA CATS - Juiced / Independant Women |
| 1952 | 78 t. CHESS 1496 (US) | Hi Ho Baby (Jackie BRENSTON & Edna MCRANEY) / Leo The Louse (Jackie BRENSTON & The DELTA CATS) |
| 1952 | SP CHESS 1496 (US) | Hi Ho Baby (Jackie BRENSTON & Edna MCRANEY) / Leo The Louse (Jackie BRENSTON & The DELTA CATS) |
| 1953 | SP CHESS 1532 (US) | Jackie BRENSTON & The DELTA CATS - Blues Got Me Again / Starvation |
| 1956 | SP FEDERAL 12283 (US) | What Can It Be / Gonna Wait For My Chance |
| 1957 | SP FEDERAL 12291 (US) | Jackie BRENSTON with Ike TURNER'S KINGS OF RHYTHM - The Mistreater / Much Later |
| 1958 ? | SP MEL ON 1000 (US) | Want You To Rock Me / Down In My Heart |
| 1961 | SP SUE 736 (US) | Jackie BRENSTEN - Trouble Up The Road / You Ain't The One |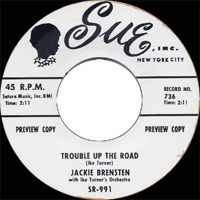 Albums
© Rocky Productions 23/09/2011