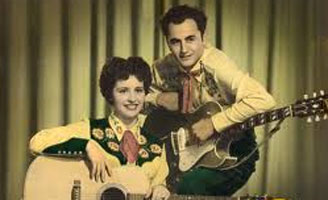 The Canadian Sweethearts, duo Country composé des chanteurs Lucille Starr et Bob Regan (né Bob Frederickson à Rolla, près de Dawson Creek, C.-B., 13 mars 1931, décédé à Los Angeles, 5 mars 1990). Par l'entremise de son frère, l'auteur-compositeur country et chef d'orchestre Keray Regan (né Oscar Frederickson, Pouce Coupe, C.-B., 23 nov. 1923), Bob Regan rencontre Lucille Starr. Ils forment le duo country populaire The Canadian Sweethearts, se marient et, au début des années 1960, s'installent à Los Angeles. Ils parviennent à exercer leur métier dans cette ville et se produisent dans de nombreuses émissions de télévision américaines et canadiennes, y compris Country America sur le réseau ABC. Ils font plusieurs tournées avec Hank Snow ainsi qu'en Europe, en Asie et en Afrique du Sud. Les Country Sweethearts chantent en solo et en duo; Lucille iodle et Bob joue aussi de la guitare.
Ils enregistrent pour A & M Records et leur production compte, de 1963 à 1968, plusieurs singles country populaires, par exemple « Don't Let the Stars Get in Your Eyes », « Hootenanny Express », « Freight Train » et « Blue Canadian Rockies », ainsi que le microsillon Canadian Sweethearts (1964, A & M SP-4106); repris en 1975 sous le titre Lucille Starr with Bob Regan (A & M 2-SP-9015). Ce microsillon est suivi par Side by Side en 1967. L'anthologie Side by Side : Pop and Country/Lonely Street (Collector's Choice) paraît en 2004. Leur répertoire est composé de chansons country, de chansons folk contemporaines ainsi que de chansons écrites par Regan et coécrites par Regan et Starr.
Les Canadian Sweethearts se produisent jusqu'en 1977. Par la suite, Starr poursuit une carrière solo, tandis que Regan s'installe en Allemagne, chante en solo et avec d'autres partenaires.

Lucille (Raymonde Marie) Starr (b Savoie, later m Cunningham). Popular singer, country singer, b St Boniface, Man, 13 May 1938. Starr was raised in Port Coquitlam and Maillardville, BC, and in her teens sang with the French ensemble Les Hirondelles. She began her career as Lucille Starr in Vancouver in 1954, and two years later with the singer-songwriter-guitarist-fiddler Bob Regan (b Bob Frederickson in Rolla, near Dawson Creek, BC, 13 Mar 1931, d Los Angeles 5 Mar 1990) formed a country duo, the Canadian Sweethearts. She also sang and recorded with country singer Keray Regan, his brother. Starr and Bob Regan married and moved to Los Angeles. As the Canadian Sweethearts, they enjoyed popularity across North America.
A versatile singer in many pop-music as well as country styles, Starr also recorded alone for A & M; her biggest hit was 'The French Song' ('Quand le soleil dit bonjour aux montagnes'), written by US songwriters Harry Pease and Larry Vincent. Sung in French and English, and characterized by Starr's distinctive vibrato, it was popular during 1964-5 in Canada, the US, Europe, Australia, Asia, and South Africa. The song and an LP of the same name (A & M LP-107) were reported (Country Music News, Jan 1988) to have sold 1 and 5 million copies respectively, making Starr the first Canadian female singer to earn a gold record. Starr's other hits during the 1960s included 'Yours,' 'Crazy Arms,' and 'Jolie Jacqueline,' for A & M, and 'Bonjour Tristesse' for Epic. Starr also was heard in this period on the popular US TV comedy 'The Beverly Hillbillies,' yodelling for the character Cousin Pearl.
Starr continued to perform with Regan until 1977. She then pursued a solo career. Of Starr's later singles, 'Power in Your Love' (1981) and 'The First Time I've Ever Been in Love' (1988) were popular in Canada. She toured during the 1980s with a troupe from Nashville's Grand Ole Opry, appeared with both Hank Snow and Wilf Carter, performed widely on her own in Canada, and was co-host 1989-90 for 'Canadian Country Express,' syndicated from CHRO-TV, Pembroke, Ont. She also performed several times as a headliner in Holland, where she made her first appearance in 1965.
Starr's other albums include Say You Love Me (A & M SP-4100, reissued as The Canadian Sweethearts, A & M SP-4106, and in 1975 as Lucille Starr with Bob Regan, 2-SP-9015), The Sun Shines Again (Starr Concert SCRA-79, issued in 1981, released after her recovery from Vocals cord polyps), Back to You (Cardinal RSP-159, issued in 1988), Sweet Memories (Disky DCD-5149, issued in 1991), and the bilingual Chansons d'Amour/Songs of Love (Intersound 1991). The anthology Side by Side: Pop and Country/Lonely Street (Collector's Choice), collecting her recordings for Epic, appeared in 2004. Starr also co-wrote songs with Bob Regan or others, eg on The Sun Shines Again; Sylvia Tyson recorded "Pépère's Mill." In 1987 Starr became the first woman inducted into the Canadian Country Music Association Hall of Honour, and in 1989 was made a member of the Canadian Country Music Hall of Fame. She was also the first woman to earn Europe's Gold Tulip Award; in 2005 she was an honorary inductee into Canada's Aboriginal Music Hall of Fame. A street in Port Coquitlam, BC, is named for her.
Starr's influences as a singer were Hank Snow and Peggy Lee. She is notable for being one of a handful of Canadian popular musicians to record in both English and French. Starr's son, Bob Frederickson, played guitar with a later version of the group Buffalo Springfield.
Bob Regan died on March 5, 1990. Lucille Starr died on September 4, 2020.
Talents : Bob Regan : Vocals, Guitar - Lucille Starr : Vocals, Guitar
Style musical : Rockabilly, Rock 'n' Roll, Traditional Country
Years in activity :
| | | | | | | | | | |
| --- | --- | --- | --- | --- | --- | --- | --- | --- | --- |
| 1910 | 20 | 30 | 40 | 50 | 60 | 70 | 80 | 90 | 2000 |
DISCOGRAPHY
Singles
1952
SP ARAGON AR 192 (CAN)
.

Teenage Boogie / I Will Never Hold Another

12/1958
SP DITTO DT-121-45 (US)
.

Eeny-Meeny-Miney-Moe / Demon Lover

12/1959
SP DITTO DT-126-45 (US)
.

What's The Password / The Big Kiss

02/1961
SP SOMA 1156 (US)
.
No Help Wanted / The Flirtin' Kind
04/1962
SP KING 45-5631 (US)
.

Eeny-Meeny-Miney-Moe / The Big Kiss

07/1963
SP QUALITY 1553X (CAN)
.
Freight Train

/ Out For Fun

07/1963
SP A & M 713 (US)
.
Freight Train / Out For Fun
02/1964
SP QUALITY 1591X (CAN)
.
Hootenanny Express / Halfbreed
02/1964
SP A & M 727 (US)
.
Hootenanny Express / Halfbreed
07/1964
SP QUALITY 1627X (CAN)
.
Rocky Mountain Special / Love
07/1964
SP A & M 737 (US)
.
Rocky Mountain Special / Love
10/1964
SP QUALITY 1661X (CAN)
.
Don't Let The Stars Get In Your Eyes / Yodel Love Call
10/1964
SP A & M 752 (US)
.
Don't Let The Stars Get In Your Eyes / Yodel Love Call
1965
SP QUALITY 1694X (CAN)
.

Blowin' In The Wind / We're Gonna Stand On The Mountain

1965
SP A & M 758 (US)
.

Blowin' In The Wind / We're Gonna Stand On The Mountain

1965
SP QUALITY 1742X (CAN)
.
Looking Back To See / The Wayward Wind
1965
SP A & M 768 (US)
.
Looking Back To See / The Wayward Wind
07/1967
SP EPIC 5-10205 (CAN) (US)
.
Too Far Gone (Lucille STARR) / Looking Back To See

(

Canadian Sweethearts

)
1965
SP LONDON FLX 3160 (NL)
The Wayward Wind / Don't Let The Stars Get In Your Eyes
1965
SP QUALITY 1779X (CAN)
.
Don't Knock On My Door / Torture Me
1965
SP A & M 778 (US)
.
Don't Knock On My Door / Torture Me
02/1966
SP LONDON FLX 3162 (NL)

Yodel Love Call / Torture Me

1966
SP A & M 786 (US)
.

Soldier Boy / Haunting Me

1966
SP A & M 798 (US)
.

Adios, Aloha / Too Far From The Kisses

11/1966
SP LONDON FLX 3173 (NL)

Soldier Boy / Too Far Between Kisses

11/1969
SP EPIC 5-17327 (CAN) (US)
.

Bob Regan & Lucille Starr - A: Dream Baby / South Bound Plane

12/1969
SP DOT 45-17327 (US)
.

South Bound Plane / Dream Baby

19??
SP A & M 422 (US)
.
I'm Leavin' It Up To You / My Happiness (Lucille STARR)
Albums
1962
LP 12" A & M LP-100 (mono) / SP-4100 (stereo) (US)
SAY YOUR LOVE ME - Bob REGAN & Lucille STARR - Gone / I Don't Mind / Too Far Between Kisses / When I Stop Dreaming / So Many Others / I Want A Steady Guy / Send Me No Roses / Adios, Aloha / After All We've Been Through / Say You Love Me / My Happiness
10/1964
LP 12" QUALITY V1745 (CAN)
INTRODUCING THE CANADIAN SWEETHEARTS - Freight Train / Out For Fun / This Land / I'm Leaving It All Up To You / Love / Don't Let The Stars Get In Your Eyes / We're Gonna Stand Up / Hootenanny Express / Half-Breed / Rocky Mountain Special / Blue Canadian Rockies / Blowin' In The Wind
10/1964
LP 12" A & M LP-106 (mono) / SP-4106 (stereo) (US)
INTRODUCING THE CANADIAN SWEETHEARTS - Freight Train / Out For Fun / This Land / I'm Leaving It All Up To You / Love / Don't Let The Stars Get In Your Eyes / We're Gonna Stand Up / Hootenanny Express / Half-Breed / Rocky Mountain Special / Blue Canadian Rockies / Blowin' In The Wind
1967
LP 12" EPIC BN-26243 (US)
SIDE BY SIDE - POP & COUNTRY - Heartaches By The Number / Looking Back To See / I Love You / Have I Told You Lately That I Love You / Are You Mine / True Love / Winchester Cathedral / I Said My Pajamas / Canadian Sunset / Side By Side
196?
LP 12" A & M LAM 2038 (SA)

South Africa's Sweetheart - LUCILLE STARR WITH BOB REGAN - Don't Let The Stars Get In Your Eyes / Half-Breed / Freight Train / Blue Canadian Rockies / Love / Blowin' In The Wind / Hootenanny Express / I'm Leaving It All Up To You / Rocky Mountain Special / Out For Fun / We're Gonna Stand Up On The Mountain / This Land Is Your Land

1975
2 LP 12" A & M 2-SP-9015 (US)

LUCILLE STARR WITH

BOB REGAN

:

DISC 1 : Gone / I Don't Mind / Too Far Between Kisses / When I Stop Dreaming / So Many Others / I Want A Steady Guy / Send Me No Roses / Adios, Aloha / After All We've Been Through / Say You Love Me / My Happiness
DISC 2 : Don't Let The Stars Get In Your Eyes / Halfbreed / Freight Train / Blue Canadian Rockies / Love / Blowin' In The Wind / Hootenanny Express / I'm Leavin' It All Up To You / Rocky Mountain Special / Out for Fun / We're Gonna Stand Up On The Mountain / This Land Is Your Land

1986
LP 12" DITTO LP-100 (CAN)

CANADIAN SWEETHEARTS / BOB & LUCILLE -

Eeny Meeny Miney Moe / Demon Lover / Big Kiss / What's The Password / Don't Let The Stars Get In Your Eyes / Half Breed / Freight Train / Hootenanny Express / No Help Wanted / Tarantula / Highland Lassie / I'm Leaving It Up All To You / Rocky Mountain Special / Heartaches By The Number / Looking Back To See / Flirtin' Kind
1998
CD HYDRA BCK-27106 (GER)
BOB & LUCILLE - CANADIAN SWEETHEARTS - Teen-Age Boogie / Lost / When You Say I Love You / Vibratin' / Hen House Rock / Eeny Meeny Miney Moe / Demon Lover / Big Kiss / What's The Password / No Help Wanted / Flirting Kind / French Song (When the Sun Says Goodnight To The Mountains) / Freight Train / Wayward Wind Looking Back To See / I'm Leavin' It Up To You / My Happiness / Tarantula / Heartaches By The Numbers / Highland Lassie / Crazy Arms / Colinda / Don't Let The Stars Get In Your Eyes / Hootenanny Express Jolie Jacqueline / Rocky Mountain Special / Love / Don't Knock On My Door / Teen-Age Boogie / Eeny Meeny Miney Mo
10/2004
CD COLLECTOR'S CHOICE ? (US)
LUCILLE STAR - THE CANADIAN SWEETHEARTS - The

CANADIAN SWEETHEARTS -

Side By Side/Pop & Country

: Heartaches By The Number / Looking Back To See / I Love You / Have I Told You Lately That I Love You? / Are You Mine? / True Love / Winchester Cathedral / I Said My Pajamas (And Put On My Prayers) / Canadian Sunset / Side By Side / Lucille

Starr

- Lonely Street

: Lonely Street / Too Far Gone / Missing You / If I Give My Heart To You / Who's Gonna Stand By Me? / Searching (For Someone Like You) / (Bonjour Tristesse) Hello Sadness / Cajun Love / Someone Up There Still Loves Me / Full House / Cry, Cry Darlin' /

Bonus Single Sides :

I Don't Trust Me Around You (Lucille

Starr

) / More Than Money Can Buy (CANADIAN SWEETHEARTS) / Let's Wait A Little Longer (CANADIAN SWEETHEARTS) / Before The Next Teardrop Falls (Lucille

Starr

)
© Rocky Productions 4/01/2012