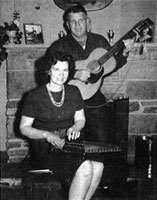 Duo Country US, Joe Carter (né le 27 Février 1927 à Maces Springs (Virginie), décédé le 2 Mars 2005 à Maces Springs (Virginie)) et Janette Carter (née le 2 Juillet 1923, décédée le 22 Janvier 2005 à Kingsport (Tennessee)). Ils sont les enfants d'A.P et Gladys Carter de la Carter Family.

US Country duo, Joe Carter (born on February 27, 1927 in Maces Springs (Virginia), deceased on March 2 2005 in Maces Springs (Virginia)) and Janette Carter (born on July 2, 1923, deceased on January 22, 2005 in Kingsport (Tennessee)). They are the children of A.P and Gladys Carter of the Carter Family.
Janette Carter was the last surviving member of country's immortal Carter Family, championing the cause of traditional American roots music into the 21st century. Born July 2, 1923, in Maces Springs, VA, she was the youngest daughter of A.P. and Sara Carter, who with A.P.'s sister-in-law Maybelle comprised the original Carter Family that in 1927 signed with RCA Victor producer/talent scout Ralph Peer. Over the course of classics like "Bury Me Under the Weeping Willow," "Keep on the Sunny Side," and "No Depression," the Carters introduced the pure, poignant harmonies and intricate melodies that would define country & western for decades to follow, establishing the trio as the most influential group in roots music history. Despite their commercial success A.P. and Sara Carter divorced in 1932. Seven years later, Sara married A.P.'s cousin Coy Bayes and relocated to California, taking her children with her. The Carter Family concluded its recording career in 1941, but in 1952 both A.P. and Sara agreed to a comeback, enlisting Janette and her brother Joe before signing to the Acme label to record some 100 songs over the next four years. Following her father's 1960 death, Janette — at the time an elementary school cook — dedicated her life to preserving their music and legacy, hosting informal music programs at A.P.'s Poor Valley, VA, retail store. Although she never earned the commercial or critical acclaim awarded her sister June Carter Cash, Janette also mounted a solo career, in 1972 releasing her debut LP, Storms Are on the Ocean, on the tiny Birch label. Howdayadoo followed on Traditional Records a year later. In 1976 she established the Hiltons, VA-based Carter Family Fold, a nonprofit amphitheater and museum site built from old railroad ties and school bus seats dedicated to the old-time music of rural Appalachia. Despite the Fold's strict adherence to traditional acoustic music, Janette eventually eased her restrictions in order to allow her brother-in-law Johnny Cash to play an electric set. Carter continued hosting weekly concerts at the Fold into her eighties, and in 2004 the Bear Family label assembled Deliverance Will Come, compiling the entirety of her slim solo output. She died in Kingsport, TN, on January 20, 2006, following a long battle with Parkinson's disease and other illnesses.
https://en.wikipedia.org/wiki/Janette_Carter
Talents : Joe : Vocals, Songwriter, Guitar - Janette : Vocals, Songwriter, Autoharp
Style musical : Old-Time Country, Traditional Country, Traditional Folk

http://youtu.be/s8mA9c15joc
Years in activity :
| | | | | | | | | | | | |
| --- | --- | --- | --- | --- | --- | --- | --- | --- | --- | --- | --- |
| 1910 | 20 | 30 | 40 | 50 | 60 | 70 | 80 | 90 | 2000 | 10 | 20 |
DISCOGRAPHY
Singles
Albums
11/1966
LP 12" COUNTRY 706 (US)

C

ARTER FAMILY FAVORITES -

Joe & Janette CARTER - Curtains Of Night / Will You Miss Me When I'm Gone / I'm Going Home / Lonesome Blues / Farther On / Kitty & I / Anchored In Love / Waltzing With You / Higher Ground / Let Old Jordan Roll / Ramblin' Man / Sweet Story Of Old
1973
LP 12" Traditional JC 573 (US)

Howdayado! - Janette CARTER - Howdayado! / Little Rosewood Casket / Wayworn Traveler / Take-Me-Back-Blues / Joenny Doesn't Live Hear Anymore / Waltz, Kitty, Waltz / Lonesome Pine Special / Give Him One More As He Goes / Heartbreaking Waltz / Dark And Stormy Weather / My Native Home / Little Moses / Kissin' Is A Crime / My Dixie Darlin' / Sea Of Galilee / I'm Leaving You

1973
LP 12" Birch 1949 (US)

Storms Are On The Ocean - Janette CARTER - Bury Me Beneath The Willow / Lonesome Street / Listen To The Mockingbird (instr.) / I Ain't Gonna Work Tomorrow / Sinking In The Lonesome Sea / I Found Jesus / The Storms Are On The Ocean / 'Neath The Shade Of A Beautiful Pine / Red Wing / Little Moses / In The Shadow Of Clinch Mountain / Joy, Joy, Joy

1984
LP 12" POOR VALLEY NR 15593 (US)

LIVE AT THE CARTER FOLD - Janette & Joe CARTER & Dale JETT - Carter's Melody / Lonesome / Morning Sunlight / You've Been A Friend To Me / Breezes / Wildwood Flower / Amazing Grace / Through The Eyes Of An Eagle / Hog Call / Lost Indian / Old Holston

2003
CD BEAR FAMILY BCD 16379 (GER)

JOE & JANETTE CARTER -

Curtains Of Night / Will You Miss Me When I'm Gone / I'm Going Home / Lonesome Blues / Farther On / Kitty & I / Anchored In Love / Waltzing With You / Higher Ground / Let Old Jordan Roll / Ramblin' Man / Sweet Story Of Old
06/2004
CD BEAR FAMILY BCD 16335 (GER)
DELIVERANCE WILL COME - Janette CARTER - Bury Me Beneath The Willow / Lonesome Street / Listen To The Mockingbird (instr.) / I Ain't Gonna Work Tomorrow / Sinking In The Lonesome Sea / I Found Jesus / Storms Are On The Ocean / 'Neath The Shade Of A Beautiful Pine / Red Wing (instr.) / Little Moses / In The Shadow Of Clinch Mountain / Joy, Joy, Joy / Howdayado! / Little Rosewood Casket / Wayworn Traveller / Take-Me-Back Blues / Johnny Doesn't Live Here Anymore / Waltz, Kitty, Waltz / Lonesome Pine Special / Give Him One More As He Goes / Heartbreaking Waltz / Dark And Stormy Weather / My Native Home / Little Moses / Kissin' Is A Crime / My Dixie Darlin' / Sea Of Galilee / I'm Leaving You / I'm Missing You (with J.E. MAINER) / Johnny Doesn't Live Here Anymore / The Storms Are On The Ocean
08/2004
CD DUALTONE 1186 (US)
LAST OF THEIR KIND - Joe & Janette CARTER - A Few More Years / Stern Old Bachelor / Close Of A Day / Through The Eyes Of An Eagle / The Poor Orphan Child / If Only I Were A Child Again / Little Darling Pal Of Mine / Pole It Reba / Kitty Waltz / Morning Sunlight / Right At Home / Living With Memories
????
CD NOT ON LABEL ? (US)

Bouquet Of Dandelions - Janette CARTER - Sara Lee / Rita And Dale / Amazing Grace / Mama's Boy / Just The Right Size / My Memories / My Appalachian Mountain Home / Bouquet Of Dandelions / If Only I Were A Child Again / A Kind, Gentle Man / Wildwood Flower
© Rocky Productions 21/01/2023