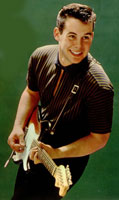 Chanteur Rock 'n' Roll US né Reese Francis Clifford III, le 8 Octobre 1941 à Berwyn (Illinois). Buzz Clifford est décédé le 26 Janvier 2018.

Reese Francis Clifford III, better known as Buzz Clifford, scored just one hit single with "Baby Sittin' Boogie." The release from Columbia Records made it into the Top Ten in 1961 and sold more than a million copies. On the strength of that single, the record company began efforts to turn Clifford into a teen heartthrob. He sang a handful of times on American Bandstand. Along with Freddy Cannon and Dion, he embarked on a British tour and also made appearances on television shows hosted by Perry Como and Merv Griffin. The following year, however, it was clear that all the plans and grooming were leading nowhere, and Clifford stepped out of the spotlight.
Clifford served in the National Guard and after his hitch was over, he settled in Los Angeles and started writing songs for 20th Century Records, Cameo, and White Whale. Keith Barbour did relatively well with the Clifford-penned "Echo Park." His songs were also recorded by artists such as Petula Clark, Clyde McPhatter, and Lou Rawls. As part of a band called Carp in the late '60s, he put out an album. The band included Danny Moore, who penned the classic "My Maria," and actor Gary Busey. Around the same time, Clifford joined forces with David Marks, an ex-Beach Boy, and they settled in Tulsa, OK, to begin recording. None of the compositions ever saw the light of day, but Leon Russell and Kris Kristofferson each recorded a Clifford-penned song.
The team of Marks and Clifford continued to write and perform live in California. They joined forces with Moore during the '90s and produced the album Work Tapes. Marks, Clifford, and his two offspring founded a band to play blues in Los Angeles nightspots in the mid-'90s. When the group fell apart in 1997, Clifford flew off to Denmark to make Norse Horse, while Marks put in some more time with the Beach Boys. An altered version of one of Clifford's early Dot Records releases, "I See, I Am," found a place on Beck's Midnite Vultures CD under the title "Milk and Honey." Released late in 1999, the single went gold early in 2000.
The Illinois native took up the guitar during his childhood and by his teens, he was triumphing in talent competitions. Under Clifford's first contract with Bow Records when he was 15 years old, he put out a couple of songs that went nowhere. He then inked the deal with Columbia Records and recorded "Hello Mr. Moonlight," which didn't even make a dent on the charts. "Baby Sittin'Boggie" made up for the disappointment when it performed well on R&B, country, and pop charts.
Buzz Clifford passed away on January 26, 2018.
https://en.wikipedia.org/wiki/Buzz_Clifford
Talents : Vocals, Guitar, Songwriter
Style musical : Rock 'n' Roll
BABY SITTIN' BOOGIE (1960)

DRIFTWOOD (1960)

MOVING DAY (1961)
Years in activity :
| | | | | | | | | | | | |
| --- | --- | --- | --- | --- | --- | --- | --- | --- | --- | --- | --- |
| 1910 | 20 | 30 | 40 | 50 | 60 | 70 | 80 | 90 | 2000 | 10 | 20 |
DISCOGRAPHY
Singles & EP
| | | | |
| --- | --- | --- | --- |
| 1958 | SP BOW 300 (US) | . | 14 Karet Fool / Golly Gosh Oh Gee |
| 1958 | SP BOW 308 (US) | . | Pididdle / For Always |
| 08/1960 | SP COLUMBIA 4-41744 (US) | . | Hello Mr. Moonlight / Blue Lagoon |
| 11/1960 | SP COLUMBIA 4-41876 (US) | | Baby Sittin' Boogie / Driftwood |
| 03/1961 | SP COLUMBIA 4-41979 (US) | | Three Little Fishes / Simply Because |
| 06/1961 | SP COLUMBIA 4-42019 (US) | | I'll Never Forget / Awakening |
| 11/1961 | SP COLUMBIA 4-42177 (US) | . | Moving Day / Loneliness |
| 1961 | EP PHILIPS 435164 (F) | | Baby Sittin' Boogie / Driftwood / + King COLEMAN |
| 1961 | EP PHILIPS 435181 (F) | | Long Tall Sally / Shake, Rattle And Roll / Three Little Fishes / (If You Cry) True Love, True Love |
| 02/1962 | SP COLUMBIA 4-42290 (US) | . | Forever / Magic Circle |
| 1962 | SP ROULETTE R 4451 (US) | . | More Dead Than Alive / No One Loves Me Like You Do |
| 09/1966 | SP RCA VICTOR 47-8935 (US) | . | Until Then / (It's All Right) Let Her Go |
| 1967 | SP CAPITOL 5880 (US) | . | Swing In My Back Yard / Bored To Tears |
| 1967 | SP A & M 878 (US) | . | Just Can't Wait / On My Way |
| 12/1969 | SP DOT 45-17329 (US) | . | So Good At Loving You / Children Are Crying |
| 03/1970 | SP DOT 45-17344 (US) | . | I Am The River / Proctor And Gunther |
| 1972 | SP COLUMBIA 13-33217 (US) | . | Baby Sittin' Boogie / Driftwood |
Albums
| | | | |
| --- | --- | --- | --- |
| 1961 | LP 12" COLUMBIA CL-1616 (mono) / CS-8416 (stereo) (US) | | BABY SITTIN' WITH BUZZ CLIFFORD - Baby Sittin' Boogie / I'm In Love Again / Shake, Rattle And Roll / True Love, True Love / Long Tall Sally / Simply Because / Golly Gosh Oh Gee / 14 Karat Fool / Pididdle / Moving Day / Three Little Fishes / I'll Never Forget |
| 10/1969 | LP 12" DOT DLP-25965 (US) | | SEE YOUR WAY CLEAR - Procter And Gunther / I Am The River / Hollywood Joe / Ocean Liner / Hawg Frog / Angeline / We'll All Get By / Children Are Crying Aloud / Echo Park / (Baby I Could Be) So Good At Loving You / I See I Am |
| 1995 | CD SPARKLETONE 99011 (US) | | MORE THAN JUST BABY SITTIN' - Golly Gosh Oh Gee / 14 Karat Fool / Pididdle / For Always / Baby Sittin' Boogie / Ebb Tide / Shake Rattle And Roll / Blue Lagoon / I'm In Love Again / Loneliness / Unchained Melody / True Love True Love / Simply Because / Long Tall Sally / Driftwood / Hello Mr Moonlight / Three Little Fishes / I'll Never Forget / The Awakening / Moving Day / Magic Circle / Forever / More Dead Than Alive / Until Then / No One Loves Me Like You Do / Let Her Go / Swing In My Back Yard / Bored To Tears |
| 06/2002 | CD BUZZ CLIFFORD ? (US) | | NORSE HORSE - Bright Lights Shines / Blusin' With The Susans / Nothin' After Lovin' You / I Trimagix / Big Dog / Walkin' Away / Lyin' In The Face Of Love / Somethin' Funny Goin' On / Fade To Black / Halfway To Heaven |
| 01/2006 | CD BROAD RIVER ? (US) | | BUZZ FOR SALE - Love For Sale / I Concentrate (On You) / The Girl From Ipanima / Lover Man / Sweet Georgia Brown / Sad Samba / 'Round Midnight / A Foggy Day In London Town / Killer Joe / Begin The Beguine |
| 2008 | CD BUZZ CLIFFORD ? (US) | | GOLDEN PIPES 50 YEARS OF BUZZ CLIFFORD - VOLUME 1 - Afterglow / Creation / Call Me The Breeze / Mondo Mondo / Done Somebody Wrong / Up in Smoke / Ain't That I Don't Love You / Since I Don't Have You / Circles / Like Wolves Do / Bright Lights Shine / He Will Break Your Heart / Somethin' Funny Goin' On / Big Dog / Carlos And Juan / All The Kings Horses / Dark Night, Sweet Light / Give It Up / Lyin' In The Face Of Love / Pretty Little Girls / Feel Like Michael Douglas / Pididdle |
© Rocky Productions 24/05/2012