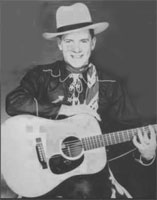 Chanteur Country Canadien né Gordon D. Cochrane, le 15 Juin 1914 à Sweet's Corner (Nouvelle Ecosse). Tex Cochrane a débuté en 1935 sur la radio CHNS d'Halifax. Il signe chez Bluebird de 1937 à 1939 où il enregistre seize chansons en trois sessions. En 1940, Tex s'engage dans l'armée où il fera carrière jusqu'en 1963. Tex Cochrane s'était retiré à Fredericton (New Brunswick). Il est décédé en 1995

b. Gordon D. Cochrane, 15 June 1914, Sweet's Corner, Nova Scotia, Canada, d. 1995. Cochrane learned to play the guitar and first sang during his high school days and had some thoughts of a musical career after being encouraged by Cecil and Leslie Flynn, who played for local dances. However it was not until 1934, that he gained a daily 15-minute spot on CHNS Halifax, where he adopted the name of Tex as being more suitable for his music. No doubt inspired by fellow Canadian Wilf Carter's popular ballads and yodels, he wrote many of his songs. The listener reaction soon saw him offered sponsorship by Mother's Own Tea for a programme on the larger and more powerful CFCY Charlottetown, Prince Edward Island. Here, he also played and toured with the Merry Islanders, a popular country band; initially they were led by George Chappelle but later by the more popular Don Messer. Cochrane's performances with the band and at CFCY, attracted the attention of Hugh Joseph of RCA - Victor Records who gave him the opportunity to record. Between 1937 and 1939, he cut 16 self-penned numbers for that label all of which gained release on 78s. Complete with fine yodels, as and when required, they included 'cowboy' songs such as 'Roundup Days In Cheyenne', 'My Old Cowpony And I' and the wistful 'Goin' Home In The Moonlight'.
In 1940, Cochrane enlisted in the Canadian Army, where he served throughout World War II. After the war, he remained in the service until he retired with the rank of major in 1963 and so never returned to his musical career. Later, he worked as manager and public relations director in the transport department of a major food company until finally retiring to live in Frederictown, New Brunswick in 1979. In 1985, the German Cattle Records label released an album containing the 16 sides, which represent Cochrane's total recorded output. A fine singer, yodeller and songwriter, Tex Cochrane merits his little place in history. He was inducted into the Nova Scotia Country Music Hall of Fame in 1998.
Talents : Vocals, Guitar
Style musical : Old Time, Yodel
Years in activity :
| | | | | | | | | | | | |
| --- | --- | --- | --- | --- | --- | --- | --- | --- | --- | --- | --- |
| 1910 | 20 | 30 | 40 | 50 | 60 | 70 | 80 | 90 | 2000 | 10 | 20 |
78 t.
| | | |
| --- | --- | --- |
| 1937 | 78 t. BLUEBIRD B-4629 (CAN) | Twilight Yodel Song / My Old Cow Pony And I |
| 1937 | 78 t. BLUEBIRD B-4633 (CAN) | Silvery Moon Guide Me Homeward / My Sweetheart Of Yesterday |
| 1938 | 78 t. BLUEBIRD B-4638 (CAN) | Goin' Home In The Twilight / I Miss You Dear Old Dad |
| 1939 | 78 t. BLUEBIRD B-4651 (CAN) | Fate Of My Texas Rose / The Roaming Hillbilly |
| 1939 | 78 t. BLUEBIRD B-4653 (CAN) | Echo Yodel Lullaby / My Sunbonnet Girl Of The Prairie |
| 1939 | 78 t. BLUEBIRD B-4660 (CAN) | Pal Of My Mountain Days / My Little Praire Pal |
| 1940 | 78 t. BLUEBIRD B-4664 (CAN) | I Missed A Little Miss In Mississippi / My Home On The Montana Range |
| 1940 | 78 t. BLUEBIRD B-4666 (CAN) | Christmas On The Range / Roundup Days In Cheyenne |
DISCOGRAPHY
Album
| | | | |
| --- | --- | --- | --- |
| 1985 | LP 12" CATTLE LP 68 (GER) | | PICKIN' SINGIN' 'N' YODELIN' CANADIAN WEST - Roundup Days In Cheyenne / I Missed A Little Miss In Mississippi / My Home On The Montana Range / Christmas On The Range / My Sun Bonnet Girl Of The Prairie / My Little Prairie Pal / My Pal Of My Mountain Days / My Sweetheart Of Yesterday / Silvery Moon Guide Me Back Homeward / Goin' Home In The Twilight / I Miss You Dear Old Dad / The Fate Of My Texas Rose / The Roaming Hillbilly / Echo Lullaby Yodel / Twilight Yodel Song / My Old Cowpony And I. |
© Rocky Productions 22/07/2012