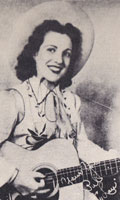 Chanteuse Country Canadienne née Rita Cote, le 17 Août 1921 à Sherbrooke, Quebec. Betty Cody a débuté à la fin des années trente et a fait une petite carrière dans la Country Music. Elle fut la femme de Hal Lone Pine. Betty Cody est décédée le 1er Juillet 2014 à Lewiston (Maine).

For a brief span during the early 1950s, Betty Cody stood side by side honky tonk queens like Kitty Wells and Goldie Hill. "Betty Cody was the closest to Kitty Wells in both plaintive Vocals style and heartache lyric content," wrote Mary A. Bufwack and Robert K. Oermann in Finding Her Voice: The Saga of Women in Country Music. Like Wells, she would reach country music's Top Ten hit with an answer song; whereas Webb Pierce sang "There Stands a Glass," a honky tonk paean to hard living, Cody sang "Please Throw Away the Glass," inserting a woman's point of view. Cody was born Rita Cote in Quebec on August 17, 1921, the sixth of Alphonse and Aidina Cote's 11 children. Her family moved to Auburn, Me and Cody learned music from the nuns of a French Catholic school; she would continue to sing in French until the age of 14.
Cody shored up her country music credentials by learning to yodel -- thanks to a brother's dare -- by listening to Patsy Montana's 1935 hit "I Want to Be a Cowboy's Sweetheart." She soon found work at local radio stations and balanced her budding singing career with her regular job at a shoe factory. Her first appearance was at WCOU Radio in Lewiston at the age of 15. In 1940 Cody married a musician, Harold Breau, known in New England as Lone Pine. When Cody joined his act, she adopted her stage name and the team traveled the United States and Canada. The couple had four sons including Lenny Breau who joined the family act at three and later became a well-known jazz guitarist.
In the early '50s Cody reached the height of her career when the act signed to RCA and initiated a series of recordings. Cody's formative training paid off when "Tom Tom Yodel" became a hit in 1952. Successful recordings of "Please Throw Away the Glass" and "I Found Out More Than You'll Ever Know" followed in 1953. During this time Cody sang on a coast-to-coast radio program for ABC and toured with Kitty Wells, Chet Atkins, Hank Snow, and other country music notables. Cody and Lone Pine also became a regular member of the WWVA barn dance, the Wheeling Jamboree.
The couple's success, however, had a darker underside: Cody and Lone Pine's marriage had begun to disintegrate during these years. Cody, in fact, considered a solo career, and attracted the attention of none other than Colonel Tom Parker (the future manager of Elvis Presley). But Parker's deal included moving to Nashville and leaving her children behind for six months, so Cody retired from the mainstream music business. She returned to Lewiston, ME where she worked in a factory and raised three of her sons. Cody also continued to perform locally and was inducted into the Maine Country Music Hall of Fame on April 29, 1979. In 2006, Bear Records issued On the Trail of the Lonesome Pine, recordings of Cody and Lone Pine's work at RCA. The same year The Successful Hillbilly Era of Betty Cody (1952-1954) was issued by Cattle.
Betty Cody died on July 1, 2014 in Lewiston, Maine.
https://en.wikipedia.org/wiki/Betty_Cody
Talents : Vocals, Guitar
Style musical : Traditional Country
Years in activity :
| | | | | | | | | | | | |
| --- | --- | --- | --- | --- | --- | --- | --- | --- | --- | --- | --- |
| 1910 | 20 | 30 | 40 | 50 | 60 | 70 | 80 | 90 | 2000 | 10 | 20 |
DISCOGRAPHY
78 t. & Singles
Albums
| | | | |
| --- | --- | --- | --- |
| 1979 | LP 12" EAB 790816 (CAN) | | SINGING AGAIN - Dancing Again / Mama's House / Hi There / I Yodel All Day Long / Hopeless Woman / The Selfishness In Man / Coeur De Maman / Killing Time With Me / Share And Share Alike / Call Me Hurt / What Is Life Without Love / I've Got My Mind Satisfied |
| 1985 | LP 12" CATTLE LP 79 (GER) | | BETTY CODY'S COUNTRY SOUVENIR ALBUM - Tear Down The Mountains / Can You Live With Yourself / Dear Sister / Butterfly Heart / Tell It Right / The Kiss That Made A Foll Of Me / A Letter I Should Never Have Mailed / Don't Believe Everything That You Read About Love / You Broke My Heart In 15 Million Pieces / Pale Moon / I Hate Myself For Loving You So Much / I Found Out More Than You Ever Knew / Phonograph Records / Keep Your Promise, Willie Thomas / Please Throw Away The Glass / You Can't Feel The Way I Do / I Really Don't Want To Know / You Want More Of Me / Always A Bridesmaid. |
| 03/2005 | CD CATTLE CCD 306 (GER) | | THE SUCCESSFUL HILLBILLY ERA OF BETTY CODY (1952-1954) - Pale Moon / Tom-Tom Yodel / Keep Your Promise, Willie Thomas / Phonograph Record / Keep Your Shirt On John / Don't Stop - I Like It! / O Mama Come Home / You Broke My Heart In 15 Million Pieces / You Can't Feel the Way I Do / Please Throw Away The Glass / Kiss That Made A Fool Of Me / Letter I Should Never Have Mailed / Of All The Songs We Ever Sang / Dear Sister / Can You Live With Yourself? / Don't Believe Everything That You Read About Love / I Found Out More Than You Ever Knew / Jealous Love / I'm Talkin', Start Walkin' / Tear Down The Mountains / I Really Want You To Know / Heart To Heart Talk (Let's Talk It Over) / How To Get Married / Always A Bridesmaid / You Want More Of Me (Than I Can Give You) / Columbu Stockade Blues / In Sunny Tennessee / I Hate Myself For Loving You So Much |
| 02/2006 | CD BEAR FAMILY BCD 16787 (GER) | | ON THE TRAIL OF THE LONESOME PINE - Hal Lone PINE & Betty CODY - On The Trail Of The Lonesome Pine / I'm Talkin', Start Walkin' / Lipstick On Your Collar / From One O'Clock To Midnight / Pretty As A Queen / Little Jeannie / Prince Edward Island Is Heaven To Me / From Paree To Tennessee / Honey, Honey Mine / Come Back To This Heart Of Mine / In Sunny Tennessee / She Took / Don't Stop - I Like It! / Fuzzy-Wuzzy Teddy Bear / Pale Moon / The Waltz Of The Bridge / Yes I Do, No I Don't (The Question Song) / When It's Appleblossomtime In Annapolis Valley / O Lord Please Tell Me, Do / I'll Be Waiting Patiently / One Poor Lonely Heart / O Mama Come Home / Tom-Tom Yodel / Jealous Love / No Heart At All / Add A Name / Gonna Build A Fence Around You / Tell It Right / I Heard The Bluebirds Sing / It's Good-Bye And So Long To You |
© Rocky Productions 22/07/2012