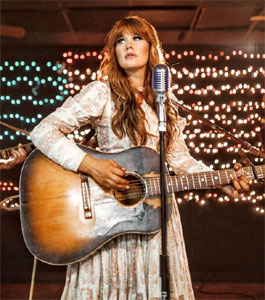 Chanteuse Country US originaire de Fredonia (New York).

A modern country singer with a sweet touch and a fondness for vintage styles, Ruthie Collins released her debut album, Get Drunk and Cry, in 2017. A native of Fredonia, New York, Collins was raised on a farm. Taking to music as a child, she decided to pursue it professionally upon becoming an adult. She enrolled in Boston's Berklee College, leaving the school a semester prior to graduation so she could pursue a career as a songwriter in Nashville.
Settling in the Music City in 2006, she formed Wild Honey with Victoria Gibson, and the pair appeared on the 2008 CMT competition Can You Duet. Once Wild Honey disbanded, Collins turned her attention to professional songwriting. She revived her performing career in 2014, when she signed with Sidewalk/Curb. The label released an eponymous EP from Collins in December 2014, and she worked on her debut album over the next two and a half years. Get Drunk and Cry appeared on October 20, 2017. Around its release, Collins sealed a deal to be the host of A&E's Home.Made, a reality show about homemade crafts.
https://ruthiecollinsmusic.com/
https://www.facebook.com/ruthiecollinsmusic/
Talents : Vocals, Guitar, songwriter
Style musical : Contemporary Country, Country Pop,

https://youtu.be/3nU0aasdQXM
Years in activity :
| | | | | | | | | | | | |
| --- | --- | --- | --- | --- | --- | --- | --- | --- | --- | --- | --- |
| 1910 | 20 | 30 | 40 | 50 | 60 | 70 | 80 | 90 | 2000 | 10 | 20 |
DISCOGRAPHY
EP
12/2014
CD C

urb

D2 73938 (US)

Heartstrong / Ramblin' Man / Get Drunk And Cry / Ready To Roll / Trainwreckin' / Vintage
Albums
10/2017
CD C

urb

79363 (US)

Get Drunk and Cry - Getting Out There / Boys And Beaches / Great Wide Open / Get Drunk And Cry / All I Wanna Be / Pink Bic Lighter / You Don't / Mockingbird / What If You Fly / Me And Emmylou

04/2020
CD C

urb

79523 (US)

Cold Comfort - Joshua Tree / Cheater / Dang Dallas / Hey Little Girl / Untold / Bad Woman / Change / Old Comfort / Wish You Were Here / You Can't Remember / Beg Steal Borrow
© Rocky Productions 4/04/2020