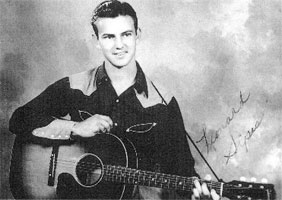 Chanteur Country US né Leonard Raymond Sipes, le 28 Septembre 1930 à Oklahoma City (Oklahoma). Tommy Collins a débuté en 1946, obtenant une émission sur la radio KLPR. Premier disque en 1951 chez Morgan, puis il passe chez Capitol. Malgré un immense talent de vocaliste Hillbilly et une aptitude certaine à la composition, la notoriété de Tommy ira diminuant et il quittera Capitol en 1961 pour passer chez Columbia entre 1965 et 1968. Il est décédé le 14 Mars 2000 à Ashland City (Tennessee).

Along with his contemporary Wynn Stewart, Tommy Collins was one of the first country musicians to establish a distinctive Bakersfield, CA, sound. During the course of the '50s, he released a series of hit singles that lightened up the tone of honky tonk with bouncing backbeats, novelty lyrics, and electric guitars. Collins explored a more serious side with his ballads, yet they continued to sound slightly different than his peers — though they weren't as polished as the countrypolitan coming out of Nashville, they didn't have the grit of honky tonk. Legions of West Coast country performers — most notably Buck Owens, who played guitar on several of Collins' hit singles, and Merle Haggard — built on the sound that Collins established in the early '50s. Collins wasn't able to cash in on the Bakersfield craze of the '60s. By then, he had already quit the music business once, and was mounting a marginally successful comeback. Nevertheless, his influence loomed large, particularly on Haggard, who took Collins' "Carolyn" and "The Roots of My Raising" to the top of the charts in the early '70s.
Collins (b. Leonard Raymond Sipes) was born just outside of Oklahoma City, spending his entire childhood in Oklahoma, where his father worked for the county. As a child, he began to sing and write songs, eventually appearing on local radio shows. Following his high-school graduation in 1948, he attended Edmond State Teachers College while he continued to perform music. During this time, he made a handful of singles for the California-based record label Morgan. In the early '50s, he was in the Army for a brief time, before he moved to Bakersfield with his friend Wanda Jackson and her family. Shortly afterward, the Jackson family moved back to Oklahoma, leaving Collins alone in Bakersfield.
In a short time, Collins had begun to make friends and contacts within the city, eventually becoming friends with Ferlin Husky, and the pair roomed together. After recording a handful of Collins' songs, Husky convinced his record company, Capitol, to offer Collins a record contract, and the fledging singer/songwriter signed to the label in June of 1953; at the time of signing, he adopted his stage name of Tommy Collins, since it sounded more commercial than Leonard Sipes. Capitol and Collins immediately assembled a backing band, which featured a then-unknown Buck Owens on lead guitar. Following one unsuccessful single, Collins released the jaunty "You Better Not Do That," which became a huge hit in early 1954, spending seven weeks at number two on the country charts. Since the song was a success, Collins continued to pursue a lighthearted, near-novelty direction with his subsequent hits, and the formula initially worked. Between the fall of 1954 and the spring of 1955, he had three Top Ten hits — "Whatcha Gonna Do Now," "Untied," and "It Tickles" — and in the fall of 1955, the double A-sided single "I Guess I'm Crazy" and "You Oughta See Pickles Now," which both reached the Top 15. In addition to these hit singles, Faron Young had a huge hit with Collins' "If You Ain't Lovin'," which was one of many songs that Collins wrote but didn't record that became hits.
Collins was on the fast road to major success, but it stopped just as soon as it began. Collins had a religious conversion in early 1956, and much of the material he recorded that year was sacred music; occasionally, he recorded duos with his wife Wanda Lucille Shahan as well. In 1957, Collins enrolled in the Golden Gate Baptist Seminary with the intention of becoming a minister. Two years later, he became a pastor. During all of his religious teachings, Collins continued to record for Capitol, but neither he nor the label was much interested in promoting his records, and he had no hits. When his contract with the label expired in 1960, he stopped recording and enrolled as a student at Sacramento State College. For the next two years, he studied at the university.
In early 1963, Collins decided he was unfulfilled by the ministry, so he left the church and headed back to Bakersfield with the intention of reentering the music business. Capitol agreed to re-sign him, and in 1964 he returned to the lower reaches of the charts with "I Can Do That," a duo with his wife, Wanda.
With the help of Johnny Cash, Collins switched labels and signed with Columbia in 1965; the following year, he had a Top Ten hit with "I Can't Bite, Don't Growl." For the next few years, he had a string of minor hit singles, none of which cracked the country Top 40. During this time, he also toured with his protégés, Buck Owens and Merle Haggard, acting as their opening act. By the early '70s, both Collins' professional and personal lives were on the verge of collapse, due to his increasing dependency on drugs and alcohol. In 1971, Wanda filed for divorce, sending Collins into a deep depression.
Collins began to recover by continuing to write songs, many of which were recorded by Merle Haggard, including the 1972 number one hit single "Carolyn." In 1976, Collins moved to Nashville, where he was able to secure a contract with Starday Records. Later that year, he released Tommy Collins Callin', a collection of his own versions of songs he had provided for other artists. Following the album's release, Collins turned almost entirely to professional songwriting. In 1981, Merle Haggard had a hit single with "Leonard," his tribute to Collins. After the release of "Leonard," the spotlight again turned to Collins, who was now sober. Collins signed a songwriting contract with Sawgrass Music, where his most notable success was Mel Tillis' Top Ten 1984 hit, "New Patches."
Throughout the '80s, Collins kept a low profile, though his songs continued to be recorded. George Strait recorded some Collins compositions during the decade, taking a new version of "If You Ain't Lovin'" to number one on the country charts. European record companies like Bear Family began reissuing his recordings, which led to an appearance at the 1988 Wembley Country Music Festival in England. In 1993, Collins signed a new publishing contract with Ricky Skaggs Music and continued to write songs professionally throughout the mid-'90s, dying at his home in Ashland City, TN, on March 14, 2000.
https://en.wikipedia.org/wiki/Tommy_Collins_(singer)
Talents : Vocals, Songwriter, Guitar
Style musical : Traditional Country, Honky Tonk, Comedy

https://www.youtube.com/watch?v=-ymqxDcBxBM
Years in activity :
| | | | | | | | | | | | |
| --- | --- | --- | --- | --- | --- | --- | --- | --- | --- | --- | --- |
| 1910 | 20 | 30 | 40 | 50 | 60 | 70 | 80 | 90 | 2000 | 10 | 20 |
DISCOGRAPHY
Singles
1951
SP MORGAN 106 (US)
.
Campus Boogie / Too Beautiful To Cry
1951
SP MORGAN 109 (US)
.
Smooth Sailin' / Fool's Gold
09/1953
SP CAPITOL F 2584 (US)
.
You Gotta Have A License / There'll Be No Other
01/1954
SP CAPITOL F 2701 (US)
.
You Better Do Not That / High On The Hilltop
04/1954
SP CAPITOL F 2806 (US)
.
I Always Get A Souvenir / Let Me Love You
08/1954
SP CAPITOL F 2891 (US)
.
What'cha Gonna Do Now ? / You're For Me
01/1955
SP CAPITOL F 3017 (US)
.
Untied / Boob-I-Lak
04/1955
SP CAPITOL F 3082 (US)
.
It Tickles / Let Down
08/1955
SP CAPITOL F 3190 (US)
.
I Guess I'm Crazy / You Oughta See Pickles Now
12/1955
SP CAPITOL F 3289 (US)
.
I'll Be Gone / I Love You More And More Everyday
1955
EP CAPITOL

EAP-1-607 (US)

TOMMY COLLINS - You Better Not Do That / Whatcha Gonna Do Now / Untied / You Gotta Have A License
03/1956
SP CAPITOL F 3370 (US)
.
What Kind Of Sweetheart Are You / Wait A Little Longer
07/1956
SP CAPITOL F 3466 (US)
.
No Love Have I / That's The Way Love Is
12/1956
SP CAPITOL F 3591 (US)
.
I Wish I Had Died In My Cradle / I'll Never Never Let You Go
03/1957
SP CAPITOL F 3665 (US)
.
All The Monkeys Ain't In The Zoo / Don't You Love Me Anymore
09/1957
SP CAPITOL F 3789 (US)
.
Love Is Born / I'm Nobody's Fool But Yours
1957
EP CAPITOL

EAP-1-776 (US)

WORDS & MUSIC COUNTRY STYLE

1957
EP CAPITOL

EAP-2-776 (US)

WORDS & MUSIC COUNTRY STYLE

1957
EP CAPITOL

EAP-3-776 (US)

WORDS & MUSIC COUNTRY STYLE

08/1959
SP CAPITOL 4263 (US)
.
Little June / Hundred Years From Now
1959
EP CAPITOL

EAP-1-1125 (US)

LIGHT OF THE LORD -

What A Friend We Have In Jesus / That's Why I Love Him / Each Step Of The Way / Jesus Keep Me Near The Cross
1959
EP CAPITOL

EAP-2-1125 (US)

LIGHT OF THE LORD

1959
EP CAPITOL

EAP-3-1125 (US)

LIGHT OF THE LORD

1959
EP CAPITOL

EAP-1-1196 (US)

THIS IS TOMMY COLLINS

1959
EP CAPITOL

EAP-2-1196 (US)

THIS IS TOMMY COLLINS

1959
EP CAPITOL

EAP-3-1196 (US)

THIS IS TOMMY COLLINS

01/1960
SP CAPITOL 4327 (US)
.
The Wreck Of The Old 97 / You Belong In My Arms
08/1960
SP CAPITOL 4421 (US)
.
Summer's Almost Gone / Keep Dreaming
12/1960
SP CAPITOL 4495 (US)
Black Cat / My Last Chance With You
04/1963
SP CAPITOL 4962 (US)
.
Take Me Back To The Good Old Days / When Did Right Become Wrong
11/1963
SP CAPITOL 5051 (US)
.
I Can Do That / You'd Better Be Nice
02/1964
SP CAPITOL 5117 (US)
.
I Got Mine / If I Could Just Go Back
12/1964
SP CAPITOL 5345 (US)
.
All Of The Monkeys Ain't In The Zoo (remake) / Don't Let Me Stand In His Footsteps
01/1966
SP COLUMBIA 4-43489 (US)
.
If You Can't Bite Don't Growl / Man Machine
02/1966
SP TOWER 213 (US)
.
Oh What A Dream / Take Me Back From Good Old Days
06/1966
SP COLUMBIA 4-43628 (US)
.
Shinding In The Barn / Be Serious Ann
09/1966
SP COLUMBIA 4-43724 (US)
.
A Man Gotta Do What A Man Gotta Do / There's No Girl In My Life Anymore
01/1967
SP COLUMBIA 4-43972 (US)
.
Birmingham / Don't Wipe The Tears That You Cry
05/1967
SP COLUMBIA 4-44113 (US)
.
Roll Truck Roll / Wine Take Me Away
08/1967
SP COLUMBIA 4-44260 (US)
.
Big Dummy / What'cha Gonna Do Now
12/1967
SP COLUMBIA 4-44386 (US)
.
I Made A Prison Band / No Love Have I
1967
SP VERVE

10565

(US)
.

I Wanta Thank You / Oh What I'd Give

04/1968
SP COLUMBIA 4-44498 (US)
.
Sunny Side Of Life / He's Gonna Have To Catch
09/1968
SP COLUMBIA 4-44664 (US)
.
High On A Hilltop / Woman You Have Been Told
1970
SP STARDAY 45-907 (US)
.
Cigarette Milner / The Roots Of My Rising
1973
SP STARDAY 45-967 (US)
.
Opal You Ask Me / Wildwood Flower
1978
SP GUSTO GT4-2054 (US)
.
Opal You Ask Me / Hot Rod Guitar
1978
SP MAGNA SOUND MSR 35 (US)
.
Pull The Covers Over Me / ?
Albums
01/1957
LP 12" CAPITOL T-776 (US)
WORDS AND MUSIC COUNTRY STYLE - All Of The Monkeys Ain't In The Zoo / How Do I Say Goodbye / Love A-me S'il Vous Plait / Those Old Love Letters From You / Man We All Ought To Know / Feet Of The Traveler / Smooth Sailin' / I'll Always Speak Well Of You / Think It Over Boys / I Think Of You Yet / Are You Ready To Go / Upon This Rock
1958
LP 12" CAPITOL T-1125 (US)
LIGHT OF THE LORD - What A Friend We Have In Jesus / Each Step Of The Way / When I Survey The Wondrous Cross / Jesus Keep Me Near The Cross / My Saviour's Love / Softly And Tenderly / Where Could I Go But To The Lord / That's Why I Love Him / In The Shadow Of The Cross / Amazing Grace / Who At My Door Is Standing / Old Rugged Cross
02/1959
LP 12" CAPITOL T-1196 (US)
THIS IS TOMMY COLLINS ! - You Better Not Do That / I Always Get A Souvenir / United / How Do I Say Goodbye / I'll Be Gone / It Tickles / You Gotta Have A License / High On A Hilltop / Boob-I-lak / Smooth Sailin' / Love A-me S'il Vous Plait / Whatcha Gonna Do Now
06/1960
LP 12" CAPITOL T-1436 (mono) / ST-1436 (stereo) (US)
SONGS I LOVE TO SING - I'll Keep On Loving You / Have I Told You Lately That I Love You / I Overlooked An Orchid / I Wonder If You Feel The Way I Do / Last Letter / It Makes No Difference Now / Oklahoma Hills / Broken Engagement / Let's Live A Little Before We Say Goodbye / I'm Just Here To Get My Bay Out Of Jail / Sidewalks Of New York / Great Speckled Bird
05/1966
LP 12" TOWER T-5021 (mono) / DT-5021 (stereo) / (US)
LET'S LIVE A LITTLE - Let's Live A Little Before We Say Goodbye / I'll Keep On Loving You / You're For Me / It Makes No Difference Now / You Belong In My Arms / Take Me Back To The Good Old / Oh What A Dream / Hundred Years From Now / Keep Dreaming / Have I Told You Lately That I Love You
07/1966
LP 12" COLUMBIA CL-2410 (mono) / CS-9310 (stereo) (US)
THE DYNAMIC TOMMY COLLINS - If You Can't Bite Don't Growl / Fool's Castle / Poor Broke Mixed Up Mess Of A Heart / Be Serious Ann / Skinny / Two Sides Of Life / Big Dummy / Little Time For A Little Love / Girl On Sugar Pie Lane / There's No Girl In My Life Anymore / Shindig In The Barn
02/1968
LP 12" TOWER T-5107 (mono) / ST-5107 (stereo) (US)
SHINDIG IN THE BARN - Shindig In The Barn / Don't Let Me Stand In His Footsteps / Let Her Go / If I Could Just Go Back / I Got Mine / I Can Do That / Wreck Of The Old 97 / Oklahoma Hills / You'd Better Be Nice / It's A Big Jump
03/1968
LP 12" COLUMBIA CS-9578 (US)
TOMMY COLLINS ON TOUR - Laura What He's Got That I Ain't Got / Break My Mind / Branded Man / Wine Take Me Away / Birmingham / Whatcha Gonna Do Now / Cincinnati Ohio / You're Everything To Me / Sam Hill / No Love Have I / Roll Truck Roll
1971
LP 12" STARDAY S-474 (mono) / SLP-474 (stereo) (US)
CALLIN' - You Gotta Have A License / Cigarette Milner / Hot Rod Guitar / Roots Of My Rising / I Could Sing All Night Long / Okie From Muskogee / Opal You Ask Me / Wildwood Flower / If You Ain't Lovin' / My Last Chance With You
1973
LP 12" CMH CMH-206 (GER)
SONGS OF TOMMY COLLINS - VOL. 1 - I Guess I'm Crazy / You Oughta See Pickles Now / There'll Be No Other / Let Me Love You / Let Down / I Love You More And More Each Day / Wait A Little Longer / What Kind Of Sweetheart Are You / No Love Have I / That's The Way Love Is / Love Is Born / I'm Nobody's Fool But Yours / Little June / Black Cat / My Last Chance With You / Summer's Almost Gone
1976
LP 12" PROVINCIA 764-21 (GER)

COUNTRY FAVORITES -

You Better Not Do That / I Always Get A Souvenir / Untied / I'll Be Gone / It Tickles / You Gotta Have A License / High On A Hilltop / Boob-I-Lak / What'cha Gonna Do Now / I'll Keep On Loving You / Have I Told You Lately That I Love You / I Wonder If You Feel The Way I Do / I Overlooked An Orchid / The Last Letter / It Makes No Difference Now / Oklahoma Hills / Broken Engagement / Let's Live A Little / I'm Here To Get My Baby Out Of Jail / Sidwalks Of New York / The Great Speckled
1977
2 LP 12" CCL 1125 (NL)
TOMMY COLLINS :

DISC 1 : I Got Mine / I'll Never Never Let You Go / I Wish I Had Died In My Cradle / Don't You Love Me Anymore? / When Did Right Become Wrong / All Of The Monkeys Ain't In The Zoo / Man Machine / Man Gotta Do What A Man Gotta Do / He's Gonna Have To Catch Me First / Don't Wipe The Tears That You Cry / I Made A Prison Band / Sunny Side Of Life / Woman You Have Been Told / High On A Hilltop
DISC 2 : I Guess I'm Crazy / You Oughta See Pickles Now / There'll Be No Other / Let Me Love You / Let Down / I Love You More And More Each Day / Wait A Little Longer / What Kind Of Sweetheart Are You / No Love Have I / That's The Way Love Is / Love Is Born / I'm Nobody's Fool But Yours / Little June / Black Cat / My Last Chance With You / Summer's Almost Gone

1978
LP 12" GOLDEN COUNTRY LP-2209 (UK)
TOMMY COLLINS SINGS COUNTRY SONGS - All Of The Monkey's Ain't In The Zoo / You Gotta Have A License / High On A Hilltop / A Man We All Ought To Know / Those Old Love Letters / You Gota See Pickles Now / The Feet Of The Traveller / You Better Not Do That / It Tickles / I Think Of You Yet / Are You Ready / Think It Over Boys / I Always Get A Souvenir / Upon This Rock
04/1980
LP 12" GREENWOOD GW-104 (UK)
A TOMMY COLLINS COUNTRY SOUVENIR - I Always Get A Souvenir / A Hundred Years From Now / High On A Hilltop / You Gotta Have A License / If You Ain't Lovin' / Two Sides Of Live / You Better Not Do That / Tribute To Hank Williams / Roots Of My Raising / If That's The Fashion / All The Monkey's Ain't In The Zoo
04/1980
LP 12" GREENWOOD GW-105 (UK)
COWBOYS GET LUCKY SOME OF THE TIME - Carolyn / Loud Mouthed Talking Oldsmobile / Goodbye Comes Hard To Me / Man Who Picked The Wildwood Flower / Those Old Love Letters From You / I'm Tracing Your Tracks Across Texas / All Robyns Can Sing / I Can Outkiss Him / Love Won't Come Between Us Anymore / Conversation Of Ronnie Jones / My Son Calls Another Man Daddy
1980
LP 12" CAPITOL ECS-50058 (JAP)
CALL OF THE COUNTRY - TOMMY COLLINS - I Guess I'm Crazy / You Better Not Do That / Whatcha Gonna Do Now / It Tickles / You Oughta See Pickles Now / I Always Get A Souvenirs / High On A Hilltop / All Of The Monkey's Ain't In the Zoo / How Do I Say Goodbye / You Gotta Have A License / Smooth Sailing / Love A-Me, S'Il Vous Plait / Untied / I Can Do That
1986
LP 12" PASSWORD A-0001 (UK)
NEW PATCHES - New Patches / Till Me A Little Toward, Tillie / Boxcar Children / Shindig In The Barn / The Roots Of My Rising / Hello Hag / Someone Else Tends The Garden / Lemonade Life / I Love You More Than Anyone / If You Can't Bite, Don't Growl / I Wish Things Were Simple Again
11/1992
5 CD BEAR FAMILY BCD 15577 (GER)
LEONARD :

CD 1 : Campus Boogie / Too Beautiful To Cry / Smooth Sailin' / Fool's Gold / You Gotta Have A License / Let Me Love You / There'll Be No Other / I Love You More And More Each Day / Boob-I-Lak / You Better Not Do That / I Always Get A Souvenir / High On A Hilltop / United / Whatcha Gonna Do Now / Love-A-Me S'il Vous Plait / You're For Me / I'll Be Gone / Wait A Little Longer / Let Down / It Tickles / It's Nobody Fault But Yours / I Guess I'm Crazy / You Oughta See Pickles Now / Those Old Love Letters From You / I Wish I Died In My Cradle / I'll Never Never Let You Go / I'll Always Speak Well Of You
CD 2 : What Kind Of Sweetheart You Are / No Love Have I / All Of The Monkeys Ain't In The Zoo / That's The Way Love Is / Smooth Sailin' / How Do I Say Goodbye / Man We All Ought To Know / Are You Ready To Go / Think It Over Boys / I Think Of You Yet / Upon This Rock / Feet Of The Traveler / Don't You Love Me Anymore / Retirement In Heaven / All Of The Monkeys Ain't In The Zoo / What Have You Done / Love Is Born / I'm Nobody's Fool But Yours / O Mary Don't You Weep / Did You Let Your Light Shine / In The Shadow Of The Cross / When I Survey The Wondrous Cross / Who At My Door Is Standing / My Saviour's Love / Where Could I Go But To The Lord / What A Friend We Have In Jesus / Each Step Of The Way / Softly And Tenderly / That's Why I Love Him / Jesus Keep Me Near The Cross
CD 3 : Amazing Grace / Old Rugged Cross / Heart Don't Break / You Belong In My Arms / Hundred Years From Now / Little June / My Last Chance With You / Sidewalks Of New York / Last Letter / Oklahoma Hills / Great Speckled Bird / Broken Engagement / Wreck Of The Old 97 / I'm Just Here To Get My Bay Out Of Jail / Have I Told You Lately That I Love You / It Makes No Difference Now / Let's Live A Little Before We Say Goodbye / I'll Keep On Loving You / I Overlooked An Orchid / I Wonder If You Feel The Way I Do / Juicy Fruit / Black Cat / We Kissed Again With Tears / Keep Dreaming / Don't Let Me Stand In His Footsteps / Summer's Almost Gone / Take Me Back To The Good Old Days / Oh What A Dream / Let Her Go / When Did Right Become Wrong
CD 4 : If I Could Just Go Back / I Got Mine / You'd Better Be Nice / I Can Do That / I Got Mine / Shindig In The Barn / Million Miles / Goody Goody Gumdrop Klippa Kloppa / Clock On The Wall / Bee That Gets The Honey / It's A Big Jump / It's A Pretty Good Ol' World After All / Don't Let Me Stand In His Footsteps / All Of The Monkeys Ain't In The Zoo, Black Cat, Take Me Back To The Good Old Days, Oh What A Dream / Goody Goody Gumdrop Klippa Kloppa / If You Can't Bite Don't Growl / Man Gotta Do What A Man Gotta Do / Man Machine / Girl On Sugar Pie Lane / Poor Broke Mixed Up Mess Of A Heart / Be Serious Ann / Fool's Castle / Little Time For A Little Love / I'm Not Gettin' Anywhere With You / Two Sides Of Life / You're Everything To Me / Million Miles
CD 5 : Big Dummy / Shindig In The Barn / There's No Girl In My Life Anymore / Skinny / I'm Not Looking For An Angel / Don't Wipe The Tears That You Cry For Him / Birmingham / Put Me In Irons Lock Me Up / You Better Not Do That / Sam Hill / I Got Mine / It's Too Much Like Lonesome / Whatcha Gonna Do Now / No Love Have I / Wine Take Me Away / High On A Hilltop / When Did Right Become Wrong / General Delivery USA / Roll Truck Roll / If That's The Fashion / Piedras Negras / Laura What He's Got That I Ain't Got / Branded Man / Cincinnati Ohio / Break My Mind / I Made The Prison Band / Best Thing I've Done In My Life / Woman You Have Been Told / Sunny Side Of My Life / He's Gonna Have To Catch Me First

07/2004
CD GUSTO 564 (US)
SINGER - SONGWRITER - COMEDIAN - 1930-2000 - You Gotta Have A License / Cigarette Milner / Hot Rod Guitar / Roots Of My Raising / I Could Sing All Night / Okie From Muskogee / Opal, You Asked Me / Wildwood Flower / If You Ain't Lovin' (You Ain't Livin') / My Last Chance With You
04/2005
CD KOCH KOC-CD-9845 (US)
THE CAPITOL COLLECTION - You Better Not Do That / High On A Hilltop / What'cha Gonna Do Now? / I Guess I'm Crazy / It Tickles / I'll Never, Never Let You Go / You Gotta Have A License / How Do I Say Goodbye / Untied / You're For Me / You Oughta See Pickles Now / Little June / Black Cat / All Of The Monkeys Ain't In The Zoo / Take Me Back To The Good Old Days / Oh, What A Dream / Don't Let Me Stand In His Footsteps / If I Could Just Go Back
08/2005
CD CURB D2-78906 (US)
BEST OF TOMMY COLLINS - O, What A Dream / If I Could Just Go Back / Take Me Back To The Good Old Days / Don't Let Me Stand In His Footsteps / Oklahoma Hits / Have I Told You Lately That I Love You / Wreck Of Old '97 / Shindig In The Barn / A Hundred Years From Now / I Can Do That
2005
CD EMI ? (US)
IT TICKLES - You Better Not Do That / High On A Hilltop / What'cha Gonna Do Now? / I Guess I'm Crazy / It Tickles / I'll Never, Never Ley You Go / You Gotta Have A Licence / How Do I Say Goodbye / Untied / You're For Me / You Oughta See Pickles Now / Little June / Black Cat / All Of The Monkeys Ain't In The Zoo / Take Me Back To The Good Old Days / Oh, What A Dream / Don't Let Me Stand In His Footsteps / If I Could Just Go Back
2006
CD BACM

CD D 165

(UK)

THINK IT OVER BOYS -

Let Me Love You / I Always Get A Souvenir / High On A Hilltop / Let Down / Boob I Lak / No Love Have I / That's The Way Love Is / I Love You More And More Each Day / I'll Be Gone / There'll Be No Other / Wait A Little Longer / What Kind Of Sweetheart Are You / I Wish I Had Died In My Cradle / Love A Me S'Il Vous Plait / Those Old Love Letters From You / A Man We Ought To Know / Feet Of The Traveler / Smooth Sailin' / I'll Always Speak Well Of You / Think It Over Boys / I Think Of You Yet / Are You Ready To Go / Upon This Rock / I Guess I'm Crazy / Untied

11/2011
CD BEAR FAMILY BCD 16897 (GER)
BLACK CAT - GONNA SHAKE THIS SHACK TONIGHT - Campus Boogie / Black Cat / That's The Way Love Is / Smooth Sailin' / Let Down / You Gotta Have A License / Let Me Love You / You Better Not Do That / Untied / I Always Get A Souvenir / Whatcha Gonna Do Now / I Love You More And More Each Day / Love-A-Me, S'Il Vous Plait / You're For Me / I'll Be Gone / I'm Just Here To Get My Baby Out Of Jail / It's Nobody's Fault But Yours / All Of The Monkey's Ain't In The Zoo / Wait A Little Longer / What Kind Of Sweetheart Are You / A Love Is Born / Heart's Don't Break / You Belong In My Arms / It Makes No Difference Now / I Guess I'm Crazy / O Mary Don't You Weep / Oklahoma Hills / I Got Mine / Back Cat [stereo] / Think It Over Boys
© Rocky Productions 13/08/2012