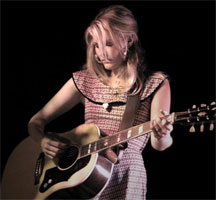 Chanteuse Country US née le 17 Juillet 1972 à Wildwood (Floride).

Country singer/songwriter Elizabeth Cook made her Grand Ole Opry debut on March 17, 2000, appearing repeatedly thereafter — a remarkable achievement considering that, at the time, she was an indie artist with no radio airplay. But such was the excitement generated by her clear, beautiful voice, strong songwriting ability, and live performances, all of which have drawn comparisons to younger, critically respected artists like Kelly Willis and legends such as Dolly Parton.
Cook was born in Wildwood, FL. Her West Virginia-born mother played guitar and mandolin and sang on local radio shows. Her father, a Georgia native, also performed country music and served jail time for running moonshine. Upon his release, he and Elizabeth's mother played in local bands together, eventually marrying. Elizabeth, born in 1972, moved to Nashville in her twenties and quickly got a publishing deal. Demos recorded between 1997 and 2000 comprised her self-titled, independently released debut album, which showcased her formidable songwriting ability and featured such well-known Music City musicians as Tim Carroll, Kenny Vaughan, and Rick Schell. Atlantic Records signed Cook soon after its release, and she began working on her major-label debut. Hey Y'All appeared in summer 2002 from Warner Bros. Constant restructuring at the label meant Hey Y'All didn't get the promotion it needed, and Cook left the imprint and released 2005's This Side of the Moon on Hog Country Records. Balls appeared in 2007 from 31 Tigers, followed by Welder in 2010, featuring guest spots from Dwight Yoakam, Rodney Crowell, and Buddy Miller, also on 31 Tigers. Over the next five years, in addition to touring and becoming a staple at the Grand Ole Opry, hosting her Sirius XM radio program Apron Strings, and touring, Cook went through a series of transformative personal changes. She lost a parent, got divorced, and saw a sibling through rehabilitation after a long bout with drug addiction. When she re-entered the studio, it was with co-producer and guitarist Dexter Green. After self-financing an album, she undertook a Pledge Music campaign to assist in getting it released. Exodus of Venus was released in June 2016 through Thirty Tigers.
http://www.elizabeth-cook.com/
https://en.wikipedia.org/wiki/Elizabeth_Cook
Talents : Vocals, Guitar
Style musical : Traditional Country, Contemporary Country, Americana

http://youtu.be/jhvma8PZoTc
Years in activity :
| | | | | | | | | | | | |
| --- | --- | --- | --- | --- | --- | --- | --- | --- | --- | --- | --- |
| 1910 | 20 | 30 | 40 | 50 | 60 | 70 | 80 | 90 | 2000 | 10 | 20 |
Singles & EP
2002
CD Warner Bros. Cook-CD (US)
.

Live At The Opry - Storms Never Last / If I Could / Crazy Arms

2002
CD Warner Bros. PRCD 100952 (US) (promo)

Stupid Things

2012
EP 10" 31 TIGERS ? (US)

Gospel Plow -

If I Had My Way, I'd Tear This Building Down / Gospel Plow / Every Humble Knee Must Bow / The Other Side Of Life / Hear Jerusalem Calling / These Men Of God / Jesus
2012
CD 31 TIGERS ? (US)

Gospel Plow - If I Had My Way, I'd Tear This Building Down / Gospel Plow / Every Humble Knee Must Bow / The Other Side Of Life / Hear Jerusalem Calling / These Men Of God / Jesus

04/2013
SP 31 TIGERS 80084 (US) (limited edition)

Elizabeth Cook & Jason Isbell - Tecumseh Valley / Pancho And Lefty

2015
SP Bloodshot BS 238-6 (US)
.

Too Drunk To Fuck (Elizabeth COOK) / Six Pack (Al SCORCH)

2017
SP 12" BRRB Music BR1701S (US) (limited edition, Christmas lights colored vinyl)

Boo Ray & Elizabeth Cook - All Strung Out Like Christmas Lights / I Got The Jug
| | |
| --- | --- |
| | |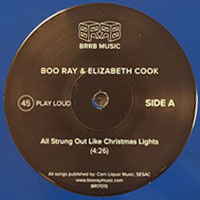 Albums
2000
CD Bro 'N Sis Music ? (US)

Elizabeth Cook - House Of Mirrors / Everyday Sunshine / Don't Bother Me / Fade Away / What About Now / Blue Shades / You Say / Demon / Mama You Wanted To Be A Singer Too / Try Me

08/2002
CD WARNER BROS. 48289 (US)
HEY, Y'ALL - Stupid Things / Rainbows At Midnight / Mama You Wanted To Be A Singer Too / Dolly / I'm Not Lisa / Everyday Sunshine / You Move Too Fast / Demon / Blue Shades / Don't Bother Me / God's Got A Plan / Ocala
05/2005
CD HOG COUNTY PRODUCTION 462536 (US)
THIS SIDE OF THE MOON - Cupid / Funny Side Of Love / Before I Go That Far / Here's To You / This Side Of The Moon / Kiss Me Again / Ruthless / Alone Down Here / Hard-Hearted / Heather Are You With Me Tonight / All We Need Is Love / Where The Blue Begins / Somebody's Gotta Do It
05/2007
CD 31 TIGERS 3101 (US)
BALLS - Times Are Tough In Rock 'n Roll / Don't Go Borrowing Trouble / Sometimes It Takes Balls To Be A Woman / Rest Your Weary Mind (with Bobby BARE Jr.) / He Got No Heart / Mama's Prayers / Sunday Morning / What Do I Do / Down Girl / Gonna Be / Always Tomorrow
05/2010
CD 31 TIGERS TOT3102 (US)
WELDER - All The Time / El Camino / Not California / Heroin Addict Sister / Yes To Booty / Blackland Farmer / Girlfriend Tonight / Rock n Roll Man / Mama's Funeral / I'm Beginning To Forget / Snake In The Bed / Follow You Like Smoke / I'll Never Know / Til Then
06/2012
CD 31 TIGERS456183 (US)
GOSPEL PLOW -

If I Had My Way, I'd Tear This Building Down / Gospel Plow / Every Humble Knee Must Bow / The Other Side Of Life / Hear Jerusalem Calling / These Men Of God /

Jesus
06/2016
CD Agent Love ALR 007 (US)

Exodus of Venus -

Exodus Of Venus / Dyin' / Evacuation / Dharma Gate / Slow Pain / Straitjacket Love / Broke Down In London On The M25 / Methadone Blues / Cutting Diamonds / Orange Blossom Trail / Tabitha Tuder's Mama
09/2020
CD Agent Love 72296CD (US)

Aftermath - Bones / Perfect Girls Of Pop / Bad Decisions / Daddy, I Got Love For You / Bayonette / These Days / Stanley By God Terry / Half Hanged Mary / When She Comes / Thick Georgia Woman / Two Chords And A Lie / Mary, The Submissing Years
© Rocky Productions 7/04/2021