| | |
| --- | --- |
| | |
| | |

Chanteur Maori très populaire en Nouvelle-Zélande dans les années 1950, enregistrant pour le label HMV. Sa version de 1955 de Rock Around The Clock serait le premier disque rock'n'roll enregistré en dehors des États-Unis. Né en 1928, décédé le 4 Septembre 2014. Johnny a été intronisé au New Zealand Music Hall of Fame le 15 Novembre 2020.

New Zealand's first recorded rock & roller, Johnny Cooper opened the floodgates for all of the Kiwi artists to follow in the years to come. Born in Wairoa in 1928, he began playing guitar at a young age, performing for the sheep shearers on his father's farm; influenced by American cowboy stars including Gene Autry and Tex Ritter, he initially leaned towards country music, and after relocating to Wellington in 1948 became a fixture on the area club circuit under the guise "The Maori Cowboy." In 1952, Cooper recruited a backing band he dubbed the Range Riders, and soon landed a recording contract with HMV; over the next several years he included a number of hit singles, including "One by One," a duet with singer Margaret Francis which became the best-selling release in the history of the New Zealand music industry.
In mid-1955, Cooper was summoned to HMV's offices, where he was given a copy of Bill Haley's smash "Rock Around the Clock" and told that a cover version was to be his next record; baffled by the lyrics as well as the sound of the new music dubbed rock & roll, Cooper nevertheless approximated Haley's style as closely as possible, and backed by a local jazz group called Ken Avery and His Rockin' Rhythm, he cut New Zealand's very first rock record (probably also the first ever cut outside of the U.S.). Released in October 1955, Cooper's rendition of "Rock Around the Clock" fared poorly; when issued in New Zealand a year later, however, Haley's original was a blockbuster. At the command of HMV, Cooper continued his tentative move into rock, and with a new backing band called the Fabulous Flamingos soon recorded his hit original composition "Pie Cart Rock'n'roll." Still, he was never truly comfortable with the new music, and soon turned to hosting the talent quest Give It a Go.
Johnny Cooper died on September 4, 2014.
https://www.audioculture.co.nz/people/johnny-cooper
https://nzhistory.govt.nz/media/photo/johnny-cooper-the-maori-cowboy
https://www.musichall.co.nz/portfolio/johnny-cooper/
Talents : Vocals, Guitar,
Style musical : Traditional Country, Rockabilly, Rock 'n' Roll
Years in activity :
| | | | | | | | | | | | |
| --- | --- | --- | --- | --- | --- | --- | --- | --- | --- | --- | --- |
| 1910 | 20 | 30 | 40 | 50 | 60 | 70 | 80 | 90 | 2000 | 10 | 20 |
DISCOGRAPHY
78 t. & Singles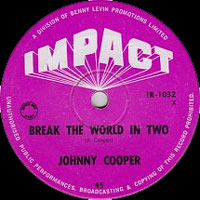 Albums
| | | | |
| --- | --- | --- | --- |
| 1956 | LP 10" HIS MASTER'S VOICE MDLP 6004 (NZ) | | Rock And Sing - Johnny Cooper & His Ranger Riders - Rock Around The Clock / Look What You've Done / Humming Bird / I'll Pay The Price / Haere Mai / Blackberry Boogie / One By One / I'm A Fool To Care / Sippin' Soda / The Convict And The Rose |
| 1975 | LP 12" SONIC SONO 11 (NZ) | | Ridin' Along With Johnny Cooper and the Range Riders - Ridin' Along / The Convict & His Rose / Your Cheating Heart / With This Ring / The Crooning Bachelor / Chew Tobacco Rag / Humming Bird / Poor Lonesome Cowboy / The Kentucky Waltz / I Can't Help It / She Was Happy Till She Met You / Too Late To Worry / Hoot Owl Boogie / When You Have No One To Love You / Too Late / Golden Rocket Train |
© Rocky Productions 10/02/2021