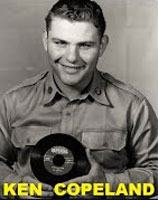 Chanteur Rock 'n' Roll US né Kenneth Copeland, le 6 Décembre 1936 à Lubbock (Texas). Ken Copeland a enregistré chez Lin, Imperial et Dot records. Plus tard il est devenu évangéliste sur "Believer's Voice of Victory", un programme de radio et télévision.

US Rock 'n' Roll singer born Kenneth Copeland, on December 6, 1936 in Lubbock (Texas). Ken Copeland recorded at Lin, Imperial and Imperial records. Later he became evangelist on " Believer's Voice of Victory ", a program of radio and television.
The late '50s are usually thought of as the rock & roll era, and they were, but there was another current running through music during that period: smooth pop music. Few historians of the era like to admit to the fact that while Elvis Presley sold more records than any other singer of the period, the second highest sales were racked up by Pat Boone on Dot. So a lot of record labels were looking for their Elvis Presley, but, profits being profits and the recording business being a business, they also had their eyes open for another Pat Boone.
That's where Ken Copeland came into the music business. He profited from the fact that Lin Records founder Joe M. Leonard, Jr. had tried and failed to sign Pat Boone. Having lost the promising young vocalist to rival Dot Records, Leonard was hoping to find someone else who could handle that kind of romantic repertory when he was approached by Copeland's parents, who were trying to get their son into music. Ken Copeland's smooth, romantic voice and his good looks impressed Leonard, and he was given a song, "Pledge of Love," that required a pop style — none of Dot's existing roster of talent, all centered on country, blues, and rock & roll, could handle it.
Copeland cut "Pledge of Love" at his first session for Lin in November of 1956, and it was released soon after. By early 1957, it had begun breaking out regionally, and was licensed to Imperial Records, which pushed it to number 17 nationally. Imperial actually took over Copeland's contract in the wake of that success and tried to score again, but he never had another hit. By the end of 1957, he was back at Lin Records, and he later saw releases licensed to Dot Records. He tried adapting to rock & roll with "Fanny Brown," and didn't do too badly, but also didn't do well enough to make a dent on the consciousness of America's teenagers: he simply wasn't a natural rock & roller and never seemed comfortable in public appearances, either. Copeland, like his parents (and, ironically, like Pat Boone), was a devout Christian, which had been the main focus of his life before music came along. By early 1958, he'd returned to the original direction of his life, and he later became a highly successful television minister.
https://en.wikipedia.org/wiki/Kenneth_Copeland
Talents : Vocals
Style musical : Rock 'n' Roll, Gospel
PLEDGE OF LOVE (1957)

WHERE THE RIO DE ROSA FLOWS (1957)

FANNY BROWN (1958)

CHASER OF HEARTS (1958)
Years in activity :
| | | | | | | | | | | | |
| --- | --- | --- | --- | --- | --- | --- | --- | --- | --- | --- | --- |
| 1910 | 20 | 30 | 40 | 50 | 60 | 70 | 80 | 90 | 2000 | 10 | 20 |
DISCOGRAPHY
Singles
| | | |
| --- | --- | --- |
| 1957 | SP LIN 5007-45 (US) | Pledge Of Love / Night Air (The MINTS) |
| 03/1957 | SP IMPERIAL X5432 (US) | Pledge Of Love / Night Air (The MINTS) |
| 06/1957 | SP IMPERIAL X5453 (US) | Bed Of Lies / Teenage |
| 1957 | SP IMPERIAL X5466 (US) | I Would Give My Heart / I Want To Go Steady (With You) |
| 12/1957 | SP DOT 45-15686 (US) | Where The Rio De Rosa Flows / Locked In The Arms Of Love |
| 09/1958 | SP LIN 5017-45 (US) | Fanny Brown / Chaser Of Hearts |
Albums
1974
LP 12" KCP ? (US)
I HAVE RETURNED - PROGRAM 1: I Have Returned / The Miracle - PROGRAM 2: My Tribute / How Rich I Am - He Is My Everything (Begin) - PROGRAM 3: How Rich I Am - He Is My Everything (Concl.) / How Great Thou Art / I Never Thought My Heart Could Love Again / PROGRAM 4: My Father Watches Over Me / Blessed Be The Name
197?
LP 12" KCP 1004 (US)
I'LL FLY AWAY
1978
LP 12" KCP 1006 (US)
I'M A BELIEVER - PROGRAM 1: New Creation / I Love You Is Not Enough To Say / Oh, I Want To See Him / PROGRAM 2: By His Word / I'm A Believer And Not A Doubter / More About Jesus / PROGRAM 3: My Heart Is Established / Covenant Man / Goin' Home / PROGRAM 4: Something About That Name - Every Knee Shall Bow / Sweet Hour Of Prayer
1979
LP 12" KCP ? (US)
BREAD UPON THE WATER - Bread Upon The Water / Something Beautiful / Ye Are A Chosen Generation / The Word In My Life / It Took A Miracle Amazing Grace / Love Medley / My Song / He Lives
1981
LP 12" KCP (US)
HE IS JEHOVAH - He Is Jehovah / Dedicated To You / Somebody Believed / Because Of Whose I Am / It's Beginning To Rain / Sing Hallelujah / Our God Reigns
1983
LP 12" KCP (US)
SPIRIT WIND - KENNETH COPELAND - Blow The Trumpet In Zion / El Shaddai / A Willing Heart / Jesus Lord To Me / Set Another Place At The Table / Love Of My Life / Living The High Life / You Gave Me Love / Made Alive / Fall In Love With You
1989
CD KCP (US)
THE WORD - PROGRAM 1: Blessings / This Is The Day / Thou Art A Shield For Me / PROGRAM 2: Psalm / The Lord's Prayer / He Is My Refuge / PROGRAM 3: Bless His Holy Name / Thou Art A Shield For Me / Fear Not / PROGRAM 4: Thou Art Worthy / O Come Let Us Sing To The Lord
1991
CD KCP ? (US)
I WANNA GO
1991
CD KCP ? (US)
CHRISTMAS EVERY DAY - KENNETH COPELAND - Christmas Everyday / Bethlehem Morning / O How I Love Jesus - Jesus How Lovely You Are - I Love You Lord (Medley) / Emmanuel / O Holy Night / Hark! The Herald Angels Sing / O Little Town Of Bethlehem / Jesus Is The Sweetest Name I Know - 'Tis So Sweet to Trust in ... / O Come Let Us Adore Him
1994
CD KCP 52-0023 (US)

I WAS ON HIS MIND -

KENNETH COPELAND - When He Was On The Cross / Faithful / Look To Him / Whisper Jesus / Without Him (with Mylon LEFEVRE) / No One Ever Cared - Were You There - Ten Thousand Angels -What A Savior - The Holy Is Thy Name / Love Grew Where The Blood Fell
03/1999
CD HARMONY 1764 (US)

JUST A CLOSER WALK WITH THEE -

Just A Closer Walk With Thee / He Is My Everything / There Is A River / Have Thine Own Way, Lord / Jesus Is The Sweetest Name I Know / Because He Lives / It Took A Miracle - Amazing Grace / Jesus, My Reason For Living / What A Savior / Room At The Cross / I Surrender All / Sweet Hour Of Prayer
08/1999
CD KCP ? (US)

HEALING PRAISE -

Give Thanks / Jesus Healed Them All / Only Believe / 'Tis So Sweet To Trust In Jesus / I Sing Praises To Your Name / I Stand In Awe / Nothing But The Blood Of Jesus - O The Blood - Praise The Name Of Jesus

[medley]

/ More Precious Than Silver - O Come Let Us Adore Him

[medley]

/ There Is A Way / All Consuming Fire / Sing Hallelujah To The Lord / Rise And Be Healed
05/2004
CD KCP ? (US)
BIG BAND GOSPEL LIVE - Set Another Place At The Table / Prayer Of Surrender / Bread Upon The Water / The Way / What A God You Are / Come On Home / Just A Closer Walk With Thee / I'll Fly Away / I Cannot Be Defeated / Because He Lives / You Are So Beautiful / Until Then (Medley)
2004
CD KCP ? (US)
HOME FOR CHRISTMAS WITH KENNETH COPELAND - I'll Be Home For Christmas / Joy To The World / Away In A Manger /. Angels We Have Heard On High / Silent Night / Go Tell It On The Mountain / O Holy Night / Hark The Herald Angels Sing / The First Noel / Reaching
© Rocky Productions 26/04/2013