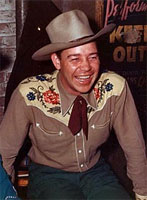 Fiddler et arrangeur Country US né Carl B. Cotner, le 8 Avril 1916 à Lake Cicott (Indiana). Carl Cotner a surtout travaillé avec Gene Autry. Il est décédé le 14 Novembre 1986 à Buena Park (Californie).

Born 8 April 1916, Indiana, USA, dead 14 November 1986, Buena Park, California, USA. A skilful violinist, Cotner took up country fiddle playing and in the early 30s worked with band leader Clayton McMichen. In 1937, he joined Gene Autry, becoming his musical director for numerous Melody Ranch radio shows. Cotner also composed some of the songs Autry sang as well as leading the orchestra and being responsible for the arrangements. He continued to work with Autry when the singing cowboy star went into films; in addition to his off-screen work, Cotner also made occasional on-screen appearances. He can be seen and heard as one of the musicians in Melody Ranch (1940), Back In The Saddle (1941) and Silver City Bonanza (1951). When Autry's radio show made its successful transition to television in the mid-50s, Cotner was again musical director. All of Melody Ranch's approximately 90 episodes are now available on DVD.
Also on television, Cotner composed music for series such as The Range Rider and Buffalo Bill, Jr. (both 1951), and was the orchestral conductor on Night Rider (1962). In 1968 at the 4th Academy of Country Music Awards, Cotner's band was nominated as the Best Club Band Of The Year, and he was nominated as Best Fiddle. One of Cotner's best-known compositions is 'Rounded Up In Glory'.
Talents : Fiddle, Arranger
Style musical : Singing Cowboy
Years in activity :
| | | | | | | | | | | | |
| --- | --- | --- | --- | --- | --- | --- | --- | --- | --- | --- | --- |
| 1910 | 20 | 30 | 40 | 50 | 60 | 70 | 80 | 90 | 2000 | 10 | 20 |
DISCOGRAPHY
Singles
© Rocky Productions 10/09/2005