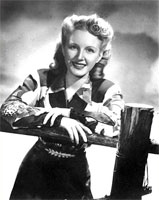 Chanteuse et actrice Country US née Helen Hagstrom, le 20 Octobre 1925 à Cash (Arkansas). Carolina Cotton est décédée le 10 Juin 1997 à Bakersfield (Californie).

Born Helen Hagstrom, 20 October 1926, Cash, Arkansas, USA, d. 10 June 1997, Bakersfield, California, USA. Hagstrom's family had emigrated from Sweden and first settled on a farm in Arkansas but they relocated to California soon after Helen was born. She attended school in San Francisco but when aged 14, described as a petite blue-eyed blonde with a vivacious personality, she began singing and yodelling on KYA with the western swing band of Dude Martin. Martin called her Carolina Cotton claiming that Carolina sounded better than Arkansas and the name stuck. In 1942, she moved to Hollywood and attracted by her stage presence and fancy yodels, she was immediately hired by top band leader Spade Cooley. She married singer Deuce Spriggens late in 1945, but they divorced the following year with her claiming his infidelity during the three months they were married. In 1944, she was offered a part in a movie called Sing, Neighbor, Sing which featured several country stars including Roy Acuff and his band and popular couple Lulu Belle And Scotty. Over the next 10 years she appeared in more movies with many top stars including Acuff, Eddy Arnold in Feudin' Rhythm (1949) andHoedown (1950), and Bob Wills and co-starred in B-movie Westerns with both Gene Autry and Roy Rogers. In 1952, she had so established her reputation as a leading cowgirl yodeller that she was cast as Charles Starrett's leading lady inThe Rough Tough West.
During the mid-50s, she was the most popular female singer on visual jukeboxes. Her biggest selling record was her self-penned 'Three Miles South Of Cash In Arkansas' which she recorded for the MGM Records label backed by Bob Wills' Texas Playboys in 1951. Experts of the art class two of her best yodels as 'I Love To Yodel' and 'Mocking Bird Yodel' that were recorded on the King Records label in 1949. During the 50s, she made many overseas trips to entertain the American forces including several trips to Korea as well as to Japan and Germany. A second marriage to Bill Ates, the brother of actor Roscoe Ates produced two daughters but ended in divorce. She eventually appeared to grow tired of the lifestyle and trained to be a teacher. In the early 70s, she taught in US schools in Central America before teaching in Bakersfield, California, where she made her home. From time to time she attended Film Fairs and on occasions showed that she could still sing and yodel her old songs. Periodically, odd tracks of her appear on compilation CDs and some recordings made with Bob Wills appeared in the boxed set of Wills issued by Bear Family Records in 1985. In 1991, the German Cattle label released a complete album of her recordings.
http://www.carolinacotton.org/
https://en.wikipedia.org/wiki/Carolina_Cotton
Talents : Vocals, Yodeler, Actress
Style musical : Singing Cowboy, Yodeling, Western Swing

http://youtu.be/MRSnkkIfR9M
Years in activity :
| | | | | | | | | | | | |
| --- | --- | --- | --- | --- | --- | --- | --- | --- | --- | --- | --- |
| 1910 | 20 | 30 | 40 | 50 | 60 | 70 | 80 | 90 | 2000 | 10 | 20 |
DISCOGRAPHY
78 t. & Singles
1945
78 t. MERCURY 6010 (US)
Carolina COTTON & Deuce SPRIGGENS - What's The Matter With You / I Been Down In Texas
10/1946
78 t. KING 572 (US)
Three Miles South Of Cash / Singing On The Trail
1948
78 t. CRYSTAL 157 (US)

You've Got Me Wrapped Around Your Finger (with The BROOME BROTHERS) / Chime Bells (with Henry SCHELB ORCHESTRA)

1949
78 t. MASTERTONE 75-39/40 (US)

Put Your Shoes On Lucy / Hoosegow Serenade (with Scotty HARRELL)

11/1949
78 t. KING 816 (US)
I Love To Yodel / Mockingbird Yodel
05/1950
78 t. MGM 10692 (US)

You're Getting A Good Girl / Betcha I Getcha

09/1950
78 t MGM 10798 (US)

Lovin' Ducky Daddy / Boo Hoo Blues

09/1950
SP MGM

K

10798 (US)

Lovin' Ducky Daddy / Boo Hoo Blues

1951
SP MGM

5153137

(US)
Carolina COTTON (with Bob WILLS & The TEXAS PLAYBOYS) - Three Miles South Of Cash / I'm All Alone
01/1952
78 t. MGM

11130

(US)
Carolina COTTON (with Bob WILLS & The TEXAS PLAYBOYS) - You Always Keep Me In Hot Water / Cause I'm In Love
01/1952
SP MGM

11130

(US)
Carolina COTTON (with Bob WILLS & The TEXAS PLAYBOYS) - You Always Keep Me In Hot Water / Cause I'm In Love
07/1952
78 t. MGM

11

288

(US)
Carolina COTTON (with Bob WILLS & The TEXAS PLAYBOYS) - Three Miles South Of Cash / I'm All Alone
0/1952
SP MGM

11288

(US)
Carolina COTTON (with Bob WILLS & The TEXAS PLAYBOYS) - Three Miles South Of Cash / I'm All Alone
10/1952
78 t. MGM

11

329

(US)
Nola /

Yodel Yodel Yodel

10/1952
SP MGM K11329 (US)
Nola /

Yodel Yodel Yodel
| | |
| --- | --- |
| | |
Albums
1993
LP CATTLE LP-128 (GER)
I LOVE TO YODEL - I Love To Yodel / Mocking Bird Yodel / Three Miles With Of Cash (In Arkansas) / Singing On The Trail / Boo Hoo Blues / Lovin' Ducky Daddy / You're Gettin'A Good Girl / Betcha I Getcha / Yodel, Yodel, Yodel / Nola / 'Cause I'm In Love / You Always Keep Me In Hot Water / Crime Will Never Pay / The Covered Wagon Rolled Right Along / Yodel Mountain / The Cattle Calk
1993
CD CATTLE CCD 286 (GER)
YODEL, YODEL, YODEL - I Love To Yodel / I'd Love To Be A Cowgirl (But I'm A Scared Of Cows) / 'Cause I'm In Love / Lovin' Ducky Daddy / Three Miles South Of Cash (In Arkansas) / Betcha I Getcha / You Got Me Wrapped Around Your Finger / Chime Bells / Yodel Mountain / Why Did I Fall For Abner (with Merle TRAVIS) / When The Bloom Is On The Sage (with Merle TRAVIS) / Texas Home (with Merle TRAVIS) / I'm All Alone (with Bob WILLS) /Yodel, Yodel, Yodel / Nola / You're Gettin' A Good Girl / Cattle Call / Boo Hoo Blues / Crime Will Never (with Gene AUTRY) / Betcha I Getcha / You Always Keep Me In Hot Water Over You / Three Miles South Of Cash (In Arkansas) (with Bob WILLS

) / Lovin' Ducky Daddy / 'Cause I'm In Love / Three Miles South Of Cash (In Arkansas)

2005
CD KIT FOX KFCD-001 (US)
YODELING BLONDE BOMBSHELL - VOLUME 1 - Three Miles South Of Cash (In Arkansas) / I Love To Yodel / What's The Matter With You / Singing On The Trail / You And My Old Guitar / Mockingbird Yodel / Mama Yo Quiero / I Betcha I Getcha / Tennessee Saturday Night / Cattle Call / You Always Keep Me In Hot Water / You're Gettin' A Good Girl / Rancho Grande / Cause I'm In Love / Yodel Yodel Yodel / I'm Gonna Round Up My Blues / Tater Pie / Nola / Carolina Cotton Calls (#88)
2009
CD KIT FOX KFCD-002 (US)
YODELING BLONDE BOMBSHELL - VOLUME 2 - Three Miles South Of Cash (In Arkansas) / Put Your Shoes On Lucy / Boo Hoo Blues / Lovin´ Ducky Daddy / Hoosegow Serenade / I´d Love To Be A Cowgirl / Ragtime Cowboy Joe / Be Honest With Me / You Belong To My Heart / I Been Down In Texas / Yodel Mountain / The Old Square Dance Is Back Again / Chime Bells / You´ve Got Me Wrapped Around Your Finger / Glad Rags / I´m All Alone / He´s A Tough Hombre / I´m Gonna Sit Right Down (And Write Myself A Letter) / Oh Dem Golden Slippers / Weary Lonesome Blues / Carolina Cotton Calls #89
© Rocky Productions 28/02/2013