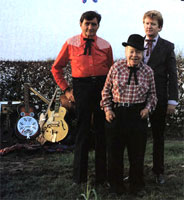 Groupe Rockabilly US composť de Durand, Gaius "Ringo" Farnham et Sam Bird.

The Country Rockers' name alone was a wholly accurate gauge of their sound and aesthetics. A somewhat obscure trio based in Memphis, TN, the group was led by Durand Easley, an accomplished producer and session musician. While drinking in a Mississippi roadhouse in 1986, Easley hooked up with Sam Baird, a singer and guitarist he recognized from the latter's long tenure as a staple of the Memphis club circuit. Though Baird was in his mid-sixties at the time, he and the 35-year-old Easley decided to form a band, enlisting Gaius L. "Ringo" Farnham, a then 73-year-old drummer, to fill out their sound.
After developing a repertoire of country standards and eclectic obscurities, the trio cut a demo with Easley's brother Doug, a prominent indie rock producer. After the session, Easley left for Europe to tour with his old friend Alex Chilton; after shopping the Country Rockers' demo to New Rose Records, Chilton's label, a deal was struck. In 1989, the group issued its debut LP, Free Range Chicken, a varied collection of rockabilly, country, and novelty tunes featuring the original demo tracks along with newly recorded material; while the Vocals chores were split mainly between Easley and Baird, Ringo Farnham -- just like his namesake in the Beatles -- was allowed to sing on one cut. The Country Rockers' second effort, Cypress Room, appeared in 1991.
Talents : Durand : Bass, Vocals - Gaius "Ringo" Farnham : Drums, Vocals - Sam Bird : Guitar, Vocals
Style musical : Rockabilly, Honky Tonk, Traditional Country

http://youtu.be/8K7ju2WfpEU
Years in activity :
| | | | | | | | | | | | |
| --- | --- | --- | --- | --- | --- | --- | --- | --- | --- | --- | --- |
| 1910 | 20 | 30 | 40 | 50 | 60 | 70 | 80 | 90 | 2000 | 10 | 20 |
DISCOGRAPHY
Albums
| | | | |
| --- | --- | --- | --- |
| 1991 | CD NEW ROSE ROSE 226 CD (F) | | CYPRESS ROOM - Arkansas Twist / Don't Worry / Mona Lisa / Steel Guitar Rag / Alley Boogie / The Image Of Me / Love-A-Rama / Castro Rock / Raining In My Heart / Stompin' At The Savoy / The Last Bouquet / The Trail Of The Lonesome Pine / Free Range Chicken / Rockin' Daddy / My Bucket's Got A Hole In It / Finally / Wipe Out / Pistol Packin' Mama / See You Later Alligator / Drivin' Nails In My Coffin / Fan It And Cool It / There Stands The Glass / Rancho Grande / My Happiness / Guitar Polka / Barrooms To Bedrooms |
| 1992 | LP 12" TELSTAR TR004 (US) | | FREE RANGE CHICKEN - Arkansas Twist / Mona Lisa / Stompin' At The Savoy / Drivin' Nails In My Coffin / The Image Of Me / Rockin' Daddy / Castro Rock / The Last Bouquet / Wipe Out / Pistol Packin' Mama / There Stand The Glass / Love A Rama / Rancho Grande / My Happiness / Guitar Polka / Barrooms To Bedrooms |
| 1992 | CD TELSTAR TR004CD (US) | | FREE RANGE CHICKEN - Arkansas Twist / Mona Lisa / Stompin' At The Savoy / Drivin' Nails In My Coffin / The Image Of Me / Rockin' Daddy / Castro Rock / The Last Bouquet / Wipe Out / Pistol Packin' Mama / There Stand The Glass / Love A Rama / Rancho Grande / My Happiness / Guitar Polka / Barrooms To Bedrooms |
© Rocky Productions 6/12/2011