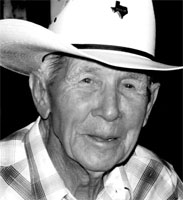 Chanteur Country US né Elbert Lee "Bob" Cox, le 10 Décembre 1923 à Sweetwater (Texas). Bob Cox a enregistré chez Linda Records de Prescott (Arizona). Il est décédé le 29 Mars 2012.

Elbert Lee "Bob" Cox was born in Sweetwater, TX., December 10, 1923 to Christopher and Alleana (Scott) Cox. Bob left this world on March 29, 2012 to be with his loved ones who have proceeded him in death including two wives, Dora (Chapman) Cox and Ella (Clayton) Cox and his grandson Todd Dennis.
Bob lived in Sweetwater until 1938 when he came to Arizona and started his music career. Bob has entertained country music audiences for over 70 years in nightclubs, ballrooms and dude ranches and even performed on the "Lew King Rangers" TV show.
Bob was part of the ealry Arizona music scene playing alongside of musicians like Jimmy Wakely and Marty Robbins. Bob had several top ten hits in Phoenix including "If You'll Be Mine Again" and "Don't Hold Her So Close" which was nunber one on the charts in Alaska. He was produced by LA based Fabor Robison in the early 1960's. Bob declined his muscial contract as it would have taken him away from his wife and five children.
Bob has muscially "mentored" musicians including, Marty Robbins, Richie Allbright, Rod Hart & Craig Delphia. People excelled under him as he taught them and let their talent grow.
It has been said of Bob that many of the current inductee's of the Arizona Music Hall of Fame came to hear him sing because his voice was pure and inspiring. Bob has been nominated and is on the future inductee list into AMHOF.
Bob also was known as the man with "The Golden Screwdriver". He was known for his abilities in building Ford motors even though he was legally blind.
Bob is survived by his son Bill Cox of Tucson, daughter Sheila Dennis (Steve) of Prescott, daughter Loydia Adkins (Nelson) of Chino Valley, son Arnold Cox (Tammy) of Chino Valley & daughter Tina Cox-Prenovost of Prescott and son Tom Summers of Peoria. Survivors also include eighteen grandchildren, twenty-five great grandchildren & six great, great grandchildren and numerous nieces and nephews.
Talents : Vocals, Guitar
Style musical : Traditional Country
Years in activity :
| | | | | | | | | | | |
| --- | --- | --- | --- | --- | --- | --- | --- | --- | --- | --- |
| 1910 | 20 | 30 | 40 | 50 | 60 | 70 | 80 | 90 | 2000 | 10 |
DISCOGRAPHY
Singles
| | | |
| --- | --- | --- |
| 19?? | SP LINDA 102 (US) | Love Those Kisses / Down The Driftway |
| 19?? | SP MAGNET 1103 (US) | Bob COX & The RANCH HANDS - Don't Hold Her So Close / ? |
© Rocky Productions 17/10/2012