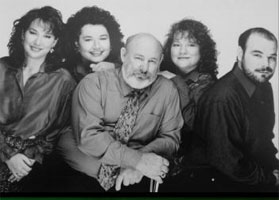 Groupe Country US formé en 1976 et composé de Willard Cox (né le 9 Juin 1937 à Cotton Valley (Louisiane)), Evelyn Cox (née le 20 Juin 1959 à Springhill (Louisiane)), Sidney Cox (né le 21 Juillet 1965 à Homer (Louisiana)), Suzanne Cox (née le 5 Juin 1967 à Springhill (Louisiana)) et Lynn Cox. (née le 11 Ocobre 1960)

The singing Cox Family from Cotton Valley, LA, is comprised of father Willard, son Sidney, and daughters Evelyn and Suzanne, who derive their sound from combining country, bluegrass, and gospel styles. They first began performing together in 1976 and were a popular draw at fairs and festivals, but their career was given a big boost when in the early '90s they met Alison Krauss, who brought them to the attention of Rounder Records. They also gained massive exposure when in 1994 they caught the ear of Adam Duritz, frontman of the multi-platinum-selling Counting Crows, who was so impressed with the Cox Family that he invited them to open for the band during its North American tour. Krauss -- who produced all but the family's very first release, Quiet Storm on Wilcox Records -- recorded several of Sidney's songs, which appeared on both of her Grammy-winning albums, including the title track of I've Got That Old Feeling. the Cox Family recorded two records of their own on Rounder Records: Everybody's Reaching Out for Someone (1993) and Beyond the City (1995), which earned them a Grammy nomination for Best Bluegrass Album. They also collaborated with Krauss on an album entitled I Know Who Holds Tomorrow, which won a Grammy in 1994 for Best Country/Gospel/Bluegrass Album. the Cox Family also shared a Grammy for their participation in the various-artists project Amazing Grace: A Country Salute to Gospel.
The Cox Family's major-label debut, Just When We're Thinking It's Over, was released on Asylum Records in 1996. Though the album received enthusiastic reviews, sales were modest by major-label standards, and while the Cox Family began work on a second album for Asylum in 1998, the label dropped them before they could finish the project. In 2000 the Cox Family recorded several tunes for the film O Brother, Where Art Thou?, and in 2001 the soundtrack album became an unexpected smash hit, rising to number one on the pop, country, bluegrass, and soundtrack charts. This triumph was overshadowed by tragedy when Willard Cox suffered severe injuries in a 2000 automobile accident that left him paralyzed and confined to a wheelchair. The Cox Family went on a recording hiatus and confined most of their live appearances to local events, but in 2014 the tapes for the group's uncompleted 1998 album were rediscovered, and Krauss and the Cox Family were able to return to the studio and complete the project. The lost Cox Family album, Gone Like the Cotton, was released by Rounder Records in October 2015.
https://en.wikipedia.org/wiki/The_Cox_Family
Talents : Willard : Vocals, Fiddle - Evelyn: Vocals, Guitar - Sidney : Vocals, Banjo, Dobro, Guitar, Fiddle, Mandolin - Suzanne : Vocals, Mandolin - Lynn : String Bass
Style musical : Bluegrass, Traditional Folk

http://youtu.be/URl4QkyH5QM
Years in activity :
| | | | | | | | | | | | |
| --- | --- | --- | --- | --- | --- | --- | --- | --- | --- | --- | --- |
| 1910 | 20 | 30 | 40 | 50 | 60 | 70 | 80 | 90 | 2000 | 10 | 20 |
DISCOGRAPHY
Single
| | | |
| --- | --- | --- |
| 1996 | CD ASYLUM APCD-9590 (US) | Runaway (single edit) |
Albums
03/1993
CD ROUNDER

CD 0297 (US)

EVERYBODY'S REACHING OUT FOR SOMEONE -

Standing By The Bedside Of A Neighbor / Look Me Up By The Ocean Door / Everybody's Reaching Out For Someone / Little White Washed Chimney / Cry Baby Cry / I've Got That Old Feeling / But I Do / Why Not Confess / Pardon Me / My Favorite Memory / When God Dips His Pen Of Love In My Heart / Backroads
02/1994
CD ROUNDER

CD 0307 (US)

I KNOW WHO HOLDS TOMORROW - Alison KRAUSS & The COX FAMILY - Walk Over God's Heaven / Will There Be Any Stars In My Crown / Where No One Stands Alone / Never Will Give Up / Remind Me Dear Lord / I Know Who Holds Tomorrow / Everybody Wants To Go To Heaven / I'd Rather Have Jesus / Far Side Banks Of Jordan / In The Palm Of Your Hand / Loves Me Like A Rock / Jewels
04/1995
CD ROUNDER

CD 0327 (US)

BEYOND THE CITY - Lovin' You / Cowboy's Dream / Another Lonesome Morning / Beautiful Bouquet / I'll Be All Smiles Tonight / Lizzy And The Rainman / Little Birdie / Blue Bayou / Streets Of Gold / Broken Engagement / Cotton Dan / Beyond The City / Broken Engagement (1974 version)
07/1996
CD ASYLUM

61809-2 (US)

JUST WHEN WE'RE THINKING IT'S OVER -

I Feel The Blues Moving In / Who's Gonna Pay For This Broken Heart / You've Got Me To Hold On To Baby / A Good Man Like Me / Runaway / Love Of A Lifetime / Cry Baby Cry / Nothing Else I Can Do / I Just Don't Like This Kind Of Living / Just When We're Thing It's Over / That's The Way Love Is / Backroads
10/2015
CD ROUNDER 613755 (US)

Gone Like the Cotton -

Good Imitation Of The Blues / Lost Without Your Love / Cash On The Barrelhead / Desire / In My Eyes / Good News / Let It Roll / I'm Not So Far Away / Honky Tonk Blues / Too Far Gone / I'll Get Over You / Gone Like The Cotton
© Rocky Productions 24/10/2015