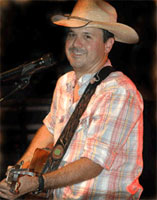 Chanteur Country US né le 25 Juillet 1971 à Corpus Christi (Texas).

Soaring toward the top of the Texas music scene, award-winner Roger Creager has exhibited the perseverance and stick-with-it quality that is necessary when blazing one's own trail in country music. By the time he was six years old, Creager had set his heart on creating country music. Young Creager would sing at the top of his lungs when by himself, and was often found acting like a conductor throughout his school years. He began his formal musical training while in second grade playing the piano, and picked up the guitar during high school. During his teens he continued singing, mostly to himself due to shyness, and played with songwriting but didn't share his efforts with others.
Still too shy to attack a musical career, Creager headed for college and earned his business degree from Sam Houston State University. From there he headed toward Aggieland and earned his degree in agriculture. Aggieland throbbed with the heartbeat of Texas country music, and Creager thrived there. His songwriting and singing were maturing, as was his confidence. He was 26 when he began performing for audiences Yet, when it came to a career, he aimed at the security of a steady paycheck and headed for corporate America. He worked as an accountant in Houston, TX for several years. Then the longing to fulfill his inner goals took hold and he went back to College Station, TX, rather than Nashville, immersing himself in the Texas music revolution full-time.
His first year there, Creager played piano in a local band, and then formed a cover band with Justin Pollard (who went on to play drums with Pat Green). It was slow going for their band, and after Pollard left to join Green, Creager decided to surge ahead and mold his own future.
His band, the Roger Creager Band, consists of Matt Baker (lead guitar),Troy Brown (piano), Matt Medearis (drums), Jason Swindol (fiddle, mandolin), and Stormy Cooper (bass guitar). Kirby Standley is their tour manager; Chris Leal, the merchandising manager. Prior members of this close-knit band are Scott Owen (guitar), Joel Schoepf (now with Jack Ingram), and Benny Pena.
Merging his musical talent with his business background, Creager also successfully created his own publishing company, No Cable Music, for releasing his own CDs. His traditional country music had a distinctive twist that resonated with the crowds, and he was named Entertainer of the Year at the 2001 Texas Music Awards. Having Fun All Wrong (featuring "Everclear," the anthem for Texas country music) and I Got the Guns both came out in 2002. An immediate success, I Got the Guns debuted on the Lone Star Music Charts at number one, reflecting Creager's ability to stir emotions across the genres.
Creager's third CD, Long Way to Mexico, was released in September, 2003, and mixes the rhythms of country with Cajun, jazz, and Latin beats. He co-wrote some of the songs with Radney Foster, a top country music songwriter. His goal was to have the album generate a swirling range of emotions in the listeners. This quality is becoming a trademark for Creager.
Creager, a strong believer in setting goals, big goals, for himself, also believes in constantly monitoring and rearranging those goals. He pours love, enthusiasm, hard work and long hours into all aspects of his musical business, with his main goal being to keep on doing exactly what he's doing right now. He's living his dream -- soaring to the top of the Texas music scene.
https://en.wikipedia.org/wiki/Roger_Creager
Talents : Vocals, Guitar
Style musical : Contemporary Country, Country Boogie

http://youtu.be/7fDQ4xIpNgk
Years in activity :
| | | | | | | | | | | | |
| --- | --- | --- | --- | --- | --- | --- | --- | --- | --- | --- | --- |
| 1910 | 20 | 30 | 40 | 50 | 60 | 70 | 80 | 90 | 2000 | 10 | 20 |
DISCOGRAPHY
Albums
10/2002
CD DUALTONE 1131 (US)
I GOT THE GUNS - Storybook / Mother's A Redneck, Too (feat. John EVANS) / What's A Lonely Girl To Do / I Got The Guns / Rancho Grande (feat. William CREAGER) / The Day You Went Away / A Feeling I Get / Things Look Good Around Here / Should've Learned By Now / Love / Goodbye / [untitled track]
10/2002
CD DUALTONE 1132 (US)

HAVING FUN ALL WRONG - I Can Too / Moving On / The Morning / The Everclear Song / Crying, Moaning / Feel Again / Until The Thought Of You / L.A. Freeway / Fun All Wrong / Let It Roll

09/2003
CD DUALTONE 1148 (US)
LONG WAY TO MEXICO - Good Old Days / Love Is So Sweet / Shreveport To New Orleans / All For The Sake Of The Song / Gypsyland / Some Get Rich / Waiting On You / I Say When I Drink What I Think When I'm Sober / Delicacy Of A Rose / Long Way To Mexico / Love Is Crazy / Late Night Case Of The Blues
09/2004
CD DUALTONE 80302011892 (US)
LIVE ACROSS TEXAS - Introduction (Doug MORELAND) / Things Look Good Around Here / Mother's A Redneck, Too / Shreveport To New Orleans / Should've Learned By Now / I Got The Guns / Having Fun All Wrong / Storybook / Long Way To Mexico / Good Old Days / Late Night Case Of The Blues / L.A. Freeway / Rancho Grande (

feat. William C

REAGER) /

The Everclear Song / Love / A Pirate Looks At Forty /

The Mucky Duck Outtakes
08/2008
CD THIRTY TIGERS 206335 (US)
HERE IT IS -

I Love Being Lonesome / Driving Home / I Loved You When / Tangle Me In You / I'm From The Beer Joint / A Good Day For Sunsets / She Chose You / Let's Run / Habit (Needle In My Arm) / I'm Missing You / The Man I Used To Be / My Ship Goes Down / Cowboys And Sailors

01/2012
CD FUN ALL WRONG 8511042 (US)

SURRENDER - Turn It Up / Something To Believe In / Dead Love / If You Really Love Me / Bad Friend To A Good Man / For You I Do / Redemption Song / Crazy Again / I'll Take Anything / Surrender
© Rocky Productions 6/01/2013