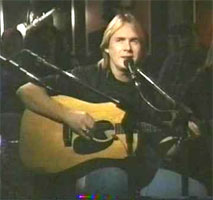 Chanteur Country US né Robert Crosby Hoar, le 25 Avril 1954 à Sumpter (Caroline du Sud).

Rob Crosby was a singer/songwriter noted for his folksy, sensitive lyrics. Born Robert Crosby Hoar in Sumpter, South Carolina, he wrote his first song at age nine and had his first band, the Radiations, while still in fifth grade. Inspired by Kris Kristofferson, Bob Dylan, and Paul Simon, Crosby wrote songs and performed with a three-piece combo in high school. While in college, he began playing with the band Savannah in South Carolina nightclubs. He then founded the Rob Crosby Group and toured the Southeast. In 1974, the group broke up and Crosby moved to Nashville with his family; two former bandmembers also moved there, and they and Crosby reteamed to play in local clubs.
A year after getting a job as a staff writer at a small music publishing house, Crosby's 1985 song, "She Told Me Yes," was a Top 30 hit for the group Chance. Soon others, including Lee Greenwood, began recording his songs. When not writing, Crosby earned extra money singing commercial jingles for radio and television. A performance at a songwriter's night hosted by the Nashville Entertainment Association led to a record deal, and in 1991, he released his debut album, Solid Ground, which contained three Top 20 singles, including "Love Will Bring Her Around." He wrote or co-wrote most of the songs on the album and garnered considerable critical acclaim for his sensitive, female-oriented lyrics. His second album, Another Time & Place (1992), did not do as well and Arista dropped him. In 1995, he resurfaced with Starting Now.
https://en.wikipedia.org/wiki/Rob_Crosby
Talents : Vocals, Songwriter, Guitar
Style musical : Contemporary Country, Country-Folk

http://youtu.be/hAPmUptUHzU
Years in activity :
| | | | | | | | | | | | |
| --- | --- | --- | --- | --- | --- | --- | --- | --- | --- | --- | --- |
| 1910 | 20 | 30 | 40 | 50 | 60 | 70 | 80 | 90 | 2000 | 10 | 20 |
DISCOGRAPHY
Singles
1990
SP ARISTA 2124 (US)

Love Will Bring Her Around

1991
SP ARISTA 2180 (US)

She's A Natural

1991
CD ARISTA 12336 (US)

Still Burnin' For You

1992
CD ARISTA

12397

(US)

Working Woman

1992
CD ARISTA

12443

(US)

She Wrote The Book

1992
CD ARISTA

12481

(US)

In The Blood

1995
CD RIVER NORTH 3006 (US)

The Trouble With Love

1995
CD RIVER NORTH

?

(US)

Lady's Man
Albums
12/1990
CD ARISTA

ARCD-8662 (US)

SOLID GROUND - Love Will Bring Her Around / Working Woman / She's A Natural / Solid Ground / Woman In You / Still Burnin' For You / Somewhere Down The Line / Good Ain't Good Enough / (Nobody's Gonna) Hurt My Heart / Once In A While
08/1992
CD ARISTA

CD AR 18710 (US)

ANOTHER TIME AND PLACE - She Wrote The Book / We'll Cross That Bridge / Cold Day In Tennessee / String Of Bad Love / Another Time And Place / Tried And True / In The Blood / You Can't Walk This Road Alone / Old News / When Hearts Agree / I'm Down And She's Out
09/1995
CD RIVER NORTH 51416 1162 2 (US)
STARTING NOW - A Woman Like That / Fallin' In And Crawlin' Out / Not a Day Goes By / The Trouble With Love / Lady's Man / Gettin' Out Of Dodge / One Step Ahead Of The Storm / Learning As She Goes / I've Got Just The Heart / Starting Now
02/2005
CD CSC ? (US)
ONE LIGHT IN THE DARK -

One Light In The Dark / Beyond The Passion / Pray For Me / Alice's Eyes / Secret Place / How Far Do I Have To Fall? / I'll Be Near / Lost In Heaven / I Can Bend / Rise Above It /

She's A Natural
06/2005
CD CSC ? (US)
TIME IS A GYPSY - Counting The Days / Time Is Gypsy / Solid Ground / Learning As She Goes / Cold Day In Tennessee / The Heart Of This Town / I'm Letting Go / Wait / Not A Day Goes By / My Old Man / Mama Was Alot Like Jesus
03/2007
CD CSC ? (US)
CATFISH DAY -

Love Built On Love / Til The Last Shot's Fired / Holdin' On And Lettin' Go / A Mile Out Of Memphis / No Time / We Sang Her To Heaven / Catfish Day / Like A Rolling Stone / Concrete Angel / The Older I Get / One Suit Man / Remember With A Smile
© Rocky Productions 13/11/2012