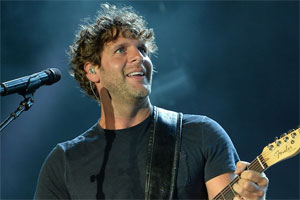 Chanteur Country US originaire de Rincon (Georgie).

Country singer/songwriter Billy Currington was raised in Rincon, GA. Following high school, he made a couple attempts at relocating to Nashville in the hopes of getting a career in music off the ground, finally landing a job there at a concrete company, while still finding time to play at clubs on the side and work on song demos. When singer Mark Wills put a hold on one of his songs, Currington met and began writing with Wills' producer, Carson Chamberlain, which eventually led to a recording contract with Mercury Records. His first single, "Walk a Little Straighter," was released in 2003, and drew heavily on Currington's experiences with an alcoholic father (the chorus for the song was actually written when Currington was only 12 years old). A debut album, Billy Currington, was released on Mercury Records in 2003. A second album, Doin' Somethin' Right, followed in 2005 on Mercury Nashville. Three years later, Currington delivered the eclectic, R&B-inflected Little Bit of Everything also on Mercury Nashville. In 2010, Currington returned with his tenth-studio effort, Enjoy Yourself, featuring the Troy Jones co-written single, "Pretty Good at Drinkin' Beer." That song went to number one as did "Let Me Down Easy." "Love Done Gone" and "Like My Dog" also reached the country Top 40.
Currington returned to action in 2013, releasing the single "Hey Girl" in March and then delivering the full-length We Are Tonight that September.
http://www.billycurrington.com/
Talents : Vocals, Guitar
Style musical : Contemporary Country

http://youtu.be/PKpQRjj_WbU
Years in activity :
| | | | | | | | | | | | |
| --- | --- | --- | --- | --- | --- | --- | --- | --- | --- | --- | --- |
| 1910 | 20 | 30 | 40 | 50 | 60 | 70 | 80 | 90 | 2000 | 10 | 20 |
DISCOGRAPHY
Singles
| | | | |
| --- | --- | --- | --- |
| 05/2003 | CD MERCURY B000972-21 (US) | . | Walk A Little Straighter |
| 07/2003 | CD MERCURY 000097232 (US) | | Walk A Little Straighter / Growin' Up Down There / Billy Currington Talks About Walk A Little Straighter |
| 2006 | CD MERCURY 702 (US) | . | Good Directions / Good Directions / Good Directions |
| 2007 | CD MERCURY 02788 (US) | . | Tangled Up / Tangled Up / Tangled Up |
Albums
09/2003
CD MERCURY 000016402 (US)
BILLY CURRINGTON - I Got A Feelin' / That's Just Me / Hangin' Around / Off My Rocker / Walk A Little Straighter / Where The Girls Are / Time With You / When She Gets Close To Me / Growin' Up Down There / Next Time / Ain't What It Used To Be
10/2005
CD MERCURY 0003712 (US)
DOIN' SOMETHIN' RIGHT - I Wanna Be A Hillbilly / Good Directions / Must Be Doin' Somethin' Right / Why, Why, Why / That Changes Everything / Little Bit Lonely / She's Got A Way With Me / Lucille / Whole Lot More / Here I Am / She Knows What To Do With A Saturday Night
02/2008
2 CD HUMPHEAD 23 (US)
DOIN' SOMETHIN' RIGHT / BILLY CURRINGTON :

CD 1 : I Wanna Be A Hillbilly / Good Directions / Must Be Doin' Somethin' Right / Why, Why, Why / That Changes Everything / Little Bit Lonely / She's Got A Way With Me / Lucille / Whole Lot More / Here I Am / She Knows What To Do With A Saturday Night
CD 2 : I Got A Feelin' / That's Just Me / Hangin' Around / Off My Rocker / Walk A Little Straighter / Where The Girls Are / Time With You / When She Gets Close To Me / Growin' Up Down There / Next Time / Ain't What It Used To Be

10/2008
CD MERCURY 000955002 (US)

LITTLE BIT OF EVERYTHING -

Swimmin' In Sunshine / Life & Love And The Meaning Of / Every Reason Not To Go / Don't / People Are Crazy / Everything / Walk On / No One Has Eyes Like You / That's How Country Boys Roll / I Shall Return / Heal Me
09/2010
CD MERCURY B0014407 (US)
ENJOY YORSELF - All Day Long / Love Done Gone / Pretty Good At Drinkin' Beer / Until You / Like My Dog / Perfect Day / Let Me Down Easy / Bad Day Of Fishin' / Enjoy Yourself / Lil' Ol' Lonesome Dixie Town
03/2011
CD MERCURY B0015290 (US)
ICON - I Got A Feelin' / Must Be Doin' Something Right / Why, Why, Why / Good Directions / That's How Country Boys Roll / Don't / People Are Crazy / Tangled Up / Walk A Little Straighter / Swimmin' In Sunshine / She's Got A Way With Me
09/2013
CD MERCURY B 001844702 (US)

We Are Tonight -

Hey Girl / Wingman / One Way Ticket / 23 Degrees And South / We Are Tonight / Hard To Be A Hippie / Closer Tonight / Another Day Without You / Banana Pancakes / Hallelujah
06/2015
CD MERCURY 002274502 (US)

Summer Forever -

Don't It / Drinkin' Town With A Football Problem / Wake Me Up / Good Night (Billy

Currington

feat: Jessie

James

) / Jonesin' / Give It To Me Straight / It Don't Hurt Like It Used To / Nowhere Town / Do I Make You Wanna / Sweet Love / Soundtrack / Summer Forever
© Rocky Productions 4/06/2015