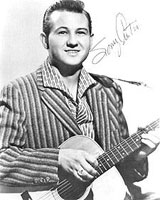 Chanteur, compositeur et guitariste Rockabilly et Country US, né le 9 Mai 1937 Meadow (Texas). Sonny Curtis a débuté en 1955 quand il rencontre Buddy Holly, il deviendra alors l'un des guitaristes des "Crickets". Dans les années quatre vingt, Sonny Curtis s'est essayé à la Country Music.

Sonny Curtis was involved in country music for over 40 years, composing songs recorded by numerous stars, among them the Everly Brothers, Hank Williams, Jr., and even Bing Crosby. He was born and raised near Lubbock, Texas, and began performing as a teen on local radio, playing fiddle on the popular Buddy & Bob show, which featured an up-and-coming Buddy Holly. Waylon Jennings was also a DJ at the station, and together they all performed at the town movie theater during intermissions. Curtis joined Holly's band, the Three Tunes, in 1956 as a fiddler, guitar player and sang back; when the group went to Nashville to record with famed producer Owen Bradley, they recorded one of Curtis' songs, "Rock Around with Ollie Vee." Eventually, Curtis amicably left Holly and began touring with Slim Whitman before making his solo debut in 1958 with the single "Wrong Again."
After Holly's tragic death in 1959, his band, the Crickets, asked Curtis to become their lead guitarist and singer. He was drafted in 1960 and stationed in Fort Ord, where he penned the song "Walk Right Back," a major hit for the Everly Brothers in 1961 and later popularized by Andy Williams, Perry Como, and Anne Murray.
Despite a string of mid-range hits including "My Way of Life," "Atlanta Georgia Stray," and "The Straight Life," Curtis had his greatest success as a songwriter. One of his best-known and most recorded songs was "I Fought the Law," which has been done by artists like the Bobby Fuller Four, the Clash, and Lou Reed. He also wrote the theme song for The Mary Tyler Moore Show, "Love Is All Around," which became a Top 30 hit on the country charts. In the early '90s, Curtis also wrote the theme song to the TV show Evening Shade.
In the early '80s, he and two former Crickets, Joe B. Maudlin and Jerry Allison, reunited and performed with Waylon Jennings' show. He had a Top 15 single with "Good Ole' Girls" for Elektra in 1981, followed by "Married Women," which made it to the Top 40. He made his final chart entry in 1986 with the minor hit "Now I've Got a Heart of Gold." Curtis also made a name for himself as a commercial jingle singer/songwriter, and continued writing country songs for artists such as Keith Whitley, Ricky Skaggs, and John Schneider. In 1991, he was inducted into the Songwriters Hall of Fame by the Nashville Songwriters Association International.
https://en.wikipedia.org/wiki/Sonny_Curtis
Talents : Vocals, Guitar, Songwriter
Style musical : Rockabilly, Rock 'n' Roll, Traditional Country

https://youtu.be/1w10t8kOtiA
Years in activity :
| | | | | | | | | | | | |
| --- | --- | --- | --- | --- | --- | --- | --- | --- | --- | --- | --- |
| 1910 | 20 | 30 | 40 | 50 | 60 | 70 | 80 | 90 | 2000 | 10 | 20 |
DISCOGRAPHY
Singles
02/1953
SP CORAL

9-60954 (US)

Someday You're Gonna Be Sorry / Forever Yours

07/1955
SP CORAL

9-61023 (US)

No More Tears / Best Way To Hold A Girl

04/1958
SP DOT 45-15754

(US)

Laughing Stock / Wrong Again
09/1958
SP DOT 45-15799

(US)

Willa Mae Jones / A Pretty Girl
05/1960
SP CORAL 9-62207

(US)

Talk About My Baby / Red Headed Stranger
1963
SP DIMENSION 1017

(US)

So Used To Loving You / Last Song I'm Ever Gonna Sing
1964
SP DIMENSION 1023

(US)

Unsaintly Judy / You Don't Belong In This Place
1964
SP DIMENSION 1024

(US)

A Beatle I Want To Be / So Used To Loving You
07/1964
SP LIBERTY

F-55710

(US)

Bo Didley Bach / I Pledge My Love To You

08/1966
SP VIVA 602

(US)

My Way Of Life / Last Call

1966
SP VIVA 607

(US)

The Collector / Destiny's Child

08/1967
SP VIVA 617

(US)

I'm A Gypsy Man / I Wanna Go Bummin' Around

01/1968
SP VIVA 626

(US)

Day Drinker / Atlanta, Georgia Stray
06/1968
SP VIVA 630

(US)

The Straight Life / How Little Men Care

1969
SP VIVA 634

(US)

Day Gig / Holiday For Clowns

1969
SP VIVA 636

(US)

Girl Of The North / Hung Up In Your Eyes

1970
SP OVATION OV-1006 (US)

Love Is All Around / There And Everywhere

1971
SP OVATION OV-1023 (US)

Unsaintly Judy / You Don't Belong In This

05/1972
SP BARNABY ZS7-2061 (US)
CRICKETS - Vocals Sonny CURTIS - True Love Ways / Rockin' 50's Rock And Roll
1972
SP A & M 1359-S

(US)

Lights Of L.A. / Sunny Mornin'

11/1973
SP MERCURY

73438 (US)

Rock And Roll Gave Me The Best Years Of My Life / My Mama Sure Left Me Some Good Old Days

10/1975
SP CAPITOL 4158 (US)

It's Only A Question Of Time / Lovesick Blues

01/1976
SP CAPITOL 4227 (US)

When It's Just You And Me / It's Only A Question Of Time

03/1976
SP CAPITOL 4240 (US)

Where's Patricia Now / When It's Just You & Me

08/1979
SP ELEKTRA

E-46526

(US)
Cheatin' Clouds / Cowboy Singer
11/1979
SP ELEKTRA

E-46568

(US)
Walk Right Back / Do You Remember Roll Over Beethoven
03/1980
SP ELEKTRA

E-46616

(US)
The Real Buddy Holly Story / Ain't Nobody Honest
07/1980
SP ELEKTRA

E-466

63

(US)
Love Is All Around / The Clone Song
10/1980
SP ELEKTRA

E-4

7048

(US)
Fifty Ways To Leave Your Lover / You Made My Life A Song
04/1981
SP ELEKTRA

E-4

7129

(US)
Good Ol' Girls / So Used To Loving You
08/1981
SP ELEKTRA

E-4

7176

(US)
Married Woman / I Like Your Music
11/1981
SP ELEKTRA E-47231 (US)
The Christmas Song (Chestnut Roasting On A Open Fire) / Little Drummer Boy (Hank WILLIAMS JR.)
09/1982
SP ELEKTRA 7-69942 (US)
Together Alone / Dream Well All Of You Children
1985
SP STEEM ST 82985 (US) (promo)

I Think I'm In Love / I Think I'm In Love

11/1986
SP STEEM ST 110185 (US)
Now I've Got A Heart Of Gold / Why Did You Say I Do To Me
1990
SP RITZ 217 (UK)

I'm No Stranger To The Rain / Rock Around With Ollie Vee

1991
SP RITZ 229 (UK)
More Than I Can Say / When Amarillo Blows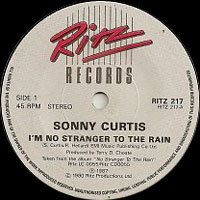 Unissued Tracks
Albums
1964
LP 12" IMPERIAL

LP-9276 (mono) /

LP-12276

(stereo) (US)
BEATLE HITS - FLAMENCO GUITAR STYLE - A Hard Day's Night / If I Fell / She Loves You / Please Please Me / Do You Want To Know A Secret? / And I Love Her / Ringo's Theme / All My Lovin' / Little Child / P.S. I Love You / Things We Said Today / Ballad For A Beatle
01/1968
LP 12" VIVA

V-36012

(US)

THE 1ST OF SONNY CURTIS -

I Wanna Go Bummin' Around / My Way Of Life / Hung Up In Your Eyes / Day Drinker / Where Will The Words Come From / Destiny's Child / I' A Gypsy Man / Holiday For Clowns / A Fool Never Learns / Walk Right Back / Beggar's Blues / I Fought The Law
1969
LP 12" VIVA

V-36021

(US)
THE SONNY CURTIS STYLE - The Straight Life / Sould Fever, How Little Men Care / Girl Of The Night / This Is The Last Song I'm Ever Gonna Sing / Atlanta Georgia Stray / Day Gig, This Time Tomrorrow / I Hate To See Me Go / Today My Sleepless Nights Came Back To Town / The Collector / (You've Got) Nothin' To Be Ashamed Of
1979
LP 12" ELEKTRA 6E 227 (US)
SONNY CURTIS - The Cowboy Singer / Walk Right Back / So Used To Loving You / Tennesse / Do You Remember Roll Over Beethoven / It's Not Easy Being Fifteen / I Fought The Law / I'll Stay With You / Cheatin' Clouds / Ain't Nobody Honest.
09/1980
LP 12" ELEKTRA 6E 283 (US)

LOVE IS ALL AROUND -

Love Is All Around / You Made My Life A Song / Eager For The Edge / The Real Buddy Holly Story / Fifty Ways To Leave Your Lover / Wild Side Of Life / Cowboy Singer / I Fought The Law / Walk Right Back / The Clone Song
06/1981
LP 12" ELEKTRA 6E 349 (US)

SONNY CURTIS ROLLIN' -

Good Ol Girls / There I Go Dreamin' Again / Wild Oats / Married Women / Rollin' / More Than I CAn Say / Sweet Misery / Old Fashioned Love / Star Studded Nights / I Like Your Music
08/1987
LP 12" COLT 2003 (UK)
SPECTRUM - He Was On To Something (So He Made You) / It's All In Your Mind / Real Old Fashioned Broken Heart / An Old Rainbow Jukebox And You / I'm No Stranger To The Rain / True Love Ways/ I Think I'm In Love / Now I've Got A Heart Of Gold / Why Did You Say "I Do" To Me / Pleasure Island / Less To Me Than Meets The Eye / Raoul
09/1990
CD RITZ RITZCD-0055 (UK)
NO STRANGER TO THE RAIN - I'm No Stranger To The Rain / Hello Mary Lou / You're The Lesson I Never Learned / When Amarillo Blows / Back When Has Been Lover / I Saved My Last Name For You / Bad Case Of Love / Think It Over / That'll Be The Day / More Than I Can Say / Well, Alright / Rock Around With Ollie Vee / Midnight Shift
1994
CD ROLLERCOASTER ROLL 3041 5UK)
THE ELEKTRA YEARS VOL. 1 - I Fought The Law / WalkRight Back / Real Budy Holly Story / I Like Your Music / You Made My Lif A Song / Eager For The Edge / I'll Stay With You / There Go My Dreams / Cowboy Singer / So Ued To Loving You / Tennessee I Love You / Star Studded Nights / Fty Ways To Leave Your Lover / Rollin'
© Rocky Productions 28/11/2012