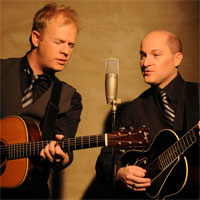 Duo Country US comprenant Jamie Dailey et Darrin Vincent.

A 21st century bluegrass duo, Jamie Dailey and Darrin Vincent both had long careers in bluegrass before they officially joined forces, Dailey as the guitarist and lead singer for Doyle Lawson & Quicksilver while Vincent played for years in Ricky Skaggs' band Kentucky Thunder (plus his older sister just happened to be bluegrass star Rhonda Vincent). Dailey and Vincent first met in 2001, and quickly discovered that their voices meshed magically, much like the rare blend of voices that legendary brother duos like the Louvin Brothers possessed. Signing with Rounder Records, the pair released the eponymous Dailey & Vincent in 2008 on the label, and the album immediately put them on the top of the bluegrass heap, winning multiple International Bluegrass Music Association awards that same year. Two more albums appeared from Rounder in 2009, Brothers from Different Mothers in March and Singing from the Heart in October. Two themed collections, Dailey & Vincent Sing the Statler Brothers and The Gospel Side of Dailey & Vincent, were issued in 2010 and 2012, respectively, through the Cracker Barrel Old Country Store and distributed through Rounder Records. The well-balanced and impressive Brothers of the Highway, released on Rounder Records, appeared in the spring of 2013.
https://www.daileyandvincent.com/
http://www.myspace.com/thedaileyvincentband
Talents : Jamie Dailey : Guitar, Lead, Tenor & Baritone Vocals - Darrin Vincent : Upright Bass, Mandolin, Lead & Baritone Vocals.
Style musical : Country-Folk, Bluegrass, Bluegrass-Gospel

http://youtu.be/HVIroD5xfR4
Years in activity :
| | | | | | | | | | | | |
| --- | --- | --- | --- | --- | --- | --- | --- | --- | --- | --- | --- |
| 1910 | 20 | 30 | 40 | 50 | 60 | 70 | 80 | 90 | 2000 | 10 | 20 |
DISCOGRAPHY
Albums
| | | | |
| --- | --- | --- | --- |
| 01/2008 | CD ROUNDER 11661-0604 (US) | | DAILEY & VINCENT - Sweet Carrie / More Than A Name On A Wall / Cumberland River / River Of Time / By The Mark / Poor Boy Workin' Blues / Take Me Back (And Leave Me There) / My Savior Walks With Me Today / Don't You Call My Name / I Believe / Music Of The Mountains / Place On Calvary |
| 03/2009 | CD ROUNDER 11661-0617 (US) | | BROTHERS FROM DIFFERENT MOTHERS - Head Hung Down / You Oughta Be Here With Me / Your Love Is Like A Flower / When I've Traveled My Last Mile / Years Ago / There Is You / Girl In The Valley / Please Don't Let Our Sweet Love Die / Oh Ye Must Be Born Again / Winters Come & Gone / When I Reach That Home Up There / On The Other Side |
| 10/2009 | CD ROUNDER 11661-0610-2 (US) | | DAILEY & VINCENT SINGING FROM THE HEART - Joshua Fit The Battle Of Jericho / Near The Cross / Hide Me, Rock Of Ages / Farther Along / I Am Resolved / The Old Rugged Cross / Moses Smote The Water / Amazing Grace / Jesus Is Coming Soon / O To Be Like Thee / 'Til I See You Face To Face / Don't You Wanna Go To Heaven |
| 06/2010 | CD ROUNDER 11661-0640-2 (US) | | DAILEY & VINCENT SING THE STATLER BROTHERS - Flowers On The Wall / Class Of '57 / Hello Mary Lou, Goodbye Heart / Too Much On My Heart / Susan When She Tried / I'll Go To My Grave Lovin' You / Elizabeth / Bed Of Roses / Do You Know You Are My Sunshine / The Brave Apostles Twelve / My Only Love / Thank You World |
| 01/2012 | CD ROUNDER 11661-9124-2 (US) | | THE GOSPEL SIDE OF DAILEY & VINCENT - Living In The Kingdom Of God / Eternal Vacation / Peace That Covers All The Pain / Cast Aside / Noah Found Grace In The Eyes Of The Lord / Family Bible / The Fourth Man In The Fire / Until At Last Im Home / Cross Over To The Other Side Of Jordan / Come Back To Me / Welcome Home / Daddy Sang Bass |
| 05/2013 | CD ROUNDER 9141 (US) | | BROTHERS OF THE HIGHWAY - Steel Drivin' Man / Close By / When I Stop Dreaming / Back To Jackson County / Brothers Of The Highway / Tomorrow I'll Be Gone / Hills Of Caroline / Big River / Howdy Neighbor Howdy / Won't It Be Wonderful / Back To Hancock County / Where've You Been |
© Rocky Productions 9/05/2013