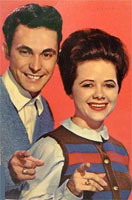 Duo US originaire de Louisiane, Dale Houston (né le 23 Avril 1940, décédé le 27 Septembre 2007) et Grace Broussard ont débuté en 1963 chez Michelle Records avant de se séparer en 1964.



Dale & Grace began a short but successful career when they hit the top of U.S. charts in the autumn of 1963 with "I'm Leaving It Up to You." The single, a cover of an earlier Don & Dewey song, was the pair's first recording for the Montel label of Louisiana. Some credit it as the first swamp pop tune ever to claim the top spot on U.S. charts. The ballad also performed well in the U.K. but it did not enter the Top 40. Dale & Grace's second single, "Stop and Think It Over," became another hit for the duo when it rolled into the Top Ten in the U.S. that same year. Although the pair's debut album landed in the Top 100 in the U.S., their next single, "The Loneliest Night," was not as big a success as either of their first two singles or the album.
Dale Houston was a Mississippi native who grew up in Baton Rouge, LA, where he was exposed to the area's swamp pop and Cajun sounds. Grace Broussard hailed from Prairieville, LA, and was of Cajun descent. Van Broussard, her brother, helped forge the way for swamp pop. At various times, he performed in a duo with his sister, as half of Van & Titus, as a solo artist, and in later years led the Bayou Boogie Band. Dale & Grace had each worked as a solo act before forming their duo during the early '60s. Before parting ways in 1964, they also put out records through Hanna-Barbera and Guyden. They got back together for a short period about 30 years later. Following a second split, Houston put out A Lot of Good Miles Left in Me. The solo album was released on the local Lanor label. Donny & Marie Osmond covered Dale & Grace's first hit, "I'm Leaving It up to You," in 1974, giving Don & Dewey's song a third go-round and taking it into the Top Ten on both sides of the Atlantic.
https://en.wikipedia.org/wiki/Dale_Houston
Style musical : Rock 'n' Roll

http://youtu.be/snqAEwTzgEE
Years in activity :
| | | | | | | | | | | | |
| --- | --- | --- | --- | --- | --- | --- | --- | --- | --- | --- | --- |
| 1910 | 20 | 30 | 40 | 50 | 60 | 70 | 80 | 90 | 2000 | 10 | 20 |
DISCOGRAPHY
Singles & EP
09/1963
SP MONTEL 921 (US)
.
I'm Leaving It Up To You / Foolin' Around
1963
SP MICHELLE MX-921 (US)
.
I'm Leaving It Up To You / Foolin' Around
1963
SP LONDON FLX 3107 (NL)
I'm Leaving It Up To You / That's What I Like About You
01/1964
SP LONDON DL 20 737 (GER)
I'm Leaving It Up To You / That's What I Like About You
01/1964
SP MONTEL 922 (US)
.
Stop And Think It Over / Bad Luck
01/1964
SP MICHELLE MX-923 (US)
.
Stop And Think It Over / Bad Luck
1964
SP LONDON FLX 21 11 (NL)
Stop And Think It Over / Bad Luck
04/1964
SP MONTEL 928 (US)

.

The Loneliest Night / I'm Not Free

1964
SP MICHELLE MX-928 (US)
.
I'm Not Free / The Loneliest Night
07/1964
SP MONTEL 930 (US)
.
Darling It's Wonderful / What's Happening To Me
07/1964
SP MICHELLE MX-930 (US)
.
Darling It's Wonderful / What's Happening To Me
1964
EP LONDON RE 1430 (UK)
DALE & GRACE No 3 - Our Teenage Love / Let The Good Times Roll / Darling It's Wonderful / Bye Bye Love
1965
SP MICHELLE MX-936 (US)
.
Rules Of Love/ Cool Water
1965
SP MONTEL MICHELLE M-942 (US)
.
Something Special / What Am I Living For
1966
SP MONTEL MICHELLE MX-958 (US)
.

Make The World Go Away / Stranger

05/1966
SP HBR 472 (US)
.
I'd Rather Be Free / Let Them Talk
196?
SP MICHELLE MX-989 (US)
.
It Keeps Right On A Hurtin' / ?
1974
SP London 6.11 551 (GER)

Oldies But Goldies -

I'm Leaving It Up To You (DALE & GRACE) / Roll Over Beethoven (VELAIRES)
1983
SP JIN 1007 (US)
.
I'm Leaving It Up To You / Stop And Think It Over
1983
SP ERIC 272 (US)
.
I'm Leaving It Up To You / Stop And Think It Over
19??
SP TRIP OLDIES TR-77 (US)
.
I'm Leaving It Up To You / Stop And Think It Over
19??
SP COLLECTABLES COL 3026 (US)
.
I'm Leaving It Up To You / Stop And Think It Over
Album
1964
LP 12" MONTEL MLP-100 (US)
I'M LEAVING IT UP TO YOU -

I'm Leaving It Up To You / Hey Baby / Casual Look / Tip Of My Finger / Gee Baby / Happy, Happy Birthday Baby / Love Is Strange / Our Teenage Love / Let The Good Times Roll / Darling It's Wonderful / Bye Bye Love / We Belong Together
© Rocky Productions 4/12/2012