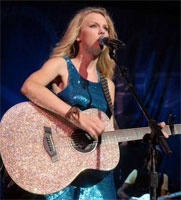 Chanteuse Country US originaire de Kingsport (Tennessee).

Dalley's first musical performance was at a talent show at her high school. She continued to perform around her hometown of Kingsport, Tennessee. After briefly attending East Tennessee State University, she went on to perform at the Dollywood amusement park. In 1994, she moved to Nashville, Tennessee and formed a band called the Gypsy Hillbillies, which toured nationally. She was later signed to a publishing deal at Hamstein Music. One of her songs, "Dream Too Small", was featured in an episode of Dawson's Creek.
Dalley's first single, "Love's Got an Attitude (It Is What It Is)", was released in 2003, peaking at #27 on the country charts. It was followed by "I Think You're Beautiful" at #43 and her highest-charting single, "Men Don't Change" at #23. After the release of the latter, she was slated to release her self-titled debut album, on which "Love's Got an Attitude" and "I Think You're Beautiful" were not included. The album's second single and her fourth overall, the #29 "I Would Cry", charted in 2005, and her album was delayed again. Later that same year, Reba McEntire charted the single "My Sister", which Dalley co-wrote with Roxie Dean.
In 2006, Dalley released a new single, "Everybody's Got a Vice", which failed to chart. It was followed by "Good Kind of Crazy", which spent one week at #60 on the charts, and "Let's Try Goodbye", which did not chart either. Despite being seven singles into her career at the time, Dalley had still not released an album, and she left Curb in 2008. She finally released her album It's Time on January 19, 2009, through online musical vendors. This album includes "Let's Try Goodbye" and "Men Don't Change".
https://en.wikipedia.org/wiki/Amy_Dalley
Talents : Vocals, Guitar, Songwriter
Style musical : Contemporary Country

https://youtu.be/zva58lsiXhk
Years in activity :
| | | | | | | | | | | | |
| --- | --- | --- | --- | --- | --- | --- | --- | --- | --- | --- | --- |
| 1910 | 20 | 30 | 40 | 50 | 60 | 70 | 80 | 90 | 2000 | 10 | 20 |
DISCOGRAPHY
Albums
| | | | |
| --- | --- | --- | --- |
| 01/2009 | CD MAD JACK ? (US) | | IT'S TIME - I Built This Wall / Talk / Friday Night With The Broken Hearted / It's Time / The Bitter End / He Makes Me Wanna / You Are Mine / Let's Try Goodbye / Loved Me Back To Life / That's All I Better Say About That / Men Don't Change / Safe (live/Madeleine intro) / I Think You're Beautiful (live) |
| 08/2011 | CD ? (US) | | COMING OUT OF THE PAIN - Peace Sign / Breakin It Down / Somebody Said It Rained / Saturday Night Situation / Damage Is Done / I May Love You Now / Civil War / Round And Round / Bottle It Up / Coming Out Of The Pain |
© Rocky Productions 17/12/2011