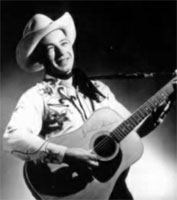 Chanteur Country Canadien né le 12 Février 1918 à Fernie (British Columbia). Guido D'Amico est décédé le 1er Mai 2008. Il fut surnommé "The Italian Cowboy".

Canadian singer Guido D'Amico came from the town of Fernie, British Columbia. When he was still a very young lad, his parents, George and Felicia D'Amico, moved the family to Nordegg in Alberta. He grew up there and after he finished his education, he went to work at the coal mines where his father also worked. Under his dad's tutoring, he became an accomplished timberman and Class 1 miner.
Guido married the former Frances Black in Calgary in 1942 and they started a family in Nordegg.
Music was a part of his life as well. Eventually, that led to his efforts to try entertaining folks. Around 1950, Guido audiences in the Nordegg area began to hear this new singer, who came to be known affectionately as "The Italian Cowboy".
His first efforts included a daily radio show over station CKRD out of Red Deer, Alberta. Fans liked what they heard and began sending in requests to hear his songs. That popularity led to a recording contract with the Aragon Records label.
He recorded several sides for Aragon. Our research has uncovered at least one single with the tuen "Oh Susie". Other tunes he is said to recorded on Aragon, but we've not been able to get the details yet, included "Oh, Mamma", "Secret Love", and "Yes, I Do". He was also trying his hand at songwriting at the time and recorded three of his compositions, including "Oh Susie", "Secret Love" and "Yes, I Do".
According to an internet web site documenting British Columbia radio history, a 1998 Vancouver Sun article profiled the founder of the Aragon Records label, Al Reusch. The label was started by Al and two partners around 1948 and the article notes that part of the success the label enjoyed early on was due to the popularity it found with its first recordings, including "...Guido D'Amico's Italian cowboy songs."
Guido and his family faced a new chapter in their life around 1954 when the mines closed. He moved his family to Calgary, Alberta where he worked for the Coca-Cola company for ten years.
In 1954, he was being featured over radio station CFCN in Calgary, Alberta on the "Red head Jamboree" show.
A 1954 article mentions he made numerous personal appearances throughout Western Canada.
In 1964, Guido pooled his resources with his brother Zupito and brother-in-law Robert Duncan, to buy the Eckville Hotel. The family moved to Eckville and where they operated the hotel successfully for 10 years. Around 1974, they sold the the hotel but continued to live in the area on an acreage just outside of Eckville.
When Guido's wife Frankie (Frances) passed away in 1982, he moved to Rocky Mountain House. He picked up his guitar again, resuming his singing career by forming a band called Shunda with Ed, Albert, Butch Owchar and Phil Liska. It was said that their music was enjoyed across the central Alberta area for many years.
Guido passed away in May of 2008 after a short stay in a continuing health care facility. Guido is survived by sons Jimmy of Red Deer, Wayne (Dianne) of Edmonton, George and Gavin of Rocky, Guy (Bonnie) of Medicine Hat, his daughter Marion (Bob) Heck of Legal, Alberta, his special friend Jean and family, 13 grandchildren, 11 great grandchildren, brother Zupi (Metha) and sister Maggie, plus numerous nieces and nephews.
http://www.hillbilly-music.com/artists/story/index.php?id=14251
Talents : Vocals, Guitar
Style musical : Traditional Country, Rockabilly
JIMMY BOY (1959)

I'M IN LOVE WITH YOU (1959)
Years in activity :
| | | | | | | | | | | | |
| --- | --- | --- | --- | --- | --- | --- | --- | --- | --- | --- | --- |
| 1910 | 20 | 30 | 40 | 50 | 60 | 70 | 80 | 90 | 2000 | 10 | 20 |
DISCOGRAPHY
Singles
© Rocky Productions 15/05/2011