Groupe Doo Wop US originaire de Brooklyn (New York), fondé en 1958 par Jimmy Weston, Nat McCune, Roosevelt Mays, Johnny Lee et Will Ephraim.

With their debut single "One Summer Night," the Danleers became one of the most successful Vocals groups of the late '50s. Written by the group's songwriter/manager Danny Webb and recorded during their first recording session, the tune reached the pop Top Ten and sold over a million copies. the Danleers were one of many Vocals groups that arose out of the street corners, playgrounds, and tenement hallways of Brooklyn. Originally a quintet, featuring lead singer Jimmy Weston, baritone singer Nat McCune, bass vocalist Roosevelt Mays, and tenors Johnny Lee and Will Ephraim, the band's sound was reinforced by the addition of Webb.
Initially released on the Amp-3 label, "One Summer Night" quickly became a local hit and attracted the attention of Mercury, who reissued the tune in June 1958.
After performing at Alan Freed's Labor Day Extravaganza at the Brooklyn Fox Theater, the Danleers were invited to join Frankie Avalon, Bobby Darin, Eddie Cochran, Connie Francis, Dion & the Belmonts, Buddy Holly & the Crickets, Clyde McPhatter, and the Coasters in a nationally touring road show.
"One Summer Night" marked the last success for the Brooklyn-based group, however. After three attempts to recapture the momentum of "One Summer Night" failed, the group was dropped by Mercury. Reorganized, with different personnel, by Weston, the Danleers released two singles in the mid-'60s that failed to revive their early success.
https://en.wikipedia.org/wiki/The_Danleers
Talents : Jimmy Weston : Baritone, Leader - Nat McCune : Bass - Roosevelt Mays : Bass - Johnny Lee : Tenor - Will Ephraim : Tenor
Style musical : Doo Wop, Rhythm 'n' Blues, Soul

Years in activity :
| | | | | | | | | | | | |
| --- | --- | --- | --- | --- | --- | --- | --- | --- | --- | --- | --- |
| 1910 | 20 | 30 | 40 | 50 | 60 | 70 | 80 | 90 | 2000 | 10 | 20 |
DISCOGRAPHY
Singles & EP
1958
SP AMP 3 2115 (US)
.
One Summer Night / Wheelin' And Dealin'
1958
SP MERCURY 71322X45 (US)
.
One Summer Night / Wheelin' And A-Dealin'
1958
SP MERCURY 71356X45 (US)
.
I Really Love You / My Flaming Heart
1958
SP MERCURY 71401X45 (US)
.
A Picture Of You / Prelude To Love
1958
SP MERCURY

EP 60.139

(SWE)

One Summer Night / Wheelin´ And A-Dealin´ / I Really Love You / My Flaming Heart

1959
SP MERCURY 71441X45 (US)
.
I Can't Sleep / Your Love
1959
EP MERCURY 14210 (F)
Wheelin' And A-Dealin' / I Really Love You / My Flaming Heart / One Summer Night
1960
SP EPIC 5-9367 (US)
.
If You Don't Care / Half A Block From An Angel
1960
SP EPIC 5-9421 (US)
.
I'll Always Believe In You / Little Lover
1961
SP EVEREST 19412 (US)
.
Foolish / I'm Looking Around
1964
SP SMASH 1872 (US)
.
If / Were You There
1964
SP SMASH 1895 (US)
.
Where Is Love / The Angels Sent You
1964
SP LEMANS 004 (US)
.
Baby You've Got It / The Truth Hurts
1965
SP LEMANS 008 (US)
.

I'm Sorry / This Thing Called Love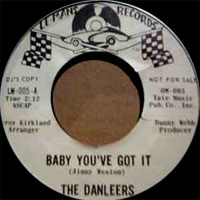 Unissued Tracks
| | | |
| --- | --- | --- |
| 195? | MERCURY unissued | Love, You Better Leave Me Alone |
| 195? | MERCURY unissued | Just Look Around |
| 195? | MERCURY unissued | You're Everything |
| 195? | MERCURY unissued | Whole Mess Of Trouble |
| 195? | MERCURY unissued | I Really Love You |
| 1960 | EPIC unissued | I'll Be Forever Yours |
| 1960 | EPIC unissued | The Light Of Love |
Albums
1986
CD MERCURY 830 283-2 M-1 (US)

The Vocal Group Collection -

Platters - Penguins - Del Vikings -

Danleers -

Platters : Bark, Battle And Ball / Winner Take All / You'll Never, Never Know I Care / It Isn't Right / On My Word Of Honor / One In A Million / Helpless / Penguins : Be Mine Or Be A Fool / Don't Do It / It Only Happens With You / Walkin' Down Broadway / Devil That I See / Promises, Promises, Promises / She's Gone, Gone / Del Vikings : Cool Shake / Come Along With Me / A Sunday Kind Of Love / When I Come Home / You Cheated / Flat Tire / How Could You /

Danleers

: One Summer Night / Wheelin' And A-Dealin' / I Really Love You / My Flaming Heart / A Picture Of You / Prelude To Love / You Love
1991
CD BEAR FAMILY BCD 15503 (GER)
ONE SUMMER NIGHT - One Summer Night - My Flaming Heart / Prelude To Love / Wheelin' And A-Dealin' / A Picture Of You / I Really Love You / You're Everything / Whole Mess Of Trouble / Just Look Around / I Can't Sleep / Your Love / Half A Block From An Angel / If You Don't Care / Little Lover / I'll Always Believe In You / The Light Of Love / I'll Be Forever Yours / I'm Looking Around / Foolish / The Angels Sent You / Were You There / If / Where Is Love / Think It Over Baby / Love, You Better Leave Me Alone
07/1996
CD POLYGRAM 32732 (US)
THE BEST OF THE DANLEERS - THE MERCURY YEARS - One Summer Night / Wheelin' And A-Dealin' / Picture Of You / Prelude To Love / I Really Love You / My Flaming Heart / You're Everything / Whole Mess Of Trouble / I Can't Sleep / Your Love / Just Look Around / If / Were You There? / Where Is Love? / Angels Sent You / Think It Over Baby / Love, You Better Leave Me Alone
© Rocky Productions 3/07/2005