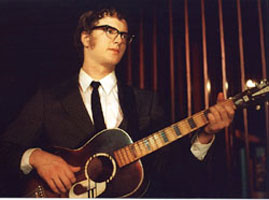 Guitariste Bluegrass US né en 1977 à Atlanta (Georgie).

Michael was born in 1977 in the southern empire of Atlanta, Georgia. Soon after, he began to make loud noises, so his loving parents put music instruments in front of him. It was a good plan. He grew up in that grand tradition of staying up late & singing real loud. Although he's since moved north, the humid south remains in heart and sinus cavities.
Currently Michael lives in New York, where he is supervised by his daughter and two vigorous cats. Brooklyn, New York is a very exciting place to live. In addition to playing music & teaching, Michael enjoys turning the knobs & playing with the buttons some on several pieces of recording equipment. This is why he put a studio into his house.
http://www.myspace.com/michaeldavesmusic
Talents : Guitar, Vocals
Style musical : Bluegrass

http://www.youtube.com/watch?v=J_uH8c3srCI&feature=related
Years in activity :
| | | | | | | | | | | | |
| --- | --- | --- | --- | --- | --- | --- | --- | --- | --- | --- | --- |
| 1910 | 20 | 30 | 40 | 50 | 60 | 70 | 80 | 90 | 2000 | 10 | 20 |
DISCOGRAPHY
Single
Albums
| | | | |
| --- | --- | --- | --- |
| 10/2007 | CD MICHAEL DAVES ? (US) | | LIVE AT THE ROCKWOOD - I've Endured / I Only Exist / Close By / Rain And Snow / I Live In The Past / Old Dangerfield / Sophronie / Look What Thoughts Will Do / I'm Gonna Sleep With One Eye Open / Evening Prayer Blues / You Never Miss The Water / Shackles And Chains |
| 01/2011 | CD NONESUCH 827603 (US) | | SLEEP WITH ONE EYE OPEN - CHRIS THILE & MICHAEL DAVES - Rabbit In The Log / Cry, Cry Darling / Loneliness And Desperation / Tennessee Blues / 20/20 Vision / You're Running Wild / Ookpik Waltz / My Little Girl In Tennessee / Sleep With One Eye Open / Rain And Snow / Mississippi Waltz / Bury Me Beneath The Willow / Roll In My Sweet Baby's Arms / Billy In The Lowground / It Takes One To Know One / If I Should Wander Back Tonight |
© Rocky Productions 12/05/2011