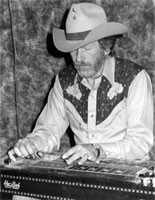 Steel guitariste US né James Clayton Day, le 9 Janvier 1934 à Tuscaloosa (Alabama). Jimmy Day est décédé le 22 Janvier 1999.

Along with Shot Jackson and Buddy Emmons, legendary sideman Jimmy Day stood among the finest steel guitarists ever to grace country music; "Mr. Country Soul," he and his guitar, the legendary Blue Darlin', lent their artistry to records from performers ranging from Webb Pierce to Ray Price to Willie Nelson. Born January 9, 1934, in Tuscaloosa, AL, Day harbored dreams of a career in country music from childhood onward; his initial attempts to learn guitar proved frustrating, however, when he faced considerable difficulty with his fret work. His problems were solved in 1949, when he saw Jackson providing steel support for the Bailes Brothers; that Christmas, Day received his first steel guitar, and by the age of 16 he was regularly performing at area honky tonk shows.
After graduating high school, in 1951 Day successfully auditioned for the Louisiana Hayride radio program; he soon began working with Pierce, with whom he recorded his first sessions. He soon introduced Pierce to pianist Floyd Cramer, whom Day had known since junior high; these sessions produced the Pierce smash "This Heart Belongs to Me," which hit number one just prior to Day's 18th birthday. In the spring of 1952, he also began a six-month stint backing Hank Williams; in November -- less than two months before his tragic death -- Williams asked Day to join a new band he planned to assemble in the year to follow. In the wake of the tragedy, Day worked with Red Sovine and Jim Reeves, and overdubbed a handful of posthumous Williams recordings. He also appeared on Mitchell Torok's 1953 hit "Caribbean."
With the advent of pedal steel guitar in 1954, Day began moving away from lap steel during a tenure with Lefty Frizzell; among his final sessions playing lap steel was a Louisiana Hayride date backing Elvis Presley. In early 1955 Presley assembled a backing band comprised of Day, Cramer, guitarist Scotty Moore, bassist Bill Black, and drummer D.J. Fontana that remained his supporting unit for much of the year; when Presley relocated to Hollywood he invited the band to join him, but both Day and Cramer declined in order to pursue careers with the Grand Ole Opry. In 1956 Day switched permanently to pedal steel and appeared on Ray Price's "Crazy Arms"; he soon relocated to Nashville to join Price's band, the Cherokee Cowboys, and by extension became a member of the Opry. He also convinced Jackson to begin manufacturing his own pedal steel guitars, and soon the Sho-Bud, the first classic electric pedal steel, hit the market; with it came Day's first steel to bear the Blue Darlin' name.
In 1955 Day cut his first instrumental single, "Rippin' Out"; over the next two years he toured extensively with Pierce and also appeared infrequently with the Cherokee Cowboys, Ernest Tubb's Texas Troubadors, and Jim Reeves' Blue Boys. In 1959, Day rejoined Price, where he was teamed with a young bassist named Willie Nelson; when Nelson broke from Price three years later, he took Day with him. By 1963 Day also began performing with George Jones, and released his debut solo LP, Steel and Strings. In the years to follow he tenured with the likes of Ferlin Husky, Leon Russell, Clay Baker, Charlie Louvin, and Don Walser, and also cut a number of records, including All Those Years, For Jimmy Day Fans Only, and Jimmy Day and the Texas Outlaw Jam Band. He was inducted into the International Steel Guitar Hall of Fame in 1982.
https://en.wikipedia.org/wiki/Jimmy_Day_(musician)
Talents : Steel Guitar, Guitar
Style musical : Traditional Country

https://youtu.be/xSbmahCNwwk
Years in activity :
| | | | | | | | | | | | |
| --- | --- | --- | --- | --- | --- | --- | --- | --- | --- | --- | --- |
| 1910 | 20 | 30 | 40 | 50 | 60 | 70 | 80 | 90 | 2000 | 10 | 20 |
Singles
01/1955
SP ABBOT 175 (US)

Rippin' Out / Blue Wind

1961
SP SARG 188-45 (US)
Lonely Teardrops / I'm Just A Stand In
196?
SP NEW STAR 623P-4894 (US)
If Not For Jennifer / I Have No Place To Go
05/1968
SP STOP ST-181 (US)
No One To Blame But Yourself / I'm Living For A Song (I'd Die To
Sing)
196?
SP PRINCESS 4051 (US)

You No Longer Belong To Me / Oh Foolish Me

19??
SP COUNTRY STYLE 90 (US)
Jimmy DAY & Leon JACKSON -

Stealing Home / ?

1970
SP MONUMENT

1224 (US)

My Day's Just Not Complete / Too Much Of You

1981
SP FIFER

FR 1981-1003-S

(US)

Mudslide / Daydream
Albums
| | | | |
| --- | --- | --- | --- |
| 1962 | LP 12" PHILIPS PHM-200-016 (mono) / PHS-600-016 (stereo) (US) | | GOLDEN STEEL GUITAR HITS - Steel Guitar Rag / Panhandle Rag / Roadside Rag / Texas Playboy Rag / Remington Ride / Coconut Grove / Bootheel Drag / Bud's Bounce / B Bowman Hop / Georgia Steel Guitar / Steelin' The Blues / Indian Love Call |
| 1963 | LP 12" PHILIPS PHM-200-075 (mono) / PHS-600-075 (stereo) (US) | | STEEL AND STRINGS - Please Help Me I'm Falling / I Love You Because / Am I That Easy To Forget / Fallen Star / He Thinks I Still Care / Making Believe / I Love You So Much It Hurts / Wild Side Of Life / Release Me (And Let Me Live Again) / Funny How Time Slips Away / I Can't Stop Loving You / I Fall To Pieces |
| 1965 | LP 12" CUMBERLAND MGC-25929 (mono) / SRC-65929 (stereo) (US) | | SWINGIN' COUNTRY GREATS - Forever / Just Call Me Lonesome / Detroit City / I'm Just A Guitar / Under The Double Eagle / Swingbilly Swing / Slowly / You Don't Know Me / Dang Me / I Got A Feelin' |
| 1975 | LP 12" MIDLAND MD-JD-10010 (US) | | ALL THOSE YEARS - Crazy Arms / My Shoes Keep Walking Back To You / Heartaches By The Number / City Lights / Pick Me Up On Your Way Down / Whiskey River / When Your House Is Not A Home / Am I Losing You / Lonely Street / Heartbreak Avenue / Window Up Above / Sad Songs And Waltzes |
| 1981 | LP 12" TEXAS MUSIC TM-381 (US) | | SALUTE DON HELMS - Jimmy DAY & His BUDDIES (Buddy EMMONS, Buddy HARMAN, Buddy SPICHER)) - Your Cheatin' Heart / You Win Again / Window Shopping / Honky Tonk Blues / Hey Good Lookin' / I Can't Help It (If I'm Still In Love With You) / Cold Cold Heart / Settin' The Woods On Fire / They'll Never Take Her Love From Me / Ramblin' Man |
| 1985 | LP 12" JD 71185 (US) | | IN JESUS' NAME WE PLAY - What A Friend We Have In Jesus / Old Rugged Cross / Whispering Hope / In The Garden / Where We'll Never Grow Old / When They Ring Those Golden Bells / Jesus Loves Me / It Is No Secret / How Great Thou Art / Softly And Tenderly |
| 04/1992 | CD BEAR FAMILY BCD 15583 (GER) | | STEEL AND STRINGS - Steel Guitar Rag / Panhandle Rag / Roadside Rag / Texas Playboy Rag / Remington Ride / Coconut Grove / Bootheel Drag / Bud's Bounce / B. Bowman Hop / Georgia Steel Guitar / Steelin' The Blues / Indian Love Call / Please Help Me, I'm Falling / I Love You Because / Am I That Easy To Forget / A Fallen Star / He Thinks I Still Care / Making Believe / I Love You So Much It Hurts / Wild Side Of Live / Release Me / Funny How Time Slips Away / I Can't Stop Loving You / I Fall To Pieces |
| 1992 | CD GLAD MUSIC CD-7014 (US) | | A DAY WITH REMINGTON - Jimmy DAY with Herb REMINGTON - San Antonio Rose / Coconut Grove / Boot Heel Drag / Steel Guitar Waltz / Remington Ride / Time Changes Everything / Bowman Hop / Jean Street Swing / Right Or Wrong / Milk Cow Blues / Lonesome |
© Rocky Productions 18/01/2013