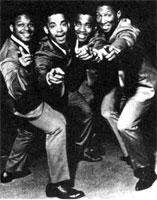 Groupe Doo Wop US, formé à Chicago en 1956, d'abord sous le nom de Five Sparrows puis de Velvetiers (1957) et enfin en 1958 en Daylighters. Le groupe comprenait : Levi Moreland, George Wood, Dorsey Wood, Tony Gideon et Eddie Thomas.

The Daylighters -- not to be confused with the Texas blues band of the same name -- was a male soul Vocals group of the '60s based in Chicago. The Birmingham, AL-born group was started by high school student Tony Gideon in the mid-'50s. Seeking fame and fortune, Gideon, Eddie Thomas, George and Dorsey Wood, and Levi Moreland moved to Chicago, IL, in 1958. Two months later, Moreland returned to Alabama. WGES radio DJ George "G.G." Graves introduced him to record shop/record label/club owner Norvel "Cadillac Baby" Eatmon, who issued the group's first record "Mad House Jump" on his Bea and Baby label. Graves introduced them to guitarist/songwriter/producer and lead vocalist Gerald Sims in 1959. The group recorded the Dot Records-distributed single "Oh What a Way to Be Loved" b/w "Why You Do Me Wrong," issued in late 1961, and "Cool Breeze," issued in fall 1962. The Daylighters briefly teamed with singer Betty Everett ("The Shoop Shoop Song [It's in His Kiss]") recording a single for Carl Jones' CJ Records, "Why Did You Have to Go" b/w "Please Come Back."
The Daylighters also recorded sides with producer Don Talty (Phil Upchurch Combo's 1961 "You Can't Sit Down," Jan Bradley's 1963 "Mama Didn't Lie"). Group member Charles "Chuck" Colbert Jr.'s father gave the group money to buy the recording masters from Talty and helped to start the Nike Records label in 1961. Daylighters founding member Tony Gideon worked as one of the label's promotion men before being drafted into the armed services. In late 1961, The Daylighters' debut Nike single "This Heart of Mine" was released. The second single, "Cool Breeze," arranged by Johnny Pate (Curtis Mayfield and the Impressions) was a local and regional hit, gaining some airplay on pop stations. Sims left the group and began recording as a solo artist with OKeh Records' Chicago branch head/producer Carl Davis (Major Lance, Walter Jackson, Billy Butler, Otis Leavill). Instead of getting a deal with the OKeh subsidiary, Sims was signed to the mother label, Columbia Records. "Cool Breeze" was reissued as the first Gerald Sims single. Meanwhile, The Daylighters, now consisting of a returning Tony Gideon, Thomas, Colbert, and former Dolphins members Curtis Burrell and Ulysses McDonald, continued to record for Nike, releasing "Bottomless Pit" b/w "I Can't Stop Crying," which received massive local radio play in late 1963. Around the same time, the group's ode to a popular dance craze, "Oh Mom (Teach Me How to Uncle Willie)," got airplay. Another single, "Whisper of the Wind," was picked up by VeeJay Records and issued on their Tollie imprint in late 1964. Not long after, The Daylighters issued their last single, "For My Baby," and then disbanded.
Other Daylighters singles were "Tell Me Before I Go" b/w "What About Me" on Smash and "You're Breaking My Heart" on Bea and Baby.
Talents : Charles "Sparrow" Boyd : Baritone - George Wood : Baritone - Dorsey Wood : Tenor & Lead - Tony Gideon : Second Tenor & Lead - Eddie Thomas : bass.
Style musical : Doo Wop, Rhythm 'n' Blues
Years in activity :
| | | | | | | | | | | | |
| --- | --- | --- | --- | --- | --- | --- | --- | --- | --- | --- | --- |
| 1910 | 20 | 30 | 40 | 50 | 60 | 70 | 80 | 90 | 2000 | 10 | 20 |
DISCOGRAPHY
Singles
09/1959
SP BEA & BABY 103 (US)
Mad House Jump

/ You're Breaking My Heart

1960
SP C. J. 611 (US)
Bettie EVERETT & The DAYLIGHTERS

- Why Did You Have To Go / Please Come Back

1960
SP NIKE 1011 (US)
This Heart Of Mine

/ Bear Mash Stomp

1961
SP NIKE 10011 (US)

Why Do You Do Me Wrong / ?

1962
SP TIP TOP 2001 (US)
Oh What A Way To Be Loved

/ Why You Do Me Wrong

1962
SP DOT 16326 (US)
Oh What A Way To Be Loved

/ Why You Do Me Wrong

1962
SP TIP TOP 2002 (US)

Cool Breeze / Baby I Love You

1963
SP CHECKER 1051 (US)

No One's Gonna Help You / War Hoss Mash

1963
SP TIP TOP 2006 (US)
CHUCK & The DAYLIGHTERS - I Can't Stop Crying / Bottomless Pit
1963
SP TIP TOP 2007 (US)

Whisper Of The Wind / I Can't Stop Crying

1964
SP C. J. 614 (US)
Tough Love

/ Sweet Rockin' Mama

1964
SP TIP TOP 2008 (US)

Oh Mom (Teach Me How To Uncle Willie) / Hard Headed Girl

1964
SP TIP TOP 2009 (US)

Magic Touch / I Can't Stop Crying

1964
SP TOLLIE 9028 (US)
Whisper Of The Wind / Here Alone
05/1965
SP TIP TOP 2010 (US)

For My Baby / Sweeter

1965
SP ASTRA 1001 (US)

This Heart Of Mine / Bear Mash Stomp

1966
SP SMASH S-2040 (US)

Tell Me (Before I Go) / What About Me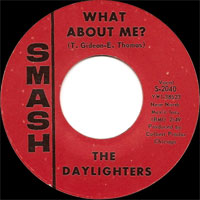 © Rocky Productions 4/07/2005