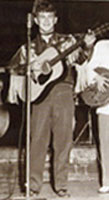 Chanteur Rock 'n' Roll US né le 21 Mars 1938 dans une ferme à Council Bluff (Iowa) et installé à Honey Creek (Iowa). Don Deal était un ami proche d'Eddie Cochran. Il est décédé le 12 Juin 2009.



Don Deal born in Council Bluffs, Iowa, March 21, 1938. Don Deal was a close friend of Eddie Cochran. The Deal family moved to California during 1952, first living in Bell, before later relocating to a house on Ajax Avenue, Bell gardens. Don soon found work as an assistant at Bert keiffer's music store, where he later met and became close friends with Eddie. Talent scout Smoky Rodgers was impressed with Don and brought him to San Diego, where he performed at the Bostonian Ballroom three nights a week. As Eddie and Don were living in the same area, they would often meet at aeach others homes and play music, sing each other new songs they had written. Don Deal: "I really liked Eddie, he was a very clean-cut boy. When I first met him he was like the rest of us, playing country music. I never got into rockabilly like he did, until I started writing songs and got my recording contract. He had what you call 'star-itus', I guess just like the rest of us - maybe more so, because he was very ambitious. He wanted to be a star and I'm thankful he got to enjoy at least a little of that." The Cochran Brothers possibly backed Don Deal on the Cash single 'Cryin' In One Eye' and 'Broken-Hearted Fellow'. Eddie Cochran played on Don Deal's 'My Blind Date' and 'Don't Push'.
His first single on Era "Unfaithful Diane," was a huge success when released in July 1957. Later releases didn't proof that succesful but Don continued to play a role in the growth of country music during the late '50s and early '60s. While he had a regional hit with "A-11," his first single after signing with Capitol in 1958, and continued to record after switching to MGM, sales of his recordings fell short of commercial expectations. Despite numerous performances at sock hops and an appearance on American Bandstand, Deal is best remembered for penning tunes covered by Eddie Arnold, Sonny James, Hank Snow, Perry Como, Dean Martin, and Michael Parks.
Don Deal died June 12, 2009.
Talents : Vocals, Guitar
Style musical : Rock 'n' Roll
| | |
| --- | --- |
| UNFAITHFUL DIANE (1957) | |
Years in activity :
| | | | | | | | | | | | |
| --- | --- | --- | --- | --- | --- | --- | --- | --- | --- | --- | --- |
| 1910 | 20 | 30 | 40 | 50 | 60 | 70 | 80 | 90 | 2000 | 10 | 20 |
DISCOGRAPHY
Singles
| | | |
| --- | --- | --- |
| 1956 | SP CASH 1028-45 (US) | Cryin' In One Eye / Broken Hearted Fellow |
| 07/1957 | SP ERA 45-1039 (US) | Unfaithful Diane / Devil Of Deceit |
| 11/1957 | SP ERA 45-1051 (US) | My Blind Date / Even Then |
| 02/1958 | SP ERA 45-1060 (US) | You'd Look Good With A Tear In Your Eye / She Was Here, But She's Gone |
| 06/1958 | SP ERA 45-1070 (US) | The First Teen-Ager / Sweet Love |
| 07/1958 | SP ERA 45-1077 (US) | A Chance Is All I Ask / Just Thought I'd Call |
| 01/1963 | SP CAPITOL 4901 (US) | How Do You Lie To A Heart / Ain't Gonna Try Anymore |
| 08/1963 | SP CAPITOL 5028 (US) | A-11 / You'll Get Use To Being Lonely |
| 05/1964 | SP MGM K13235 (US) | Lyin' Again / After The Boy Gets The Girl |
| 1965 | SP SAGE 45-432 (US) | You Make It Summer All Winter Long / Drop At A Time |
| 1965 | SP SAGE 45-438 (US) | So What! / Our Last Night |
| 1968 | SP CHALLENGE 59389 (US) | A Piece At A Time / Love Touched Me |
| 200? | SP DONJIM 1222 (US) | Somewhere / First Thing Every Morning |
| 200? | EP DONJIM 1225 (US) | Don DEAL - THE SIXTYS - A-11 / You'll Get Use To Being Lonely / After The Boy Gets The Girl / Lyin' Again |
Unissued tracks
| | | |
| --- | --- | --- |
| 1957 ? | ERA unissued - (Ace CD 1 (#7) / Ace LP 1 (#2) / Chiswick LP 1 (#2) / Rockstar CD 028 (#13)) | Don't Push [Era vers.] |
| 1957 ? | ERA unissued - (Rockstar CD 028 (#14)) | Wandering Wanderer |
| 1957 | Unissued - (Rockstar CD 028 (#33)) | A Chance Is All I Ask [alt. vers.] |
| 1957 | Unissued - (Rockstar CD 028 (#31)) | Deceiving Doreen |
| 1957 | Unissued - (Rockstar CD 028 (#25)) | Don't Push [vers. 1] |
| 1957 | Unissued - (Rockstar CD 028 (#35)) | Don't Push [vers. 6] |
| 1957 | Unissued - (Rockstar CD 028 (#32)) | The Four Seasons |
| 1957 | Unissued - (Rockstar CD 028 (#27)) | Goofin' Around [vers. 2] |
| 1957 | Unissued - (Rockstar CD 028 (#34)) | Goofin' Around [vers. 3] |
| 1957 | Unissued - (Rockstar CD 028 (#29)) | Left Out |
| 1957 | Unissued - (Rockstar CD 028 (#26)) | No Pride |
| 1957 | Unissued - (Rockstar CD 028 (#30)) | Sweet Love [alt. vers.] |
| 1957 | Unissued - (Rockstar CD 028 (#28)) | Whistlin' In The Dark |
| 19?? | Unissued - (Rockstar CD 028 (#16)) | At Times Like This |
| 19?? | Unissued - (Rockstar CD 028 (#24)) | Blue Moon |
| 19?? | Unissued - (Rockstar CD 028 (#22)) | Everybody's Laughin' |
| 19?? | Unissued - (Rockstar CD 028 (#18)) | Half Of The Time |
| 19?? | Unissued - (Rockstar CD 028 (#20)) | I Wish I Had Met You A Long Time Ago |
| 19?? | Unissued - (Rockstar CD 028 (#17)) | It's A Blue Moon |
| 19?? | Unissued - (Rockstar CD 028 (#23)) | Love Bird |
| 19?? | Unissued - (Rockstar CD 028 (#15)) | Passion |
| 19?? | Unissued - (Rockstar CD 028 (#19)) | Storing Up All My Dreams |
| 19?? | Unissued - (Rockstar CD 028 (#21)) | True Blue |
Albums
1997
CD DONJIM 1216 (US)

TRIBUTE TO WYNN STEWART -

Second Best / When / Thanks To You / I Don't Change My Mind Overnight / Keeper Of The Keys / My Good Things Gone / Sing A Sad Song / Above And Beyond / Pretty World
1998
CD DONJIM 1217 (US)

STRAIGHT AHEAD -

A Little Bit Of Smoke / Beautiful Means You / Am I That Easy To Forget / Sweet Red Wine / I See It In Your Eyes / It Never Hurts / I Wanna Be Happy / Think Of Me / The Sun Is Shinin' / Standing In Your Shadow / Holdin' On To Nothin' / My Home Town
2001
CD DONJIM 1223 (US)

FROM TIME TO TIME -

Lyin' Again / Old Fashioned Ways / Down At The Pawn Shop / If Down Was Up;Just Because The Sun Is Shining (Don't Mean It's A Sunny Day) / I'm In Love / A-11 / Love Me Like That / By Gone / Meet Me At The Altar
200?
CD DONJIM 1224 (US)

SOMETHING OLD, SOMETHING NEW -

Tearsdtops In The Rain / I'm Out Of Place / Deal All To Be Music / It's My Lazy Day / Teach Me / Anybody Want A Heart / Blueberry Hill / Always / Jesus Love Is Everywhere / Harbor Light / Liven Free / Taneyville / Love Bug
2006
CD ROCKSTAR RSRCD 028 (UK)

THE EARLY RECORDINGS 1956-1958 -

Cryin' In One Eye / Broken-Hearted Fellow / Unfaithful Diane / Devil Or Deceit / My Blind Date / Even Then / You'd Look Good With A Tear In Your Eye / She Was There, But She's Gone / The First Teenager / Sweet Love / A Chance Is All I Ask / Just Thought I'd Call / Don't Push / Wandering Wanderer / Passion / At Times Like This / It's A Blue Moon / Half Of The Time / Storing Up All My Dreams / I Wish I Had Met You A Long Time Ago / True Blue / Everbody's Laughin' / Love Bird / Blue Moon / Don't Push (take 1) / No Pride (take 2) / Goofin' Around (take 2) / Whistlin' In The Dark (take 1) / Left Out (take 3) / Sweet Love (take 5) / Deceiving Doreen (take 3) / The Four Seasons / A Chance Is All I Ask / Goofin' Around / Don't Push (take 6)
2008
CD DONJIM ? (US)
MY FATHERS VOICE - My Fathers Voice / It Is No Secret / My New Landlord / Swing Low / Just A Closer Walk With Thee / Mansion Over The Hill Top / (Come) Just As You Are To Worship / In The Garden / Love Your Neighbor / Where You There
© Rocky Productions 22/01/2013