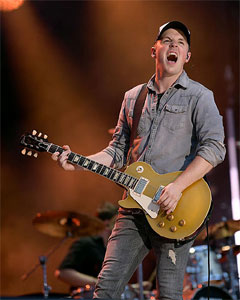 US Country singer né le 1er Décembre 1992 à Warner Robins (Georgie).

A country singer and songwriter with an appetite for hard rock and cold beer, Georgia-born Travis Denning mixes Southern twang with loud electric guitars as he spins tales of wild nights in small towns. Denning fell in love with music when he was seven years old, and nine years later he started playing shows in his hometown. Dropping his first single in 2012, he headed to Nashville two years later. Once he made an impression as songwriter, he signed a record deal, and his first major-label single, "David Ashley Parker from Powder Springs," came out in March 2018.
Travis Denning was born on December 1, 1992, and he grew up in Warner Robins, Georgia, not far from Macon in the central part of the state. When he was seven years old, Denning was riding with his father in his truck when AC/DC came on the stereo. From that moment on, he became an omnivorous music fan, with a special fondness for country music, hard rock, and pop. By the time he was 11 years old, Denning had learned to sing and play guitar, and at 16 he began performing regularly at local watering holes, despite the fact he wasn't old enough to drink. He took up songwriting just as he began playing out, and in 2012, he released his first independent single, a rowdy celebration of partying called "Ready for Tonight."
Eager to take his career to the next level, Denning relocated to Nashville in early 2014, and before the year was out, he'd finalized his first publishing deal, with RED Creative Group. Denning made a name for himself as a songwriter, with Jason Aldean, Justin Moore, and Chase Rice all recording his compositions. He began promoting his work as a performer, singing at Nashville honky tonks and posting performance footage and interviews on social media platforms. In 2017, Universal Music Group signed Denning to a recording contract, assigning him to their Mercury Nashville imprint, and he was soon opening shows for Lanco, as well as his colleagues Moore and Rice. Denning's first single for Mercury Nashville was "David Ashley Parker from Powder Springs," the story of a teenager trying to take on the identity of the guy on his fake ID, released in March 2018. The following year saw Denning issue the boozy single "After a Few," which appeared on his debut EP, 2020's Beer's Better Cold.
https://en.wikipedia.org/wiki/Travis_Denning
Talents : Vocals, Guitar
Style musical : Contemporary Country, Country-Pop

https://www.youtube.com/watch?v=3_VVK45qe2c
Years in activity :
| | | | | | | | | | | | |
| --- | --- | --- | --- | --- | --- | --- | --- | --- | --- | --- | --- |
| 1910 | 20 | 30 | 40 | 50 | 60 | 70 | 80 | 90 | 2000 | 10 | 20 |
DISCOGRAPHY
EP
| | | | |
| --- | --- | --- | --- |
| 20?? | CD NOT ON LABEL ? (US) | | All I Need / Everything That I Am / Just Jaded / Boy On The Run / No Town / Once In Your Life |
| 2018 | CD MERCURY ? (US) (promo) | | Est 92 - Heartbeat Of A Small Town / Goodyears / David Ashely Parker From Powder Springs / Jack And Coke |
| 05/2020 | CD MERCURY B0031989-02 (US) | | Beer's Better Cold - Where That Beer's Been / After A Few / Abby / Tank Of Gas And A Radio Song / Beer's Better Cold / Sittin' By A Fire |
| 2020 ? | CD MERCURY ? (UK) (promo) | | David Ashley Parker From Powder Springs / After A Few / Tank Of Gas And A Radio Song |
© Rocky Productions 24/07/2021