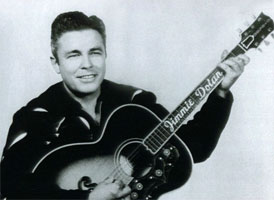 Chanteur Country US né le 29 Octobre 1916 à Gardena (Californie). "Ramblin'" Jimmie Dolan a débuté sur une radio de Saint-Louis, avant de faire son service militaire dans la Navy. En 1949, il enregistre son premier disque pour Capitol Records, puis il passera chez Modern et Four Star Records. "Ramblin'" Jimmie Dolan est décédé le 31 Juillet 1994.

Ramblin' Jimmie Dolan's tenure in the music business goes back to the days when records ran at 78 rpm, but he was still around when the adolescent obsession was souped-up cars known as hot rods. A car would certainly be convenient if one were trying to ramble, and indeed this artist, kind of half hillbilly and half Western swing, seems to have acquired much glory through his connection with the world of hot rods, glorified for the couch-bound audio hound on compilations such as Drag City. Dolan was one of four performers to do a cover version of the song "Hot Rod Race," originally written and recorded by George Wilson. That song in turn inspired an even more popular ditty from the heart of honky tonk culture, "Hot Rod Lincoln." Through the rear-view mirror it seems the hot rod helped Dolan arrive at a cherished spot in music history: i.e., getting to appear on compilation sets with the likes of Robert Mitchum. It is all pretty good for a guy whose decision to go hot rod may not have been that heartfelt.
Jimmie Dolan (or Ramblin' Jimmie Dolan, as he was sometimes called) remains one of the most important and elusive figures in rockabilly music, a half-century after he made his contribution and more than a decade after one of the few indisputable facts surrounding life -- his death, in the summer of 1994. He always claimed for legal purposes that he was born Jimmie Lee Dolan, and was born in 1924 in (at different times in his life) Texas, Oklahoma, or Wyoming, but The Encyclopedia of Country Music pegs his birth name as Lee Roy Petit, his year of birth as 1916 (which would make him one of the oldest contributors to 1950s rock & roll), and his place of birth as Gardenia, CA. The 1916 birth date might make more sense, in terms of his apparent desire, manifested at age 14 when he took up the guitar, to be a singing cowboy. He later worked at radio station KWK in St. Louis, MO, broadcasting regularly until he entered the Navy in the early '40s.
Dolan honed his skills and his persona entertaining his fellow sailors during his four years in uniform, and was lucky enough to spend the final months of WWII stationed in Los Angeles, which allowed him to reintegrate himself to the music scene there, and start cultivating a civilian career. By 1946 he was singing on KXLA in Los Angeles and had his first recording contract soon after, for Four Star Records, which, thanks to a delay, didn't start seeing the light of day until 1948 -- the latter included a cover of Ernest Tubb's then recent hit "I'm Walkin' the Floor Over You." Meanwhile, Dolan was building up a loyal following on the air with his warm, easygoing persona and voice, and his self-effacing manner. He was signed at various moments in the late '40s to the Bihari Brothers' Modern Records and also to Crystal Records for one single, before joining Capitol Records' roster in 1949. Dolan's Capitol sides featured such top session players as Merle Travis and Charlie Aldridge on guitar, and were beautifully spare productions, with no pop music pretensions or other embellishments. What's more, the Capitol sessions showcased the singer/guitarist's limited but occasionally significant talent as a songwriter. He had to wait until 1950 for his first hit, a version of the Moon Mullican song "I'll Sail My Ship Alone," which featured lead guitarist Porky Freeman along with his usual sidemen Wade Ray on fiddle and Freddie Tavares playing steel guitar.
Most of Dolan's '50s sides were devoted to covers of others' songs, including renditions of numbers written by Rex Griffin and Lefty Frizzell, and in November of 1950 he came up a winner with his version of "Hot Rod Race," a track authored by George Wilson, which had previously been recorded by Arkie Shibley. That record constituted one half of Dolan's major legacy -- dating from the same period as (but a couple of years earlier than) "Rocket 88" by Jackie Brenston, it was a years' premature rockabilly-style single that would have slotted in perfectly with the rock & roll boom if there had been one to ride at the time. As it is, Dolan's sides -- cut with the likes of Jimmy Bryant, Speedy West, Billy Strange, and Cliffie Stone, among other renowned session players and country virtuosi -- continued to attract a country audience well into the mid-'50s, treading a fine line between Western swing, honky tonk, and traditional country, with the occasional novelty song thrown in. "I'll Hate Myself Tomorrow" and "Wham Bam Thank You Mam" seem like two sides of the same set of soiled sheets as presented on the A- and B-side of a 45 single, respectively. Also worth mentioning is Dolan's connection to the fascinating subject of people getting whacked over the heads with guitars. The song "Playin' Dominoes and Shootin' Dice," another of Dolan's efforts on the outer edges of rockabilly, is a description of a "guitar picker (who) lived a life of wine and liquor." This doesn't suit his girlfriend, who retaliates with an "el kabong." These passages written by Dolan should make him a favorite among guitarists: "Then his old guitar, she swung it/For his head, she really hung it/Bruises, knots, and bumps began to rise."
He enjoyed a fairly lucrative stage career on the West Coast, marred only by some of his more boisterous and overbearing behavior at clubs. According to those who knew him, the primary reason for Dolan's problems stemmed from a severe lack of confidence in his appeal and talent. He was, at best, a limited guitarist, which was sometimes a virtue in his earlier sides, and his Vocals delivery developed a weightiness and ponderousness as his career progressed -- with a little flexibility and imagination (and especially with his background as an announcer), he might have slipped into a recording career similar to that of J.P. "Big Bopper" Richardson, with the right songs and producer to work with. Evidently, he lacked the impetus and ambition, and it was no accident that Dolan gave up his singing career when rock & roll came along, perhaps recognizing that, much more than the over-30 Bill Haley, he would never be able to find a niche among younger listeners. His last session in November of 1955, however, offered one of the most potent examples of country music rubbing up against rock & roll, in "Black Denim Trousers and Motorcycle Boots" -- the Leiber & Stoller song became Dolan's other major contribution to the new music, and, along with "Hot Rod Race," was one of two sides of his that have gotten licensed and reissued on country-based rock & roll anthologies in the decades since.
Not much is known about Dolan's life during the 39 years that he lived after walking away from Capitol and the music business. He may have performed occasionally, and how he earned his living is a mystery -- the only thing known for sure is that he died on July 31, 1994, at age 77.
https://en.wikipedia.org/wiki/Jimmie_Dolan
Talents : Vocals, Guitar
Style musical : Traditional Country, Honky Tonk
Years in activity :
| | | | | | | | | | | | |
| --- | --- | --- | --- | --- | --- | --- | --- | --- | --- | --- | --- |
| 1910 | 20 | 30 | 40 | 50 | 60 | 70 | 80 | 90 | 2000 | 10 | 20 |
DISCOGRAPHY
78 t. & Singles
10/1947
78 t. MODERN 20-531 (US)
Jimmie DOLAN & His TEXAN RAMBLERS - The Memory Of Last Goodbye / Baby Did You Lie To Me
11/1947
78 t. MODERN 20-540 (US)
Jimmie DOLAN & His TEXAN RAMBLERS - One True Love / I Knew You Were Foolin' All Along
11/1947
78 t. MODERN 20-541 (US)
Jimmie DOLAN & His TEXAN RAMBLERS - If You Care Again / When Love Is Not Here
11/1947
78 t. MODERN 20-542 (US)
Jimmie DOLAN & His TEXAN RAMBLERS - One Million Railroad Ties From Home / Why I'm Wondering Now
04/1948
78 t. MODERN 20-576 (US)
Jimmie DOLAN & His TEXAN RAMBLERS - Tennessee Baby / Spanish Bells
09/1948
78 t. FOUR STAR 1272 (US)
You Will Have To Pay / I'd Rather Be Living Alone
1948
78 t. COLONIAL 100 (US)
The Sooner Song / You'll Be Crawlin' Home To Me
1949
78 t. MODERN 20-1024 (US)
Walkin' The Floor Over You / You' re Mine Today
08/1949
78 t. CAPITOL 57-40213 (US)
Tennessee Baby / Goodbye, My One And Only
11/1949
78 t. CAPITOL 57-40261 (US)
All Alone In Texas / I'm Gonna Whittle You Down To Size
1949
78 t. CRYSTAL 222 (US)
Roy Land's Theme Song / Red River Valley
12/1949
78 t. CAPITOL 40287 (US)
Who's Kiddin' Who / I Ain't Gonna Bring My Bacon Home To Yo
12/1949
SP CAPITOL F40287 (US)
Who's Kiddin' Who / I Ain't Gonna Bring My Bacon Home To Yo
04/1950
78 t. CAPITOL 952 (US)

I'll Sail My Ship Alone / It Had To Come Someday

04/1950
SP CAPITOL F952 (US)

I'll Sail My Ship Alone / It Had To Come Someday

08/1950
78 t. CAPITOL 1150 (US)

I'll Hate Myself Tomorrow /

Wham Bam, Thank You Ma'am

08/1950
SP CAPITOL F1150 (US)

I'll Hate Myself Tomorrow /

Wham Bam, Thank You Ma'am

10/1950
78 t. CAPITOL 1245 (US)

I've Got The Craziest Feeling /

Load Of Trouble

10/1950
SP CAPITOL F1245 (US)

I've Got The Craziest Feeling /

Load Of Trouble

11/1950
78 t. CAPITOL 1302 (US)

R.F.D Blues / I'll Make Believe

11/1950
SP CAPITOL F1302 (US)

R.F.D Blues / I'll Make Believe

12/1950
78 t. CAPITOL 1322 (US)
Hot Rod Race

/ Walkin' With The Blues
12/1950
SP CAPITOL F1322 (US)
Hot Rod Race

/ Walkin' With The Blues
1951
78 t. MODERN 20-798 (US)
Shadow Of Your Love / You'll Be Crawlin' Home To Me
1951
78 t. MODERN 20-799 (US)
I Knew You Were Foolin' All Along / One Million Railroad Ties From Home
02/1951
78 t. CAPITOL 1371 (US)

Many's The Time / Lost Love Blues

02/1951
SP CAPITOL F1371 (US)

Many's The Time / Lost Love Blues

03/1951
78 t. CAPITOL 1423 (US)

I Always Play A Losing Hand / Wine, Women And Pink Elephants

03/1951
SP CAPITOL F1423 (US)

I Always Play A Losing Hand / Wine, Women And Pink Elephants

04/1951
78 t. CAPITOL 1487 (US)

The Spider And The Fly /

I'm Alone

04/1951
SP CAPITOL F1487 (US)

The Spider And The Fly /

I'm Alone

1951
78 t. CAPITOL 1633 (US)
Hot Rod Race

/

I'll Sail My Ship Alone

1951
SP CAPITOL F1633 (US)
Hot Rod Race

/

I'll Sail My Ship Alone

08/1951
78 t. CAPITOL 1720 (US)
Juke Box Boogie

/ Sailor's Blues
08/1951
SP CAPITOL F1720 (US)
Juke Box Boogie

/ Sailor's Blues
10/1951
78 t. CAPITOL 1832 (US)

Until I Die / That Last Love Letter

10/1951
SP CAPITOL F1832 (US)

Until I Die / That Last Love Letter

02/1952
78 t. CAPITOL 1970 (US)

Stingy / Trade Winds Never Lie

02/1952
SP CAPITOL F1970 (US)

Stingy / Trade Winds Never Lie

03/1952
78 t. CAPITOL 2006 (US)

Got My Heart Set On You / There's A Blue Sky Way Out Yonder

03/1952
SP CAPITOL F2006 (US)

Got My Heart Set On You / There's A Blue Sky Way Out Yonder

06/1952
78 t. CAPITOL 2118 (US)

Rack Up The Balls, Boys /

Rubber Ball Heart

06/1952
SP CAPITOL F2118 (US)

Rack Up The Balls, Boys /

Rubber Ball Heart

11/1952
78 t. CAPITOL 2244 (US)
Hot Rod Mama / Nicotine Fits
11/1952
SP CAPITOL F2244 (US)
Hot Rod Mama / Nicotine Fits
02/1953
78 t. CAPITOL 2367 (US)
Playin' Dominoes And Shootin' Dice /

Memories And Heartaches

02/1953
SP CAPITOL F2367 (US)
Playin' Dominoes And Shootin' Dice /

Memories And Heartaches

05/1953
78 t. CAPITOL 2482 (US)

The Wheel That Does The Squeakin' /

I Can't Run Away

05/1953
SP CAPITOL F2482 (US)

The Wheel That Does The Squeakin' /

I Can't Run Away

01/1954
78 t. CAPITOL 2713 (US)

Tool Pusher On A Rotary Rig / If I Could Look Inside

01/1954
SP CAPITOL F2713 (US)

Tool Pusher On A Rotary Rig / If I Could Look Inside

06/1954
78 t. CAPITOL 2830 (US)

Look-A-Here, Baby /

I'll Never Go Sailing Again

06/1954
SP CAPITOL F2830 (US)

Look-A-Here, Baby /

I'll Never Go Sailing Again

10/1954
78 t. CAPITOL 2977 (US)

A Sailor's Letter /

I Wonder If I Can Lose The Blues This Way
10/1954
SP CAPITOL F2977 (US)

A Sailor's Letter /

I Wonder If I Can Lose The Blues This Way
1955
SP CAPITOL F3150 (US)

What's Another Broken Heart / Jolly Captain Huddlestead

10/1955
SP CAPITOL F3254 (US)
Black Denim Trousers And Motorcycle Boots / You Don't Love Me
Albums
1994
LP 12" COWGIRLBOY LP 5117 (GER)

I'LL SAIL MY SHIP ALONE -

Playin' Dominoes And Shootin' Dice / Memories And Heartaches / Wham Bab Thank You Ma'am / I'll Hate Myself Tomorrow (For Loving You Tonight) / I'll Sail My Ship Alone / It Had To Come Someday / I'll Never Go Sailing Again / Look-A-Here Baby / Juke Box Boogie / Sailor's Blues / Wine, Women And Pink Elephants / I Always Play A Losin' Hand / You'll Be Crawlin' Home To Me / Shadow Of Your Love / Rack Up The Balls Boys / Rubber Ball Hear
1995
LP 12" COWGIRLBOY LP 5136 (GER)
HOT ROD RACE - Hot Rod Mama / Nicotine Fits / I Can't Run Away / Tradewinds Never Lie / One Million Railroad Ties / RFD Blues / I'll Make Believe / A Load Of Trouble (And A Worried Mind) / Hot Rod Race / The Spider And The Fly / I've Got The Craziest Feeling / Jolly Captain Huddlestead / What's Another Broken Heart / You Don't Love Me (But I'll Always Care) / Black Denim Trousers And Motor Cycle Boots / A Sailor's Letter
12/2000
CD BEAR FAMILY BCD 19192 (GER)
JUKE BOX BOOGIE - Hot Rod Race / Look-A Here, Baby / Who's Kiddin' Who / Juke Box Boogie / Nicotine Fits / Tennessee Baby / I'll Never Go Sailing Again / Playin' Dominoes And Shootin' Dice / All Alone In Texas / Tool Pusher On A Rotary Rig / I Wonder If I Can Lose The Blues This Way / Jolly Captain Huddlestead / It Had To Come Someday / RFD Blues / Hot Rod Mama / Good-Bye My One And Only / One Diamond Ring / Rack Up The Balls Boys / I Ain't Gonna Bring My Bacon Home to You / Load Of Trouble (And A Worried Mind) / Wheel That Does The Squeakin' / Washed Away With The Tide / Wine, Women And Pink Elephants / I'm Gonna Whittle You Down To Size / You Ought To See My Sunshine / Wham! Bam! Thank You Ma'am / Lost Love Blues / I'm Alone Because I Love You / I'll Sail My Ship Alone / Sorrows I Can't Hide / Black Denim Trousers and Motorcycle Boots
© Rocky Productions 22/03/2013