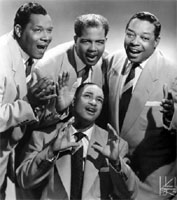 Groupe Vocals US formé en 1952 à New York, les Du-Droppers étaient composés de J.C. Ginyard, Harvey Ray, Willie Ray et Bob Kornegay. Ils ont aussi enregistré sous les noms de Valiants et Bells. Les Du-Droppers se sont séparés en 1955.

New York's Du Droppers managed to score two Top Five hits during their short run: "I Wanna Know" (number three R&B) and "I Found Out (What You Do When You Go Round There)" (number three pop). The original members were Caleb Ginyard -- aka "J.C." or sometimes "Junior" -- on lead, brothers Willie Ray and Harvey Ray on tenor and baritone, respectively, and Eddie Hashow on bass (who was soon replaced by Bob Kornegay). They began as a gospel group in 1952; each member had been in previous gospel groups (including the Royal Harmony Singers, the Dixie-Aires, the Jubilaires, and the Southwest Jubilee Group). The Du Droppers began performing R&B Vocals-group songs and soon auditioned for record producer Bobby Robinson and DJ Joel Turnero, both owners of the Harlem-based label and record shop Red Robin.
Their first record, "Can't Do Sixty No More," released by the group in December 1952, was an "answer" record to the massively popular Dominoes hit, "Sixty Minute Man." It earned the group instant popularity and airplay, but Red Robin let The Du Droppers slip through their fingers; soon the group was recording for RCA Victor, one of the major labels looking to break out in the fast growing field of R&B. In mid-March of 1953, their next single, "I Wanna Know," made a huge impact and climbed to number three.
In June 1953, The Du Droppers released the follow-up to their RCA smash, and "I Found Out (What You Do When You Go Round There)" climbed to number three on the pop charts. Soon they were embarking on a late-summer tour of one-nighters through the South with the Joe Morris Blues Cavalcade. Subsequent singles, however, failed to generate much new interest in the group. In November, RCA paired the group with pop music singer Sunny Gale for a (now highly collectable) single, "Mama's Gone Goodbye." In 1954, The Du Droppers began recording for a new RCA subsidiary, Groove Records, which was meant to be strictly for R&B acts signed to the major label. Unfortunately, they failed to improve upon their track record and subsequent Groove singles saw them slipping from the charts.
In early 1955, Groove attempted to persuade Ravens' vocalist Joe Van Loan to join the group and help shake things up, but he was already under a personal service contract with Herald Records; while this was being sorted out, Charlie Hughes was brought in to sing lead on recordings only, though he wasn't allowed to perform with the group. Groove released another single and an EP, but The Du Droppers were unraveling even as it happened. In August, the label issued one last single, but soon thereafter, Junior Ginyard retreated back to gospel music, joining the Golden Gate Quartet, so the others decided to call it a day.
Talents : J.C. Ginyard : Lead Tenor - Harvey Ray : Baritone & Tenor - Willie Ray : Baritone & Tenor - Bob Kornegay : Bass
Style musical : Doo Wop, Rhythm 'n' Blues
Years in activity :
| | | | | | | | | | | | |
| --- | --- | --- | --- | --- | --- | --- | --- | --- | --- | --- | --- |
| 1910 | 20 | 30 | 40 | 50 | 60 | 70 | 80 | 90 | 2000 | 10 | 20 |
DISCOGRAPHY
Singles & EP
| | | | |
| --- | --- | --- | --- |
| 12/1952 | SP RED ROBIN 108X45 (US) | . | DU-DROPPERS - Can't Do Sixty No More / Chain Me Baby |
| 03/1953 | SP RCA VICTOR 47-5229 (US) | . | DU DROPPERS - I Wanna Know / Laughing Blues |
| 05/1953 | SP RCA VICTOR 47-5321 (US) | . | DU DROPPERS - I Found Out / Little Girl, Little Girl |
| 05/1953 | SP RED ROBIN 116 (US) | . | DU DROPPERS - Come On And Love Me Baby / Go Back |
| 08/1953 | SP RCA VICTOR 47-5425 (US) | . | DU DROPPERS - Whatever You're Doin' / Somebody Work On My Baby's Mind |
| 10/1953 | SP RCA VICTOR 47-5504 (US) | . | DU DROPPERS - Don't Pass Me By / Get Lost |
| 11/1953 | SP RCA VICTOR 47-5543 (US) | . | Sunny GALE & The DU DROPPERS - Mama's Gone, Goodbye / The Note In The Bottle |
| 02/1954 | SP GROOVE 0001 (US) | . | DU DROPPERS - Dead Broke / Speed King |
| 04/1954 | SP GROOVE 4G-0013 (US) | . | DU DROPPERS - Just Whisper / How Much Longer |
| 1954 | SP RCA VICTOR 47-5743 (US) | . | Sunny GALE & The DU DROPPERS - Goodnight, Sweetheart, Goodnight / Call Of The Wedding |
| 09/1954 | SP GROOVE 0036 (US) | . | DU DROPPERS - Let Nature Take It's Course / Boot 'em Up |
| 04/1955 | SP GROOVE 0104 (US) | . | DU DROPPERS - Talk That Talk / Give Me Some Consideration |
| 06/1955 | EP GROOVE EGA 2 (US) | | DU DROPPERS - Talk That Talk / I Wanna Know / I Only Had A Little / Honey Bunch |
| 07/1955 | EP GROOVE EGA 5 (US) | | DU DROPPERS - That's All I Need / Smack Dab In The Middle / Story Untold / Rollin' Stone |
| 08/1955 | SP GROOVE 0120 (US) | . | DU DROPPERS - You're Mine Already / I Wanna Love You |
| 1955 | SP RAMA 166 (US) | . | BELLS - What Can I Tell Her Now / Let Me Love, Love You |
| 1959 | SP JOY 235 (US) | . | VALIANTS - Let Me Go Lover / Let Me Ride |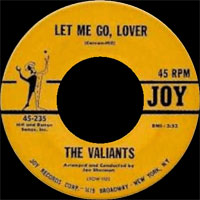 Unissued tracks
| | | |
| --- | --- | --- |
| 1953 | RCA VICTOR unissued | Balabam (DU-DROPPERS) |
| 1953 | RCA VICTOR unissued | Baby Don't Leave Me In This Mood (DU-DROPPERS) |
| 1953 | RCA VICTOR unissued | Train Keep Rolling On (DU-DROPPERS) |
| 1953 | RCA VICTOR unissued | Ten Past Midnight (DU-DROPPERS) |
| 1953 | RCA VICTOR unissued | My Thrill Girl (DU-DROPPERS) |
| 03/1954 | GROOVE unissued | I've Never Been There (DU DROPPERS) |
| 03/1954 | GROOVE unissued | You've Been Good To Everybody (DU DROPPERS) |
| 1954 | GROOVE unissued | You're Wrong (DU DROPPERS) |
| 1954 | GROOVE unissued | Drink Up (DU DROPPERS) |
| 1954 | GROOVE unissued | Had To Play My Number (DU DROPPERS) |
| 1954 | GROOVE unissued | If You Just Don't Leave (DU DROPPERS) |
| 19?? | Unissued | I Wanna Thank You (DU-DROPPERS) |
| 19?? | Unissued | Confusion Blues (backing up Big John GREER) |
Albums
1988
LP 12" DETOUR 33-009 (US)
BAMBALAM !! - THE BEST OF DOO WOP CLASSICS VOL. 1 - Drink Up / Honey Bunch / I Wanna Know / How Much Longer / Don't Pass Me By / Bambalam / If Only I Had A Little (fast version) / I Wanna Thank You / I Found Out / Give Me Some Consideration / You're Mine Already / Had To Play My Number / Let Nature Take Its Course / Drink Up (first recording) / Laughing Blues / My Thrill Girl / Little Girl Little Girl (You'd Better Stop Talking In Your Sleep) / Get Lost / If You Just Don't Leave / If Only I Had A Little (EP version)
09/1994
CD MR. R&B 805 (SWE)
CAN'T DO SIXTY NO MORE - Can't Do Sixty No More / Laughing Blues / Come On And Love Me Baby / Get Lost / Chain Me Baby (Blues Of Desire) / Go Back / Somebody Work On My Baby's Mind (The Seven Sisters) / Mama's Gone Goodbye / Honey Bunch / Don't Pass Me By / I Wanna Know / Whatever You're Doin' (Keep On Doin' It) / How Much Longer / I Wanna Love You / I Only Had A Little / You're Mine Already / The Note In The Bottle
04/1997
CD COLLECTABLES 5834 (US)
GOLDEN CLASSICS - Talk That Talk / Boot' Em Up / Honey Bunch / Dead Broke / Bambalam / Drink Up / I Wanna Know / Laughing Blues / I Found Out (What You Do When You Go 'Round' There) / Ten Past Midnight / My Thrill Girl / Just Whisper / You're Mine Already / Give Me Some Conideration / I Wanna Love You / Whatever You're Doin' (Keep Doin' It) / Don't Pass Me By
08/2005
CD ACROBAT

ACRCD 214

(UK)
BOOT EM UP - Can't Do Sixty No More / Chain Me Baby / Come On And Love Me Baby / Go Back / I Wanna Know / Laughing Blues / Get Lost / Little Girl Little Girl (You'd Better Quit Talking in Your Sleep) / I Found Out / My Thrill Girl / Ten Past Midnight / Bambalam / Don't Pass Me By / Drink Up / Speed King / Dead Broke / I Only Had A Little / I Only Had a Little (fast version) / How Much Longer / If You Just Don't Leave / Honey Bunch / Let Nature Take It's Course / Boot Em' Up
12/2012
2 CD JASMINE JASCD 225 (UK)
TALK THAT TALK! - THE ULTIMATE DU DROPPER 1952-1955 :

CD 1 : Can't Do Sixty No More / Chain Me Baby (Blues Of Desire) / Come On And Love Me Baby / Go Back / I Wanna Know / Laughing Blues / Don't Worry About It (DU DROPPERS feat. Big John GREER) / Ride Pretty Baby (DU DROPPERS feat. Big John GREER) / I Found Out / Little Girl, Little Girl (You'd Better Stop Talking In Your Sleep) / Whatever You're Doin' (Keep On Doin' It) / Somebody Work On My Baby's Mind / Don't Pass Me By / Get Lost / The Note In The Bottle (DU DROPPERS feat. Sunny GALE) / Mama's Gone, Goodbye / (DU DROPPERS feat. Sunny GALE) / Speed King / Dead Broke / How Much Longer / Just Whisper
CD 2 : Boot 'Em Up / Let Nature Take Its Course / Talk That Talk / Give Me Some Consideration / You're Mine Already / I Wanna Love You / I Only Had A Little / Honey Bunch / Smack Dab In The Middle / That's All I Need / A Story Untold / Confusion Blues (DU DROPPERS feat. Big John GREER) / My Thrill Girl / Bamalam / Drink Up / Ten Past Midnight / If You Just Don't Leave / I Only Had A Little [fast version]
© Rocky Productions 22/12/2021