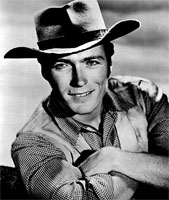 Acteur US né le 31 Mai 1930 à San Francisco (Californie). Parti de rien, il entre grâce à des amis à Universal où il interprète de petits rôles dans des séries B, puis l'un des rôles phares d'une longue série, Rawhide. Il se fait alors remarquer par Sergio Leone qui l'embauche pour sa trilogie de l'« Homme Sans Nom », appelée aussi trilogie du dollar. Devenu célèbre, il interprète de nombreux rôles, d'abord pour Universal, puis pour Warner Bros., notamment ceux de L'Inspecteur Harry, En 1968, il devient producteur avec la création de la société Malpaso et réalise son premier film en 1971 ( Un frisson dans la nuit). Avec plus de quatre-vingts films à son actif, parmi lesquels Impitoyable, Sur La Route De Madison ou Gran Torino, Eastwood est parmi les cinéastes les plus connus du monde entier.
D'abord connu pour ses rôles d'aliénés, moralement ambigus ou encore d'anti-héros dans des films d'action violents ou des westerns, puis pour ses rôles plus touchants, pour ses réalisations empruntes d'une esthétique qui lui est propre, Eastwood a été récompensé à de nombreuses reprises. Il a notamment remporté cinq Oscars et Golden Globe Awards, trois Césars, cinq People's Choice Awards, quatre Golden Globes et la Palme des Palmes au Festival de Cannes.
Peu avant les années 1960, il n'était pas rare qu'une célébrité de la télévision — comme l'était à l'époque Clint Eastwood — enregistre un album pour tester sa popularité. C'est ainsi qu'en 1963 Clint Eastwood franchit cette étape en enregistrant son premier album intitulé Rawhide's Clint Eastwood Sings Cowboy Favorites chez Cameo Records. Ce sont pour la plupart des reprises de morceaux connus. Cet album représente l'esprit de l'Amérique de l'époque.

Clinton "Clint" Eastwood, Jr. (born May 31, 1930) is an American film actor, director, producer, and composer. He has received five Academy Awards, five Golden Globe Awards, a Screen Actors Guild Award, and five People's Choice Awards—including one for Favorite All-Time Motion Picture Star.
Eastwood was initially known for his alienated, morally ambiguous, anti-hero acting roles in violent action and western films, particularly in the 1960s, 1970s, and 1980s. Following his role on the long-running television series Rawhide, he went on to star as the Man With No Name in Sergio Leone's Dollars trilogy and as Inspector Harry Callahan in the Dirty Harry film series. These roles have made him an enduring icon of masculinity. Eastwood is also known for his comedic efforts in Every Which Way but Loose (1978) and Any Which Way You Can (1980), his two highest-grossing films after adjustment for inflation.
For his work in the films Unforgiven (1992) and Million Dollar Baby (2004), Eastwood won Academy Awards for Best Director and for producer of the Best Picture and received nominations for Best Actor. These films in particular, as well as others such as Play Misty for Me (1971), The Outlaw Josey Wales (1976), Escape from Alcatraz (1979), In the Line of Fire (1993), The Bridges of Madison County, (1995) and Gran Torino (2008), have all received great critical acclaim and commercial success. He has directed most of his star vehicles as well as films he has not acted in, such as Mystic River (2003) and Letters from Iwo Jima (2006), for which he received Academy Award nominations. Certain parts of his film related material and personal papers are contained in the Wesleyan University Cinema Archives to which scholars and media experts from around the world may have full access.
He also served as the nonpartisan mayor of Carmel-by-the-Sea, California from 1986–1988, tending to support small business interests on the one hand and environmental protection on the other.
Eastwood is also a musician, pianist and composer. He composed the film scores of Mystic River, Grace Is Gone (2007), and Changeling, and the original piano compositions for In the Line of Fire. One of his songs can be heard over the credits of Gran Torino.
https://en.wikipedia.org/wiki/Clint_Eastwood
Talents : Actor, Productor, Singer, Piano, Composer
Style musical : Traditional Country, Country-Pop
ROWDY (1962)

TUMBLING TUMBLEWEEDS (1963)

SAN ANTONIO ROSE (1963)
Years in activity :
| | | | | | | | | | | | |
| --- | --- | --- | --- | --- | --- | --- | --- | --- | --- | --- | --- |
| 1910 | 20 | 30 | 40 | 50 | 60 | 70 | 80 | 90 | 2000 | 10 | 20 |
DISCOGRAPHY
Singles
| | | | |
| --- | --- | --- | --- |
| 1961 | SP GOTHIC GOX 005 (US) | | Unknown Girl Of My Dreams / For All We Know |
| 02/1962 | SP GNP CRESCENDO GNP 177 (US) | . | Get Yourself Another Fool / For You For Me For Evermore |
| 12/1962 | SP CAMEO C-240 (US) | | Cowboy Wedding Song / Rowdy |
| 07/1970 | SP CERTRON C-10010 (US) | | Burning Bridges / When I Loved Her |
| 1970 | SP PARAMOUNT 1C 006-91108 (GER) | | Wand'rin Star (Lee MARVIN) / I Talk To The Trees (Clint EASTWOOD) |
| 1970 | SP PARAMOUNT PARA 3004 (NOR) | | Wand'rin Star (Lee MARVIN) / I Talk To The Trees (Clint EASTWOOD) |
| 1970 | SP PARAMOUNT PARA 3004 (SW) | | Wand'rin Star (Lee MARVIN) / I Talk To The Trees (Clint EASTWOOD) |
| 04/1980 | SP ELEKTRA E-46634 (US) | | Bar Room Buddies (Merle HAGGARD & Clint EASTWOOD) / The Not So Great Train Robbery (Steve DORFF) |
| 1981 | SP ELEKTRA SPUN GOLD E-45114 (US) | . | Bar Room Buddies (Merle HAGGARD & Clint EASTWOOD) / The Not So Great Train Robbery (Steve DORFF) |
| 02/1984 | SP WARNER / CURB 7-29343 (US) | . | Make My Day (T.G. SHEPPARD & Clint EASTWOOD) / How Lucky We Are (T.G. SHEPPARD) |
| 1984 | SP WARNER / CURB BACK TO BCK HITS GWB 0485 (US) | . | Make My Day (T.G. SHEPPARD & Clint EASTWOOD) / Slow Burn (T.G. SHEPPARD) |
| 11/1990 | SP WARNER BROS. 7-19586 (US) | . | A Few Old Country Boys (Randy TRAVIS & George JONES) / Smokin' The Hive (Randy TRAVIS & Clint EASTWOOD) |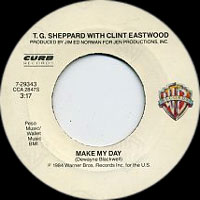 Albums
1963
LP 12" CAMEO C-1056 (mono) / SC-1056 (stereo) (US)
RAWHIDE'S CLINT EASTWOOD SINGS COWBOY FAVORITES -

Bouquet Of Roses / Along The Santa Fe Trail / The Last Round Up / Sierra Nevada / Mexicali Rose / Searching For Somewhere / I'll Love You More / Tumbling Tumbleweeds / Twilight On The Trail / San Antonio Rose / Don't Fence Me In / Are You Satisfied

2002
CD LASERLIGHT 21981 (GER)
COUNTRY FAVORITES - Bouquet Of Roses / Santa Fe Trail / The Round-Up / Sierra Nevada / Mexicali Rose / Searching For Someone To Love / I'll Love You More / Tumbling Tumbleweeds / Twilight On The Trail / San Antonio Rose / Don't Fence Me In / Are You Satisfied ? / For A Few Dollars More (The WESTERN SOUND ORCHESTRA) / The Good, The Bad And The Ugly (The WESTERN SOUND ORCHESTRA) / A Fistful Of Dollars (The WESTERN SOUND ORCHESTRA) / The Man With The Harmonica (The WESTERN SOUND ORCHESTRA)
06/2010
CD COLLECTOR'S CHOICE 21102 (US)
RAWHIDE'S CLINT EASTWOOD SINGS COWBOY FAVORITES -

Bouquet Of Roses / Along The Santa Fe Trail / The Last Round Up / Sierra Nevada / Mexicali Rose / Searching For Somewhere / I'll Love You More / Tumbling Tumbleweeds / Twilight On The Trail / San Antonio Rose / Don't Fence Me In / Are You Satisfied /

Rowdy / Cowboy Wedding Song
2014
2 CD Not Now Music ‎NOT2CD534 (UK)

The Singing Cowboys -

Clint

Eastwood &

Frankie

Laine

:

CD 1 : Clint EASTWOOD : Bouquet Of Roses / Along The Sante Fe Trail / The Last Round Up / Sierra Nevada / Mexicali Rose / Searching For Somewhere / I'll Love You More / Tumbling Tumbleweeds / Twilight On The Trail / San Antonio Rose / Don't Fence Me In / Are You Satisfied / Unknown Girl Of My Dreams / For All We Know / Rowdy / For You For Me For Evermore / Cowboy Wedding Song
CD 2 : Frankie LAINE : Rawhide / Gunfight At The O.K. Corral / The 3:10 To Yuma / Gunslinger / North To Alaska / Wanted Man / Bowie Knife / Where The Winds Blow / The Hanging Tree / Moonlight Gambler / Dead Man's Hand / Gamblin' Woman / The Roving Gambler / Deuces Wild / Horses And Women / The Wayfaring Stranger / Along The Navajo Trail / Ride Through The Night / Cool Water / Tumbling Tumbleweeds / Song Of The Open Road / Mule Train / Champion The Wonder Horse / Blowing Wild (The Ballad Of Black Gold) / The Kid's Last Fight
© Rocky Productions 19/06/2013