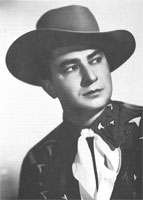 Chanteur Country US né le 19 Mai 1919 à New York.

Curly Gribbs, like many other yodeling Country & Western singers, was strongly influenced by Jimmie Rodgers who started the yodeling craze in the United States. Curly's uncle gave him some Jimmie Rodgers records, and it wasn't long before Curly was imitating Jimmie's earthy singing and yodeling.
Curly was born on Mai 19,1919, and raised in what was then the rural ans isolated part of New York City - Staten Islands. The Hilly terrain had abundant woods and it was easy to pick an old guitar and throw yodels from Dongan Hills to Todt Hill without disturbing a soul.
Curly was also influenced by Elton Britt, who the 1930's was part of the popular radio group known as "Pappy, Zeke, Ezra and Elton", which later became known as the "Zeke Manners Gang". This group was an offshoot of the famous "Beverly Hillbillies" in California. Elton's smooth singing style and high yodeling gave Curly another dimension towards developing his own unique crooning style, coupled with an excellent high quality yodel.
About 1940, Curly entered a major bowes amateur contest and won. Zeke Manners heard Curly and signed him up to replace Elton Britt who had left the group to go out on his own. Curly became the lead vocalist for the Gang and turned out many hits including "Sioux City Sue" - a near million seller.
Curly was given a contract by Signature Records and cut 14 sides for them. The back up band was directed by Roy Ross, then musical director of Radio Station WNEW in New York City, which was home base for Curly and the Gang. Roy Ross did the arranging and played accordion on these sides. George Koch did the excellent hot fiddle licks, famous Nashville song writer Vaughn Horton played steel guitar, and his brother "Country Music Hall Of Fame" winner (1982) Roy Horton, played bass.
Curly's musical career ended in Octobre 50 when a throat operation left him unable to sing again. Curly lives a non-show life style in Middle Village, New York.
Talents : Vocals, Guitar
Style musical : Traditional Country, Yodel
Years in activity :
| | | | | | | | | | | | |
| --- | --- | --- | --- | --- | --- | --- | --- | --- | --- | --- | --- |
| 1910 | 20 | 30 | 40 | 50 | 60 | 70 | 80 | 90 | 2000 | 10 | 20 |
DISCOGRAPHY
78 t.
| | | |
| --- | --- | --- |
| 1945 | 78 t. SIGNATURE 1001 (US) | Curly GRIBBS & the TEXAS RANCHERS - Sierra Serenade / Silver Stars, Purple Sage |
| 1946 | 78 t. SIGNATURE 1003 (US) | Curly GRIBBS & the TEXAS RANCHERS - Ding Dong Polka / Heartbreak Trail |
| 1947 | 78 t. SIGNATURE 1005 (US) | Curly GRIBBS & the TEXAS RANCHERS - After You Did What You Done / Don't Bring Your Blues To Me |
| 1948 | 78 t. SIGNATURE 1009 (US) | Curly GRIBBS & the TEXAS RANCHERS - Oh Why, Oh Why, Did I Ever Leave Wyoming / I Never Knew What It Meant To Be Loved |
| 1948 | 78 t. SIGNATURE 1010 (US) | Curly GRIBBS & the TEXAS RANCHERS - I Just Fell Out Of Love With You / So Round, So Firm, So Fully Packed |
| 1948 | 78 t. SIGNATURE 1011 (US) | Curly GRIBBS & the TEXAS RANCHERS - Fiddle Boogie / Steel Guitar Rag |
Album
| | | | |
| --- | --- | --- | --- |
| 1983 | LP 12" CATTLE LP 40 (GER) | | CURLY GRIBBS SINGS HIS ORIGINAL COUNTRY & WESTERN YODELING HITS FROM THE 1940'S - Ding Dong Polka / Heartbreak Trail / Silver Stars, Purple Sage, Eyes Of Blue / Don't Bring Your Blues To Me / Steel Guitar Rag / I Never Knew What It Meant To Be Lonesome / I Just Fell Out Of Love With You / There 'll Be No Teardrops Tonight / After You Did What You Done / Wyoming / So Round, So Firm, So Fully Packed / Sierra Serenade |
© Rocky Productions 3/03/2014