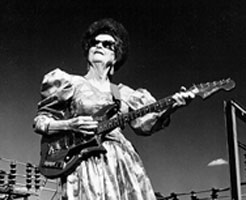 Chanteuse et guitariste Rockabilly US, née Cordell Miller, le 15 Juillet 1923 à Pontotoc (Mississippi). Elle a fondé le label Moon Records de Memphis (Tennessee). Cordell Jackson est décédée le 14 Octobre 2004 à Memphis (Tennessee).



Born July 15, 1923 in Pontotoc, MS, Cordell Jackson, aka "Guitar Granny,'' started performing in the 1930s with her father's band, the Pontiac Ridge Runners. She founded her own Moon Records, the oldest continuously operating label in Memphis, in 1956, to release her own recordings as well as those of other Memphis-based rock & roll artists. Although Moon Records didn't see a lot of activity in the intervening years, when she devoted her attentions more to selling houses, the label still existed. She would act as engineer, arranger, and producer, using her living room as a studio. She started Moon Records to issue her "Beboppers Christmas'' and "Rock and Roll Christmas'' and then began releasing 45-rpm singles by other musicians. In 1980, she brought the label back to release an anthology of Moon recordings and began to record her own songs again.
Guitarist Jackson began writing and recording her own songs in the late '40s. She started performing at age 12 with her father's band and later played on the radio in Tupelo, MS. During World War II, she moved to Memphis and began doubling on bass as well. The singles she released on Moon Records were mostly rockabilly and instrumental boogie recordings, and Allen Page was among the artists whose careers she tried to boost. Although she spent much of her career selling real estate and running the label part-time, trying to promote the careers of other musicians, in the mid-'80s Jackson again moved her own career into the limelight, performing at music conventions and nightclubs. In 1986, she performed at New York's Lone Star Cafe and got a response that stunned her. She went back to the club again in 1988.
Although she didn't hit the clubs all that often, Jackson continued to perform around Memphis and occasionally went on forays around the country, playing wherever she was asked. In 1983, Jackson released the instrumental "Knockin '60,'' the same song she later performed on a commercial for Budweiser beer, in which she appeared with ex-Stray Cat guitarist Brian Setzer. Spurred by the recognition the beer commercial gave her career, Jackson appeared in 1991 on the TV programs Arsenio Hall, Late Night with David Letterman, Nashville Now, and Entertainment Tonight. She told people, "If I want to wang dang rock & roll at 69 years old all dressed up in an antebellum dress, it ain't nobody's business but mine.'' Her album Live in Chicago, recorded at Schuba's in the Windy City on November 16, 1995, was released in 1997 on the Bug House label. Cordell Jackson died in Memphis on October 14, 2004.
https://en.wikipedia.org/wiki/Cordell_Jackson
Talents : Vocals, Guitar
Style musical : Rockabilly

http://youtu.be/DtZjK8x5kGU
Years in activity :
| | | | | | | | | | | | |
| --- | --- | --- | --- | --- | --- | --- | --- | --- | --- | --- | --- |
| 1910 | 20 | 30 | 40 | 50 | 60 | 70 | 80 | 90 | 2000 | 10 | 20 |
DISCOGRAPHY
Singles & EP
1956
SP MOON G80W-6407/8 (US)
.
Cordell JACKSON - Rock And Roll Christmas / Beboppers' Christmas
1979
SP MOON 309 (US)
.

Cordell JACKSON - Football Widow / I'm At Home Again (In The Memories Of My Mind)

1983
SP MOON 311 (US)
.
Cordell JACKSON & Her Guitar - Football Widow / I'm At Home Again (In The Memories Of My Mind)
1983
EP MOON EP 312 (US)

Cordell JACKSON & Her Guitar Instrumentals - KNOCKIN' SIXTY - Jazz Fried / Memphis Moon Rock / The Blues Chaser / Knockin' Sixty

1983
EP MOON EP 333 (US)

Cordell JACKSON Live -

THE SPLIT -

The Split / Tied Up / Beale Street / Love Your Rock And Roll

1990
SP SYMPATHY FOR THE RECORD INDUSTRY SFTRI 050 (US)

Cordell JACKSON with George REINECKE & The MUD BUGS - Rockin' Rollin' Eyes / Memphis Drag
Albums
| | | | |
| --- | --- | --- | --- |
| 1989 | LP 12" JAN / STAR-CLUB ? (SWE) | | ROCK AND ROLL CHRISTMAS |
| 06/1997 | CD BUHHOUSE 3 (US) | | LIVE IN CHICAGO - Memphis Moon Rock / The Blues Chaser / Hound Dogit Blues / The Blues Street / Knockin Sixty / Tied Up / Midnight Rodeo / Love Your Rock & Roll / No More Bridges To Burn / Basketball Man / The Split / 1 / Jazz Friend / One Of A KNG Good Feeling / Johnny Cash Train / Whazzat / So Easy |
© Rocky Productions 9/04/2012