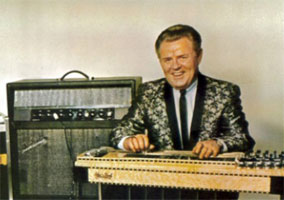 Steel Guitariste US né Harold B. Jackson, le 4 Septembre 1920 à Wilmington (Caroline du Nord). Shot Jackson est décédé le 24 Janvier 1991.

One of the premier steel guitar and Dobro players of the postwar generation, Shot Jackson was a solo and session artist who also gained fame as a designer and manufacturer of musical instruments. Born Harold B. Jackson on September 4, 1920, in Wilmington, NC, he earned the nickname Buckshot — later abbreviated to simply Shot — while still a child. His interest in music also began at an early age, and he became a devoted fan of the Grand Ole Opry, in particular of Roy Acuff's Smoky Mountain Boys and their Dobro player, Bashful Brother Oswald. In 1941, Jackson joined the house band on a local country radio station, and in 1944, he moved to Nashville to sign on with the Opry as a sideman for Cousin Wilbur Westbrooks.
After a year in the Navy, Jackson began playing electric steel guitar with the Bailes Brothers and continued performing with the group throughout their tenure on the Shrevport, LA, station KWKH's Louisiana Hayride program. After the Bailes Brothers left the show, Jackson remained at KWKH, where he performed and recorded with the likes of Webb Pierce, Jimmie Osborne, and Red Sovine. In 1951, he joined Johnnie & Jack's Tennessee Mountain Boys, and over the next half-dozen years, he played Dobro on virtually all of the group's live dates and studio sessions. He also played on many of Kitty Wells' first hits, in addition to recording a few solo sides.
In 1957, Jackson fulfilled a personal dream by becoming the electric steel player for Roy Acuff's Smoky Mountain Boys and remained with the group for five years. During his affiliation with Acuff, Jackson and Buddy Emmons designed an electric pedal steel guitar; to market it, they founded their own company, Sho-Bud. Gradually, the company's success began to absorb more and more of Jackson's time, and he left the Smoky Mountain Boys, although he did remain an active musician, particularly as a steel player for Melba Montgomery, who had also left Acuff to go solo some time before. In addition to working with Montgomery (on both her solo work and her duos with George Jones), he recorded with many other artists and even cut his own solo LP, Singing Strings of Steel Guitar and Dobro, in 1962.
Jackson rejoined Acuff full-time in 1964, but his tenure abruptly ended in July of 1965 when he, Acuff, and singer June Stearns were all sidelined by a near-fatal car crash. After a long recovery period, he began performing with his wife Donna Darlene, a former vocalist on the Jamboree program; in 1965, he also issued the solo record Bluegrass Dobro. His latest creation, a seven-string resonator guitar called the Sho-Bro, hit the market not long after, and again, Jackson distanced himself from music to focus on business. Still, he continued to play on occasion, rejoining the Bailes Brothers for a number of reunion concerts and recordings. He also hooked up with the Roy Clark Family Band for a pair of albums and appearances on the TV program Hee Haw. In 1980, Baldwin-Gretsch purchased Sho-Bud, and three years later, Jackson sold his instrument repair business as well. Soon after retirement, he suffered a stroke which left him unable to speak and play music. In 1986, he was inducted into the Steel Guitar Hall of Fame; shortly after suffering another stroke several years later, Jackson died on January 24, 1991.
https://en.wikipedia.org/wiki/Shot_Jackson
Talents : Steel Guitar, Dobro

Style musical : Traditional Country, Instrumental Country

http://youtu.be/BriJeCJmGGc
Years in activity :
| | | | | | | | | | | | |
| --- | --- | --- | --- | --- | --- | --- | --- | --- | --- | --- | --- |
| 1910 | 20 | 30 | 40 | 50 | 60 | 70 | 80 | 90 | 2000 | 10 | 20 |
DISCOGRAPHY
78 t. & Singles
1950
78 t. & SP Pacemaker 1004 (US)

Dixie Dew Boys - I Need You Like A Hole In The Head (vcl Webb Pierce) / I'm Watching The Stars

1951
78 t. & SP Pacemaker 1009 (US)

Dixie Dew Boys - Steeling The Mood / Beautiful Hawaiian Shores

1951
78 t.

& SP

PACEMAKER 1015 (US)
Shot JACKSON & W

ebb

Pierce

- In The Jailhouse Now / Last Waltz
1952
78 t. SPECIALTY 706 (US)
Shot JACKSON & His STRING BAND - I'm Trading You In On A Later Model / If The Truth Was Known
1952
SP SPECIALTY SP-706-45 (US)

Shot JACKSON & His STRING BAND - I'm Trading You In On A Later Model / If The Truth Was Known

1953
78 t. SPECIALTY 710 (US)
Shot JACKSON & His STRING BAND - You Can't Get The Country Out Of The Bo / Grandad, He's Not Old
1953
SP SPECIALTY SP-710-45 (US)

Shot JACKSON & His STRING BAND - You Can't Get The Country Out Of The Bo / Grandad, He's Not Old

11/1965
SP KAPP K-718 (US)
Gonna Be More Lovin' (Donna DARLENE & Shot JACKSON) / I Don't Know You From Adam (Donna DARLENE)
1966
SP ARC A-1168 (CAN)

I Want A Girl / Life Turned Her That Way

1967
SP ARC A-1169 (CAN)

Donna DARLENE & Shot JACKSON - What Makes Me Run To You / Put My Little Shoes Away

06/1968
SP STOP ST-187 (US)
Donna DARLENE & Shot JACKSON - YouThrew Me Away / When You Come Home To Feed Your Fool
06/1969
SP STOP ST-291 (US)
Donna DARLENE & Shot JACKSON - That's A No-No / Follow The Cheater
1970
SP STOP ST-1578 (US)
Donna DARLENE & Shot JACKSON - Love A Little, Hurt A Lot / Send Myself To You
1971
SP STOP ST-1616 (US)
Donna DARLENE & Shot JACKSON - It's What You Do With What You Got / He Let Me Down
1974
SP STONEWAY 1118 (US)

Sweet Georgia Brown / Hoedown Melody

1976
SP CHEYENNE CH-107 (CAN)

Shot JACKSON & Bob LUCIER - Silvery Moon / Moonlight Bay

1978
SP WASP 128 (US)

Shot JACKSON & Chubby HOWARD - Maiden's Prayer / I'll Be All Smiles Tonight
Albums
1963
LP 12" STARDAY SLP-230 (US)

THE SINGING STRINGS OF STEEL AND DOBRO -

Texas Playboy Rag / Hound Dog Blues / Aloha / I'll Be All Smiles Tonight / Ft. Worth Rag / Singing Strings Of Steel / Hawaiian Honeymoon / Waltz Medley / Riding The Rails / Plantation Home / Gospel Medley / Honky Tonk Angels / Smoky Mountain Rag / Moon Over Tahiti
01/1964
LP 12" Cumberland MGC-29513 (mono) / SRC-69513 (stereo) (US)

Bluegrass Dobro - No Letter Today / You Are My Sunshine / Born To Lose / Blue Moon Of Kentucky / Mountain Dew / Panhandle Rag / Golden Wedding Days / When My Blue Moon Turns To Gold Again / It Wasn't God Who Made Honky Tonk Angels / Rubber Dolly

1965
LP 12" NASHVILLE NLP-2026 (US)

STEEL GUITAR & DOBRO SOUND OF

SHOT JACKSON AND BUDDY EMMONS - I'll Be All Smiles Tonite / Honky Tonk Angels / Waltz You Save For Me / Missouri Waltz / Hawaiian Honeymoon / Plantation Home / Moon Over Tahita / Hound Dog Blues / Riding The Rails / Singing String Of Steel / Fort Worth Drag / Gospel Medley / Smokey Mountain Rag / Aloha
1967
LP 12" ARC A-720 (mono) / S-720 (stereo) (CAN)
THE HURTIN' SIDE OF COUNTRY - Donna

DARLENE

with Shot JACKSON - It Wasn't God Who Made Honky Tonk Angels / Almost Persuaded / Making Believe / Beautiful Lies / I'm Crying / If Wishes Came True / What Makes Me Run To You / There Goes My Everything / Put My Little Shoes Away / Searching / A Little At A Time / Don't Make Me Go To Bed
1967
LP 12" ARC A-721 (mono) / S-721 (stereo) (CAN)
STEELING WITH A DOBRO - Shot JACKSON with Bob LUCIER - I Want A Girl / Rose Of Old Pawnee / Georgia Steel Guitar / Two Different Worlds / Five Feet Two / What A Friend / Poison Love / Never Moon Over My Shoulder / Sweet Bunch Of Daisies / You And Me / I Saw The Light / Life Turned Her That Way
1967
LP 12" Rural Rhythm RRDP-

179

(US)

Hoe Down! Volume 1 / Howdown Fiddle Tunes - Dale POTTER & Shot JACKSON - Draggin' The Bow / Bully Of The Town / Let Me Call You Sweetheart / In The Garden / Rubber Dolly / Faded Love / Beaumont Rag / Maiden's Prayer / Hawaiian Sunset / Westphalia Waltz / New Carrol County Blues / Twinkle Star / Silver Threads Among The Gold / Big Ball In Town / Aloha Oe / Omie Wise's Tragic Romance / Precious Memories / Spanish Two-Step / Don't Let The Deal Go Down / Gotta Travel On

07/1968
LP 12" Rural Rhythm RRBW-203 (US)

BEAUTIFUL WALTZ MELODIES - Shot JACKSON (Dobro) - Donna DARLENE (Guitar) - Tater Tate (Fiddle) - Pat Starr (Piano) - John Palmer (bass) - Blue Skirt Waltz / Mexicali Rose / Old Spinning Wheel / Melody Of Love / Now Is The Hour / That Silver Haired Daddy Of Mine / Georgiana Waltz / Let The Rest Of The World Go By / Take Me Out To The Ball Game / Farewell To Thee / My Wild Irish Rose / Carolina Waltz / Rainbow At Midnight / Beautiful Brown Eyes / Roll On / Isle Of Golden Dreams / Silver Threads Among The Gold / When Irish Eyes Are Smiling / Good Old Sum­mertime / Happy Birthday Song

1968
LP 12" Harvester 581/582 (US)

Mother' s Favorite Tunes - If I Could Hear My Mother Pray / Precious Memories / What A Friend We Have In Mother / In The Garden / Kneel At The Cross / Just A Closer Walk With Thee / Farther Along / When The Saints Go Marching In / Life's Railway To Heaven / It Is No Secret / Silent Night, Holy Night / Whispering Hope

1971
LP 12" K-ARK K-6028 (US)
SHOT JACKSON - BUDDY EMMONS PICKS THE FAMOUS SHO-BUD GUITARS

-

Banks Of The Old Ponchartrain / Mansion On The Hill / No One Will Ever Know / Red Wing / Linda Lue / Maiden's Prayer / Footprings In The Snow / Crazy Arms / Together Again / I'm So Lonesome I Could Cry / Blue Eyes Crying In The Rain / Hold It
1974
LP 12" STONEWAY STY-144 (US)
DOBRO, SHOBRO & STEEL - Shot JACKSON, David MUSGRAVE, Paul BURSKIRK - Dobro, Shobro And Steel / I Love You So Much / Hoedown Medley / Don't Be Angry / Mercy, Mercy / Pretty Baby / I Love You Because / Sweet Georgie Brown / Last Letter / Slippin' Around / Hawaiian Medley / Blue Bonnet Rag / Fireball Mail
1974
LP 12" Marathon Music MMS-76039

(CAN)

Straight Ahead - The Funky Wabash Cannonball / Take These Chains / The Tennessee Waltz / We Could / Green Green Grass Of Home / Straight Ahead / Cold Cold Heart / She Thinks I Still Care / Kentucky Waltz / Love Is No Excuse

1975
LP 12" Sugar SUGAR-102

(US)

Sippin' Music - Chubby HOWARD - Shot JACKSON - Pins And Needles / Columbus Stockade Blues / Harbor Lights / Detour / Wedding Bells / Blues Stay Away / Once A Day / Fireball Mail / Jealous Heart / Roll In My Sweet Baby's Arms

1978
LP 12" WASP WR-1001 (US)
NASHVILLE NORTHWEST - Shot JACKSON - Chubby HOWARD - I'll Be All Smiles Tonight / San Antonio Rose / Home Sweet Home / The Convict And The Rose / Columbus Stockade Blues / I Overlooked An Orchid / Maiden's Prayer / Time Changes Everything / Faded Love / Jambalaya / Petal From A Faded Rose / Blue Bonnet Rag
1979
LP 12" VETCO LP-514 (US)
SHOT JACKSON & FRIENDS - Down Among The Faded Roses / I'll Be All Smiles Tonight / Be Honest With Me / Blue Eyes Crying In The Rain / Prisoner's Song / When The Saints Go Marching In / Silver Threads Among The Gold / Home, Sweet Home / When My Blue Moon Turns To Gold / Little Rosewood Casket / Old Spinning Wheel / Will The Circle Be Unbroken
1985
LP 12" Condor / Heritage Music HCD-4414 (CAN)

Sail Along - Shot JACKSON with Bob Lucier - Straight Ahend / Cold Cold Heart / Have I Told You Lately That I Love You / Kentucky Waltz / Love Is No Excuse / Funky Cannonball / Take These Chains / We Could / Green Green Grass Of Home / There Goes My Everything / Untill The Next Teardrop Falls / Daydreams About Night Things / Sail Along / Moonlight Bay / Slowly / There'll Be No Teardrops Tonight / She Thinks I Still Care / Sweet Dreams / City Lights

1993
CD Double Ten 28C-9011 (US)

For The Last Time - Shot JACKSON / Terry CRISP- I Walk Alone / Somewhere My Love / Storms Never Last / Peddle From A Faded Rose / How Great Thou Art / Cold Cold Heart / I Love You Because / Maiden's Prayer / Life Turned Her That Way / Who At My Door Is Standing

07/2013
CD Select-O-Hits / Starday 3017 (US)

The Steel Guitar and Dobro Sounds Of SHOT JACKSOn AND

BUDDY EMMONS

-

I'll Be All Smiles Tonight / Honky Tonk Angels / Waltz Medley / Hawaiian Honeymoon / Plantation Home / Moon Over Tahiti / Hound Dog Blues / Riding The Rails / Singing Strings Of Steel / Fort Worth Drag / Gospel Medley / Smokey Mountain Rag / Aloha
© Rocky Productions 11/10/2014