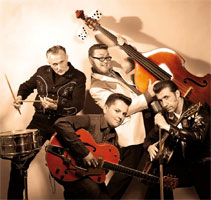 Groupe Rockabilly Français, Jamy & The Rockin' Trio ont été influencé par le Rockabilly, le Rock'n'Roll, et la Country des années cinquante.
C'est en Novembre 2010 que l'histoire du groupe commence, à la première répétition la sauce Rock 'n' Roll prend forme sous la voix "Honky Tonk" du chanteur, de l'intenable slap-bass, puis de l'étonnant jeune guitariste "Little Nico" (né en décembre 1996), plein d'avenir ... En Mars 2011, ils sont rejoint par le talentueux batteur "VintageBob", puis en 2012 par Tony Marlow.

French Rockabilly group, Jamy & The Rockin' Trio were influenced by Rockabilly, Rock 'n' Roll, and Country of the Fifties.
It is in November 2010 that the history of the group starts, with the first repetition the sauce Rock' Roll does not take to form in the voice "Honky Tonk" of the singer, intolerable the slap-bass, then an astonishing young person guitarist "Little Nico" (born in December 1996), full with future... In Mars 2011, they are joined by the talented batteur "VintageBob", then in 2012 by Tony Marlow.
https://sites.google.com/site/jamyrockintrio
http://www.myspace.com/jamyrockintrio
Talents : Jamy : Vocals, Rhyhm Guitar - Little Nico : Lead Guitar - Gégé "Rocky" : Slapp Bass - VintageBob : Drums
Style musical : Rockabilly, Rock 'n' Roll

https://youtu.be/vZUMwJVHqMQ
Years in activity :
| | | | | | | | | | | |
| --- | --- | --- | --- | --- | --- | --- | --- | --- | --- | --- |
| 1910 | 20 | 30 | 40 | 50 | 60 | 70 | 80 | 90 | 2000 | 10 |
DISCOGRAPHY
Album
| | | | |
| --- | --- | --- | --- |
| 01/2013 | CD ROCK PARADISE ? (F) | | SALLY WANTS TO ROCK - Honey Bun / Sally Wants To Rock (version 2012) / Pepper Hot Baby / That's Wat You Are / Corrine, Corrina / Please Mama Please / First Ride (instr.) / Crawdad Hole / That Rockin' Cat / Starlight, Starbright / It's Late / P.T Cruiser / Little Mama / Ileana / Gwendolyn - http://youtu.be/BsOD1qfWTCM |
© Rocky Productions 14/12/2012